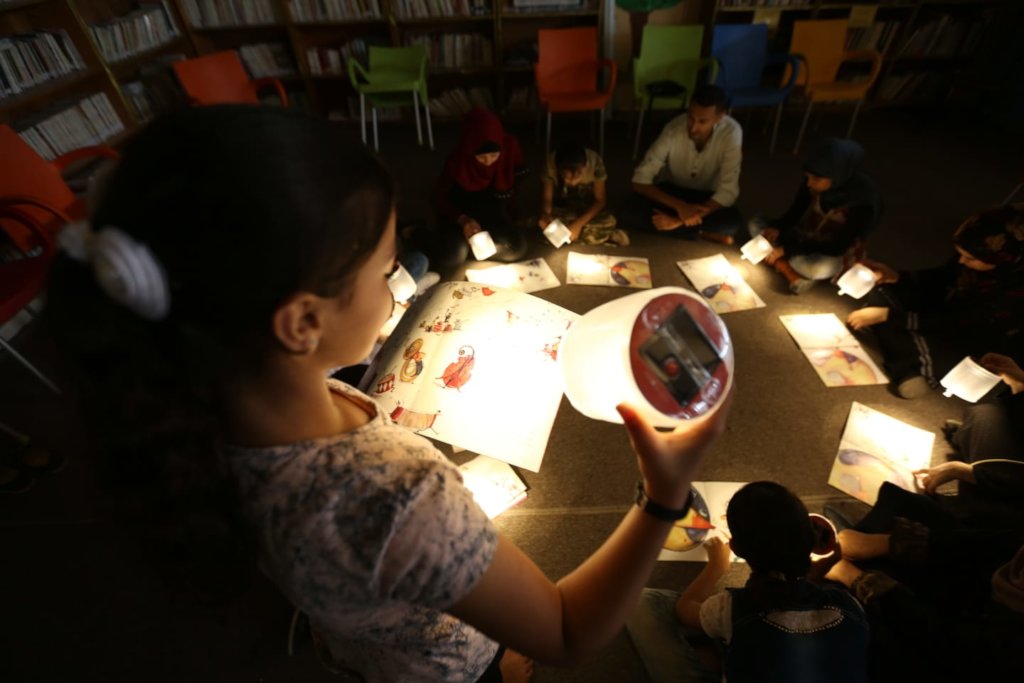 I know we said these solar lights will brighten the future - I want you to see that they make things brighter now too! Kareem, our Rafah Coordinator (look carefully and you'll see him in the photos) said, "The librarian called and she had a wonderful idea. That reading circle was really fun!"

There are so many ways that these little solar lights help, and none of them would be possible without you. This project began in response to an electricity blackout, night and day for eleven years. The power is on for four hours, then off for sixteen, daily. Whenever there is power, families must scramble to charge phones, wash clothes, or even watch TV — and that rotation, those few hours can happen mid-day or mid-night.

When there is no electricity at night, people in Gaza turn to candles and kerosene lamps and this is dangerous. Gaza continues to experience fires caused by candles gone wrong that even took the lives of many innocent children and left survivers with severe burns.

I know a lot about life in Gaza because I'm in touch with my family there nearly every day (sometimes more than once a day as my little brother will soon be getting married). I recently finished my MBA and joined Rebuilding Alliance because I want to build our Brighten the Future giving program into a program that will reach big goals for energy independence in Gaza. The first step I hope to accomplish is delivering a Little Sun, solar-powered, lamp to every child in Gaza — that's about 750,000 lamps! We also want to ramp-up to provide loans or stipends to help families install SunBox solar energy systems in homes and offices. SunBox is an exciting new system designed by young woman entrepreneur who lives in Gaza City.

This is huge — and it is still important to note what's most important: these solar-powered lanterns are especially beneficial for children. Schools in Gaza are scheduled to open on August 27th. With solar lights, children will be able to complete their homework and study, without having to worry about the moon getting in the way. Little ones will have a night light.

Yes, we're proudly upgrading the models we're shipping:
We're working with Little Sun from Germany to bring the highest quality lamps to children in Gaza! This is an upgrade because you can change the battery. Donna, our Executive Director, was able to visit Gaza twice in the last few months and she took large suitcases filled with them each time to high approval.


Something new! SunBox home energy systems can light the whole house, charge a cellphone or computer, and run a small refrigerator

or

the TV.

We've sent 27,000 LuciLights lights so far. I am happy to report that the pre-clearance process for this next shipment is underway - the Palestinian Customs Office gave their approval to send 8,600 Little Suns for distribution by our four Palestinian NGO partners in Gaza. Now, all we are waiting for is for the Israeli Customs Office to reply. I'm told that this process can take anywhere from three weeks to five months,so Rebuilding Alliance is asking our Congresswoman and our Senators for help to push the Customs office to sign-off.

Did you know that each Little Sun lamp we buy is being matched 1:1 for another Little Sun in a program by the Bloomberg Foundation? This means that for every $40 you give, we'll send three Little Sun solar lights to children in Gaza. If you would like us to send you a light for your window in solidarity, please send us an email with your address and we'll put one in the mail to you.

Good news: GlobalGiving's International Youth Week Campaign is starting Monday, Aug. 6th! New recurring donations made during Youth Week will be matched!

Recurring donations up to $200 per donor per project started during Youth Week will have the initial donation matched at 100% so as long you keep this active for at least four payments. The project with the most unique donors will receive a $2500 bonus. Let's do this!August 12th is UN-recognized International Youth Day and Youth Week end that night at midnight EDT.
Please give any time btw Aug 6th and Aug12th — and then share with all your friends because this is something so good, that everyone can get behind it.
___________________________________
Oh! One more thing: the wonderful Mrs. Najah Ajash, the founder of the Women's Program Center- Rafah is in Turkey for an arts fair, and she has a visa for the U.S. The WPC-R is one of Rebuilding Allianc's partners in Gaza. If you or your group would like to have her come speak, call me at 650 651-7165 and let's make it happen!