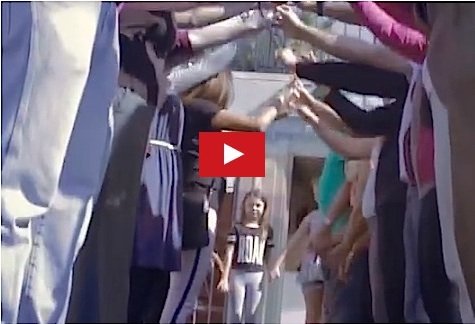 Dear Friend,

We set out to open Gaza with compassion and so we begin. Good news: our first shipping container is now cleared for entry. It wasn't easy. With your help, what we learned will guide the next containers.
Our container was rejected when it first arrived at Israel's Port of Ashdod on December 10th. Israel has rules against accepting anything used and that included our 727 boxes of gently worn clothing for Gaza. We appealed and just a few days ago, approval arrived to begin customs clearance.
The shocker: the process took too long — our container was racking-up port, storage, and demurrage fees. When our U.S. shipping agent could not stop the clock, I spent my nights negotiating, fee by fee, with the Port of Ashdod and the shipping line, guided by our Palestinian shipping agent in Ramallah. With most of the U.S. embassy and consular staff away for the holidays, each time I got stuck, the Acting Staff Aide to the U.S. Ambassador in Tel Aviv responded with suggestions.
And it worked. We talked the costs down. Best of all, Rebuilding Alliance set a precedent for sending gently used, donated clothing to Gaza. Funds are transferred and if all goes well, we'll see our 727 boxes reach the Palestine Red Crescent by Jan. 16th. Next week, we'll pre-apply for customs clearance for our 2nd container.
Our bold goal -- opening the blockade of Gaza with compassion – came from Khaled Nasrallah in Rafah, Gaza just after the bombing stopped in August. He is part of the Gaza family whom the late Rachel Corrie stood to protect and he is a social worker at one of the UN schools sheltering families. Here in the San Francisco Bay Area, thousands donated, hundreds came to pack. Please take a moment to watch the video we made.
Your support in the Microsoft YouthSpark program made it possible to hire a Gaza Campaign Coordinator and Project Development Assistant, Kelly Leilani Main. Kelly Leilani has been volunteering with Rebuilding Alliance for the past 2 months. She completed her degree in Interdisciplinary Studies from U.C. Berkeley receiving High Honors with a Thesis Topic: The Politics and Aesthetics of Public Space. Kelly is an intermediate Arabic speaker who is keenly interested in Urban Planning and International Development with an emphasis on housing and community and economic development. She has visited Palestine and Israel with the Olive Tree Initative, a student led educational initiative which travels to Washington D.C., Israel, Palestine and Jordan to learn about the Israeli-Palestinian conflict first-hand and went on to become OTI's Director of Internal Relations, Programming and Education while at UC Berkeley. Great to have Kelly Leilani on our team!
Kelly Leilani will be helping student groups at Swarthmore and University of California at Davis collect school supplies and warm coats to pack the next Rebuilding Alliance shipping containers on site at their campuses.


Soon, we will be asking other community groups to submit proposals to load shipping containers at their sites too.


Meanwhile, students from the Sisters for Change group at Notre Dame de Namour College, and from San Jose State College's Students for Justice in Palestine group will join us at Rebuilding Alliance to pack our 2nd container. We'll load that container as soon as we receive approval from Israeli Customs, hopefully soon.
Thank you again for making this important project happen. We'll keep you posted as our container arrives, and let you know how the new plans are taking shape.
Best wishes for a Happy and Healthy New Year,
Donna
Links: