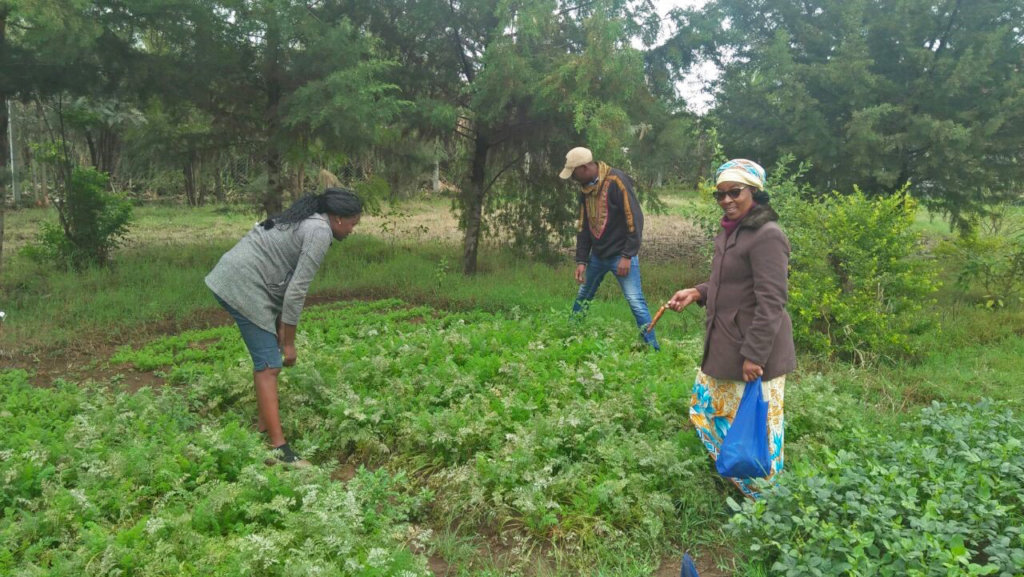 Hi everyone,
This report comes from Seed Savers Network Kenya (SSNK), a grassroots NGO headquartered southeast of Nakuru in Gilgil who works with resource-poor farmers to promote sustainable rural livelihoods. We introduced them as a project partner about one year ago — you might remember reading about the challenges Esther & Ms. Mary faced as a result of drought in the region. In the last report on SSNK, we focused on their women's group program, though they work with many different communities to provide access to agricultural training, good vegetable seed, tools, and other resources. We recently connected with Daniel Wanjama, SSNK's Founder and Director, who told us about some of the work he's been doing with the Gilgil Disabled School and other gardeners in the area.
The Gilgil Disabled School cares for children who require a closely-monitored diet to help manage the effects of brain disorders. Nutrition from vegetables and fruits plays an important part in that diet. However, vegetables from the market are expensive. Miss Otieno, the school's Diet Manager, could only afford to include a few of the necessary vegetables from the school's menu. That's where SSNK came in.
Daniel and SSNK helped the Gilgil Disabled School start their own school garden and provided them with seeds, training, and extension services to start them off. Now, the school grows their own tomatoes, carrots, hot peppers, kale, and cabbage. Not only have they reduced their costs, but they are able to sell some vegetables at market. Daniel reports that their vegetable sales earn three times what they used to spend on the student's lunches. The extra money is used to add fruit to the lunches, another important source of nutrition. Ms. Otieno happily shares that participating in gardening activities and having access to these fresh fruits and vegetables has improved the students' health.
"This garden has been a great resource for the students, supplying vegetables [that we didn't have before]. We even involve them in farming. They enjoy working in the garden, and we have seen their mental health improve as they increase their socialization. They are passionate about planting more and more vegetable varieties in future."
School gardens are especially important during crisis recovery. We hear from parents who tell us that the school lunch is the only meal their child will receive during the day. These gardens enrich the learning environment, motivate parents to keep kids in school, and teach kids the value of engaging with the land. And it's not only the school and students that benefit. School gardens often serve as a community hub, bringing everyone together around a central resource for learning and seed and vegetable distribution.
One Year Out — Now What?
Throughout the last year, we've continued to develop our partnerships in the region. We've met new partners and have grown deeper relationships with some of our longer-term partners. Drought will always be a factor for these communities, but the context of our partnership has become broader than the purpose of this project.
As such, we'll be bringing this project to a close as we work with these partners to identify a broader project that will address their evolving needs. We'll let you know when the new project opens so you can continue to follow the communities in this region. If you are interested in our work with school gardens, be sure to check out our Seeds and Support for School Gardens Worldwide project.
For now, thank you from our partners, who have improved access to water, seed, and tools because of this project. And always, our thanks to everyone who has supported this project — we truly cannot do what we do without your support.
The SPI Team