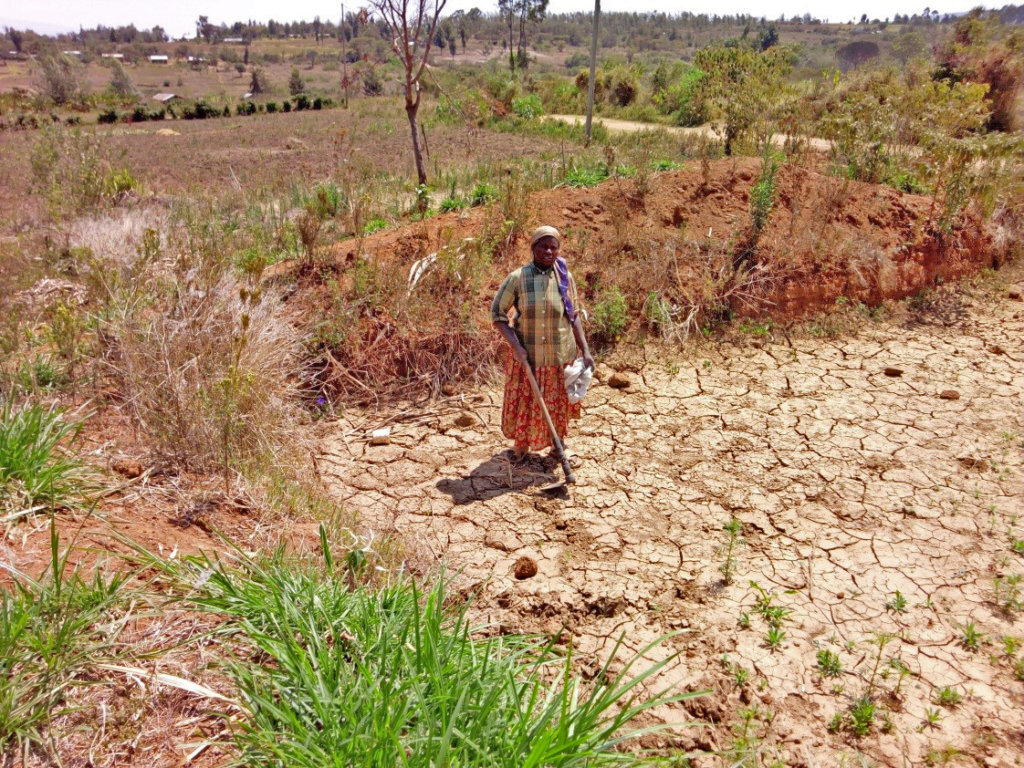 Two Stories: Esther & Ms. Mary
Esther is a farmer from Makongo village and a member of the Makongo Farmers Network in south-central Kenya, where she owns ½ acre of land. As a single mother, Esther began farming her land to support eight children, five of whom are in school.
Ms. Mary is a farmer in the Kasambara-Gilgil region of Kenya. Working as a shop attendant, she had always dreamed of becoming a full-time farmer. Mary eventually bought a small piece of land with her earnings and left her job to pursue her dream.
Both women began farming a traditional crop — maize, also known as corn. They prepared the land, planted seeds, tended the seedlings into plants, harvested the matured maize, and then brought their crops to market. After adding everything up, Esther and Mary each discovered that the cost for growing maize was more than they could sell it for at market.
In February 2016, a trainer from Seed Savers Network Kenya visited several farmer groups to conduct training in vegetable farming as part of our partner program. Esther and Mary participated in this training, learned the benefits of farming vegetables, and received vegetable seed donated by Seed Programs International. After switching at least a portion of their field to vegetable farming, both farmers not only recovered their earlier maize investments, but also brought in additional income and had a surplus of nutritional vegetables for themselves and their families.
Who is SSNK?
Partners are critical to Seed Programs International's work. Over the past few years, we've cultivated a deeper relationship with Seed Savers Network Kenya (SSNK). SSNK is a not-for-profit grassroots organization, headquartered southeast of Nakuru in Gilgil, which has been working with resource-poor farmers since 2009. They promote sustainable rural livelihoods and women's empowerment to achieve sustainable food security, and we rely on their expertise to direct the development of our partnership program in Kenya.
Although they work with many different communities, we're especially interested in their work with women's groups. Together, SPI and SSNK established a training program specifically designed for rural women. Through our ongoing partnership, the women's program is restoring hope and opportunity for families by providing agricultural training, good vegetable seeds, and tools. However, the recent drought presents additional difficulties for small-scale farmers in the region.
The Challenge of Drought
Drought in East Africa has made an already difficult livelihood even more difficult. Elphas from SSNK reports:
"This year we had a challenge of water due to a change in weather pattern. Drought was experienced till early July and Mary operated at a loss after planting her crops, which did not germinate due to drought. [Access to water] is a key problem for this family.
This year was also a challenge for Ms. Mary due to the severe drought. Keep in mind that the Gilgil sub-county is a semi-arid area. But she is better off than Esther because she has a water dam where her irrigation water is stored.
Mary's main challenge is the acidity of her soil. She was using inorganic products before, which caused her soil to become acidic, thus making it difficult for her to grow her vegetables as before. She was able to sell a few that were harvested, earning her some income.
We're in the process of conducting regular soil testing. In fact, I did one today. We have also provided soil health, and organic fertilizer training with her."
Esther and Mary don't lack will or endurance — they just need access to water and good supplies. Empowerment is important at every level of an SPI partnership, from investing in the local expertise and leadership of partners like SSNK to supporting enterprising and industrious women farmers who gain more control over their lives through networking and education.
This project directly supports Esther and Mary, and women like them. We hope you'll consider supporting them, and thank you to the folks who have already donated in support!
Today, Monday, October 16 is World Food Day. In recognition, donations will be matched 100% by GlobalGiving and the value of your donation will be doubled!