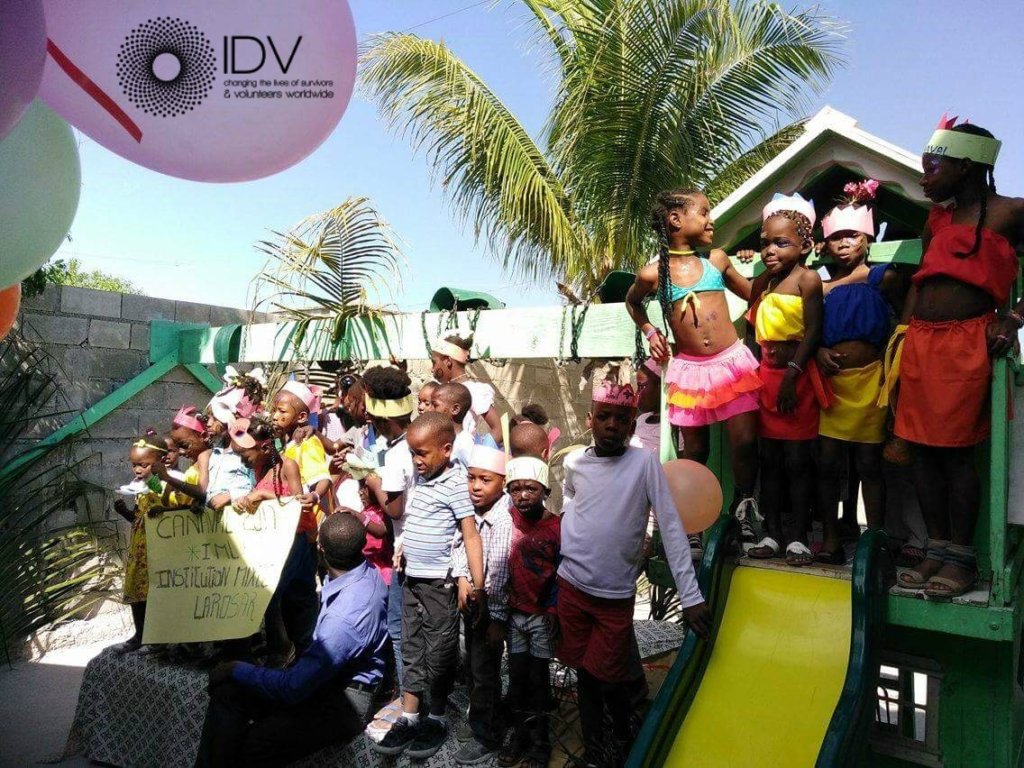 Thanks to your amazing support the children at the HTDC orphanage have been enjoying loads of fun recently.
Because of your generous donations the rent's been paid, and the kids are all well-fed and in school. The orphanage is also continuing to earn its own income using the bus we recently provided. This income doesn't cover all the orphanage's monthly costs, but thanks to your support we now have enough funding to fill the gap for the rest of 2017.
With financial security achieved, at least for the rest of the year, the orphanage staff have been able to relax a little bit and focus on providing some fun activities for the children. We asked orphanage director Carlo to explain:
"We just rented the bus to a group who came from canada - they paid about 400$. We also rented to a family in the south of Haiti for a funeral. We made about 500$ from that but we pay the gas of about 80$ for the whole week.
Because of the new money we were able to have a party at the orphanage for the national carnival celebration. The kids got dress[ed] up again, and we had food and dancing.
We also had an Easter dinner and party last month, and now we have a friend at the US Embassy called Cori who take the kids to swim at her house. Cori wants to organize a swimming class for the kids, they just looking for more volunteers as teachers to start the class."
The pictures in this report show just how much fun this has all been. But we also asked some of the children their thoughts. Manoucheca, who recently turned seventeen, had this to say:
"I liked carnival because there is always a good new dance, and I like when mommie Denise [Carlo's mum] organize the party for us. She makes nice costumes for the young kids - like queens and kings, it's always fun.
I love going to the swimming pool because it's a clean pool and Cori give us good food like pizza. I love pizza. When they start the swimming class I will be happy to learn how to swim"
Thirteen year old Wilkenson said this:
"Carnival is funny even when we don't go to the big festival downtown. Mommi Denise does a party at the house and I like the dances.
I would like to go to swim everyday because the pool is bigger than other pool we use to go. I am happy to know how to swim."
It's really been a fantastic few months for the kids, and none of this would have been possible with your support. Thanks so much!
Of course, we're not getting complacent about the future, and neither are the orphanage staff. Carlo also had this to say:
"This month I talk to another organization called EEH to get more help. They have their committee meeting this Friday to discuss a vocational training for the older kids. Maybe they can also help with some food every few months.
And we already thinking what to do with the rent situation for next year. I'm trying to talk to more people about it to see how we can start planning to build something on the land we purchased a couple [of] years ago."
It's great to see Carlo taking the initiative like this, and we'll also be continuing our fundraising right here on GlobalGiving. Between us all, we can give the kids at HTDC orphanage a great childhood AND a bright future.
As always, if you ever have any questions, please don't hesitate to email Andy@IDVolunteers.org. I would be delighted to hear from you.
For more updates about our work please like us on Facebook or follow IDVMedia on Twitter. You can also email Andy is you would like to be added to our direct mailing list.