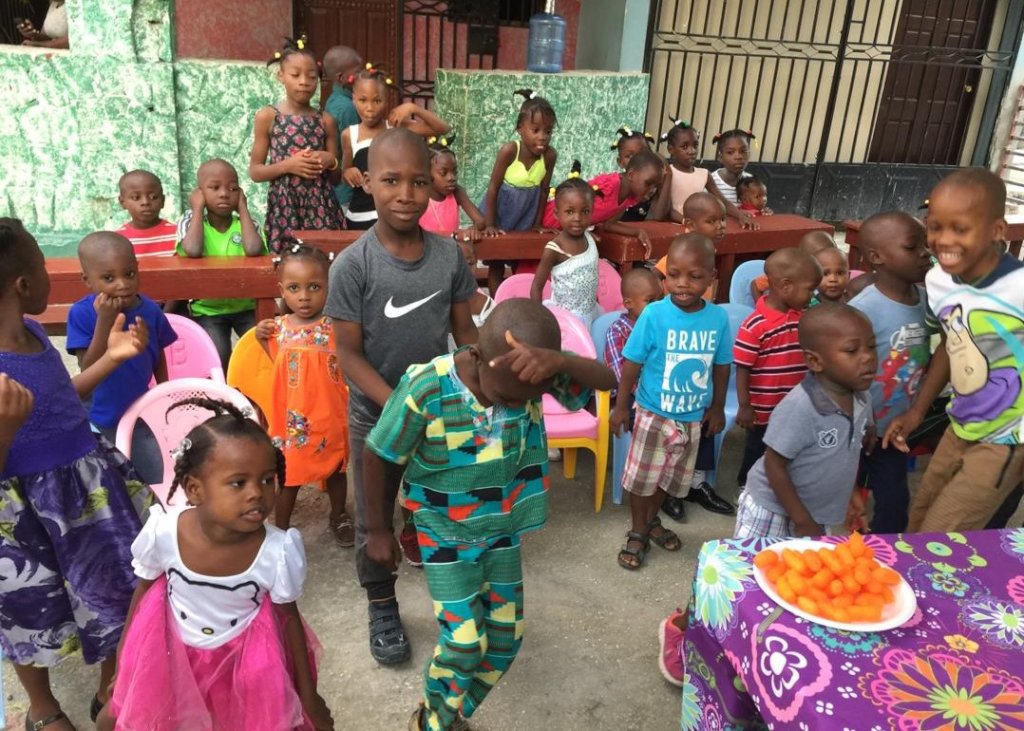 Thanks to your incredible support the kids at the HTDC Orphanage all have a safe home this Christmas. Your generous donations have also helped to provide other essentials, including nutritious meals, throughout 2019.
Yet outside the gates political unrest and violence continues to flare in Port-au-Prince. Orphanage Director Carlo described the situation and the impacts on life at the orphanage as follows:
"Life is not very good here at the moment. There is a very unpredictable security situation since September. On any given day there can be protests and dangerous barricades in any neighborhood which hinders transportation and the operation of businesses.
[Our neighbourhood,] Clercine is caught between two neighborhoods that are often blocked off. Electricity has been more sparse than usual; and access to gasoline and charcoal is also unstable.
Access to food, water, propane and other basic needs are severely restricted because neighborhoods are blocked off and there is no access from provincial areas where many of these basic needs come from. All prices increase because of the roadblocks."
The situation is proving to be a double whammy for Carlo who also manages adoption cases in partnership with IBESR (the Haitian Institute for Social Welfare & Research). After each case is completed Carlo receives funding which helps support the orphanage's running costs, but the unrest is affecting this too. Carlo explained as follows:
"Because of this unpredictable situation the government offices are being closed most of the time. So, adoption cases are moving very, very, very slowly. The adoptive families have also not been able to visit since September andy many of my cases are held up.
As I don't complete any recent case our saving is almost finished. We try to keep the orphanage running on a very low budget because of the riots and political problems that affect us. And now the house owner is asking for the rent money [for 2020].
We planned to start construction of the new house by now, so not to have to pay the rent this year but the current situation of the country makes our plans delayed. We still hope to start soon but for now we need to pay six months rent."
Overall, it's a tough situation - rising prices, lower income and bills mounting up! If left on their own the orphanage and all the children in its care would be facing ruin. Happily, thanks to your incredible support of our microprojects here on GlobalGiving, we have enough to pay the six months rent demanded by the landlord.
However, the children also still all need food and an education moving forward. Many are also obviously hoping Christmas will provide a little much needed cheer. Carlo explained again:
"The older kids understand a bit about the problems, but the little ones are asking when Santa is coming to celebrate with them. They would all like some nice food and a party. They also ask about some new clothes and toys. Nine year old Kenson would like a toy helicopter and police car, and ten year old Mirlande would like a dress.
Can you please help with this too?
We'd love to give the children some Christmas gifts this year, but we're also conscious that basic essentials have to come first.
We know you've already given so much, but if you're able to make a further donation this Christmas we'd be incredibly grateful - it would really help to put a smile on the faces of Kenson and the other children.
Thanks so much again for your continued support. If you ever have any questions about the orphanage and how we use your donations, please don't hesitate to email Andy@IDVolunteers.org. I would be delighted to hear from you.