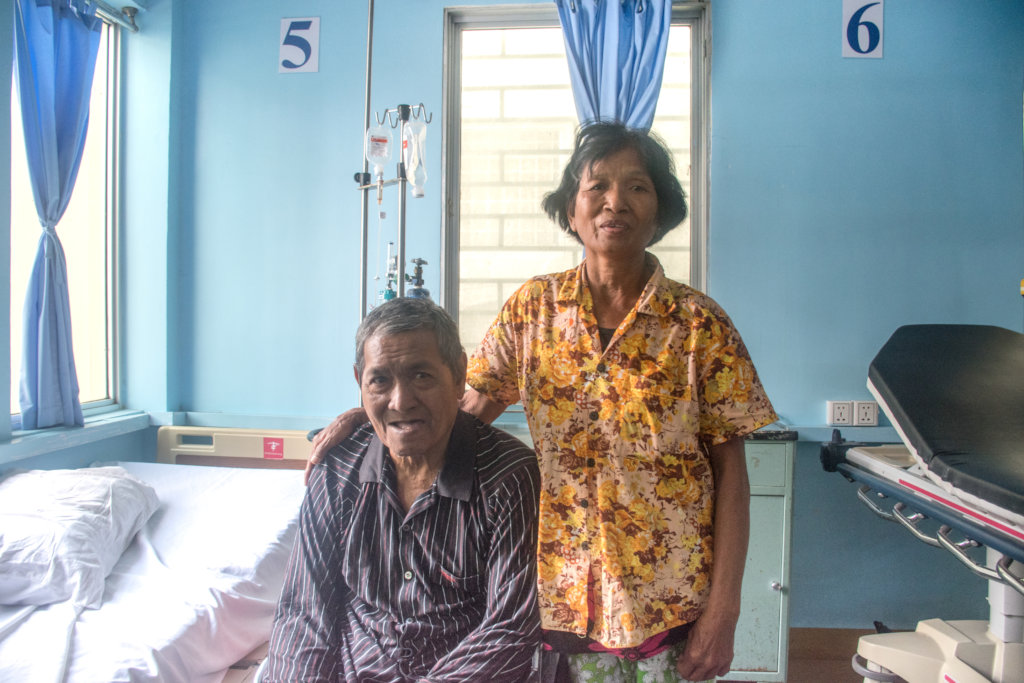 A seventy-one-year-old grandpa brought to Sihanouk Hospital Center of HOPE (SHCH) because of sepsis due to right leg cellulitis. Came from Kompong Cham, Sorn was once a farmer before he fell victim to stroke seven years ago. Since then, his wife has quit farming to take care of him. He is currently staying with his youngest daughter, who is a housewife. His son-in-law came to Phnom Penh to find a job as a PassApp driver. Mr. Sorn has two grandsons, six and ten years old, who enrolled in grade one this year. After paying for the expense of living in Phnom Penh, Sorn's son-in-law only has a little money left, around fifty dollars to send home, which only covers food expenses. Therefore, his second daughter, an assistant chef in a small restaurant, also helps in other household expenses where she transfers one hundred dollars a month to support them.
Living with a stroke with right side weakness since he was sixty-four years old, he has difficulty in walking but not as much as using his right hand. The half month before coming to SHCH, he got swollen leg with blisters on his right leg that he could not walk. Sorn has been coming to SHCH for more than three years to treat his Hypertension. He first came to know SHCH through many recommendations from his neighbor for SHCH's reputation of quality healthcare service.
Arriving here in SHCH, his respiratory rate (RR) was very high at twenty-eight. He also felt pain and numbness at the same time on his right leg. He was rushed into Emergency Department immediately upon his arrival. After the examination, he was said to have sepsis due to right leg cellulitis, a condition caused by bacteria. He was admitted to the medical ward for eleven days. Through these long days, He was easily irritated, moody, and bored because of the effect of his illness. It affected him as a patient himself and his family members; his daughter had to change her working shift to take care of him.
He now looks more lively and energetic as he has no more pain on his right legs, besides the swollen and blisters are almost gone. With a bright smile on his face, he shared, "I am exhilarated now that I am almost recovered. I still cannot walk for now because the doctor told me not to use my leg; however, I am so happy that I can go back home to meet both of my grandsons. I promise to take my medication daily without fail. I also want to express my gratitude towards SHCH's donors who have a very kind heart in helping poor people in Cambodia, allowing them to access the healthcare services here in SHCH. With all of this support, we can get better and go back to our families and get back to our jobs. That is why I am feeling so thankful."
Links: