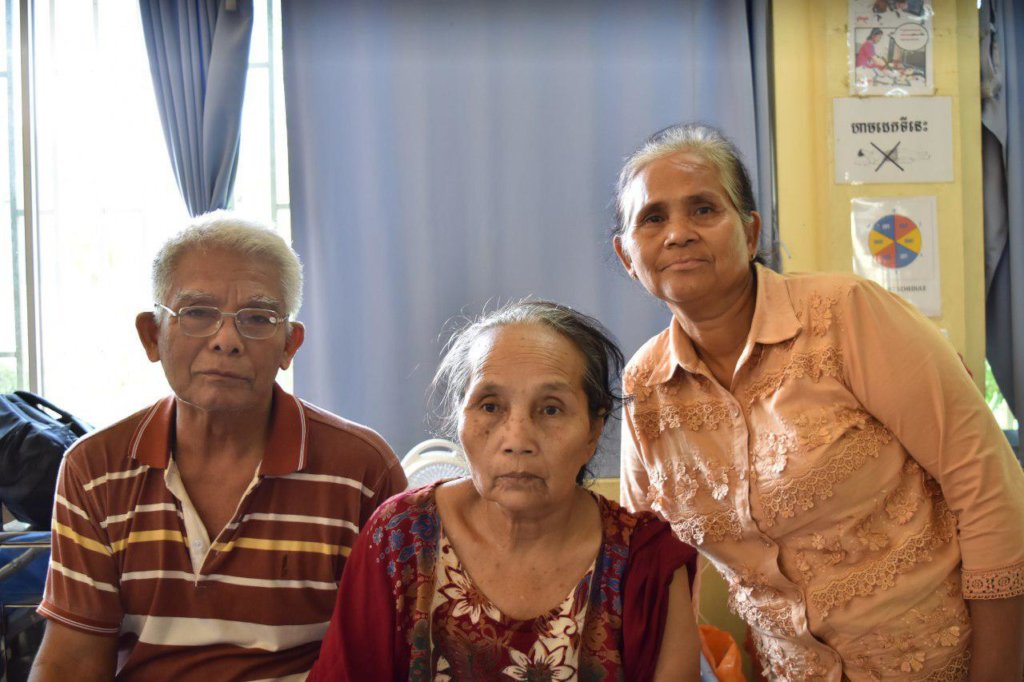 Vorn is a 67 year old from Kratie province in north-east Cambodia, she had been suffering from severe abdominal pain for two months and could not find adequate treatment at home. By the time she made it to Sihanouk Hospital Centre of HOPE (SHCH), her condition was serious and she was admitted for emergency treatment.
After months in pain and unable to find quality healthcare at home, Vorn and her husband Deoun were desperate to find treatment no matter the cost. They have no savings and rely on their daughter and daughter's husband to provide for them in their old age – her daughter's family earns $10 a day working on their neighbour's farm. The pair sold their motorbike and took out a loan for $2500 so they could pay for treatment elsewhere – almost the same amount as their family earns per year.
Once the pair had secured funds and pain killers for the journey – the only treatment available – they urgently travelled to SHCH. A relative working in healthcare in Phnom Penh suggested that Vorn seek treatment at SHCH where she could access affordable, quality healthcare.
The pair travelled via several tuk tuks. Each tuk tuk taking them no further than the next town. As a result they spent more than what their family earns per day to get to Phnom Penh.
By the time they arrived, Vorn was in terrible condition, suffering extreme pain and had been unable to eat for days. She was admitted for emergency treatment.
The emergency team diagnosed Vorn with stones in her liver and stones blocking her bile duct, which were so large they could be seen by ultrasound. The blockage had resulted in a build of bile and distension, causing pain, and lack of bile to help digestive function. The surgical team quickly went to work and removed the stones blocking her bile duct which has restored bile function and treated the distension.
When the team spoke with Vorn, she had been in hospital for 25 days – she had been treated as an emergency priority and our staff askd questions later. They reviewed their receipts and found they had in fact received a number of services for free or subsidized by our donors, including anesthesia, antibiotic injections and pain medication. They did not need to spend the entire loan amount to access Vorn's treatment after all.
Deoun was impressed with the quality of care at the hospital, explaining the nursing staff were very responsive, always on time with pain medication and were very kind.
Vorn said her surgery wounds were sore but she was feeling much better and didn't have the same deep pain as before her surgery. When asked what they were looking forward to after Vorn was discharged, Deoun joked that they were too old and tired for fun, but Vorn said she was happy to be going home.
Vorn's younger sister also arrived during the interview and was proud to explain that they lived in the province with dolphins. She was proud to report that more of the endangered Irriwaddy dolphins were born this season than previous seasons and encouraged us to come and visit.
SHCH continues to provide quality healthcare to Cambodians who could otherwise not afford or access it. We continue to build up our name across Cambodia with your help. Your donations make it possible to treat emergency cases with high quality care like, Vorn. We are grateful for your donations and support, that keep our doors open to
Links: