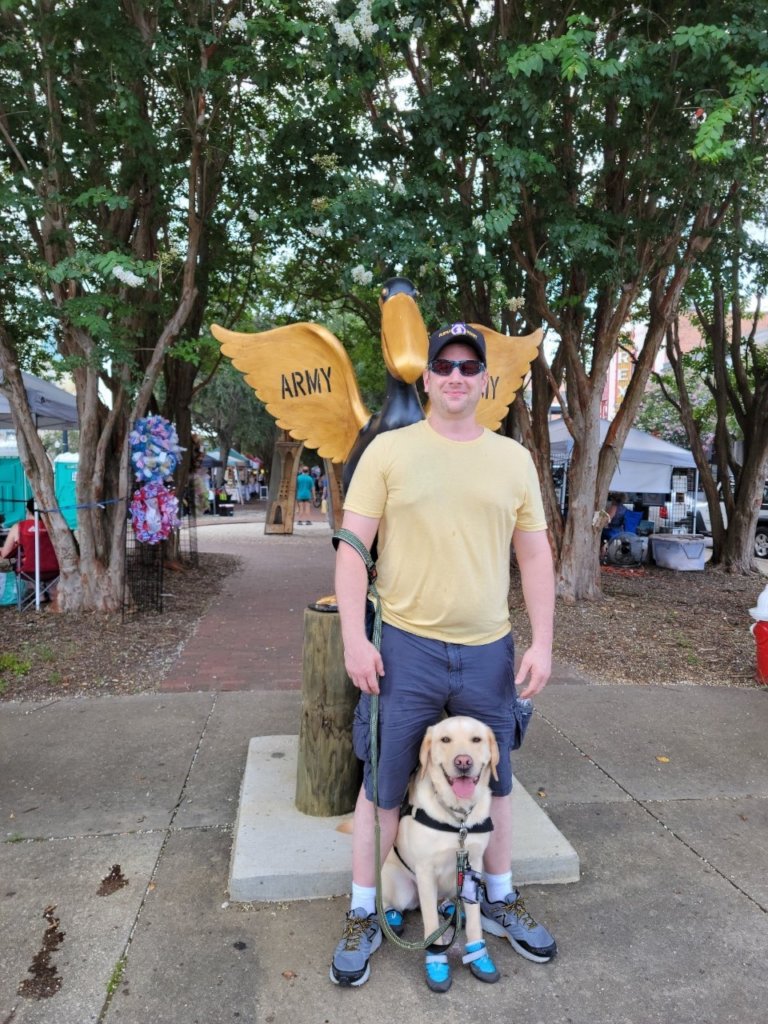 Join us in congratulating US Army Veteran SPC Brent and Warrior Canine Connection (WCC) Service Dog Tallman!

WCC's Tallman was fortunate to have two incredible volunteer Puppy Parents. Kim, Tallman's Puppy Parent in Maryland shared, "Volunteering for WCC has been an amazing experience. Having been in the program a while and seeing the difference these wonderful dogs make in the lives of a Veteran makes the bitter sweet end of their time with me so rewarding. Training these dogs everyday is a very small way I can thank a veteran for their service and sacrifice."

"So excited and happy for Tallman," added Pam another of Tallman's wonderful Puppy Parents from WCC's site in Asheville, NC. "He will always have a special place in my heart since he was my first Service Dog in Training! He was so laid back but so smart! Watching him train with the Veterans here in Asheville was amazing! He loved them and they loved him," Pam continued. "One of the most special parts of being a Puppy Parent is when a namesake's family respond to the social media posts and love seeing the progress the dog makes! I want to wish Tallman and his Veteran years of happiness and love!"

WCC's Tallman was named in honor of United States Army Sergeant Matthew Tallman. From a young age, SGT Tallman showed an aptitude for all things mechanical. After enlisting in the Army, SGT Tallman trained as a Blackhawk technician. He served as a helicopter mechanic in Afghanistan before being sent to Iraq as a crew chief. SGT Tallman was assigned to the 4th Squadron, 6th U.S. Air Cavalry Regiment, at Fort Lewis, Washington. On August 22, 2007, while on deployment in northern Iraq, SGT Tallman was one of fourteen soldiers killed when their Blackhawk helicopter crashed. He was thirty years old and the father of two. Prior to his death, SGT Tallman applied for a promotion to sergeant. He had hoped to be a guide to young people just entering the service. Posthumously, SGT Tallman was awarded the designation.

Recently, we had the honor of hosting SGT Tallman's Gold Star Mother at Warrior Canine Connection's Healing Quarters where she was able to meet the dog named for her son and that dog's forever Veteran. "Although it was emotional at times, I am so glad I pursued having a dog named for Matthew, and making this trip to meet the person he will be helping," shared Virginia. She continued, "Learning more how the process of selection was done. I know Tallman is right where he needs to be. I know my son is always just "over there" when I need him and it sounds as if he had a hand in choosing just the person who needed him most."

That person is US Army Veteran SPC Brent. "Dogs can tell when you're not feeling right, when you're down and stuff, and a dog's love is going to overshadow anything of what's going on," shared Brent. "You see a dog, you smile because no matter what they bring joy to your heart because there is very little that a dog can do to make you upset. You guys have been a miracle to me…Cause without you guys I don't know who I would have gone to. And you guys have just been amazing to not only myself, but even my family each time we've come up here. I mean I can't ask for a better pairing. I mean it's just been great."

We couldn't ask for a better pairing either! Congratulations Brent and Service Dog Tallman!
Links: