Project Report

| Aug 16, 2023
New orchards at schools in Chicago, Denver, & Dallas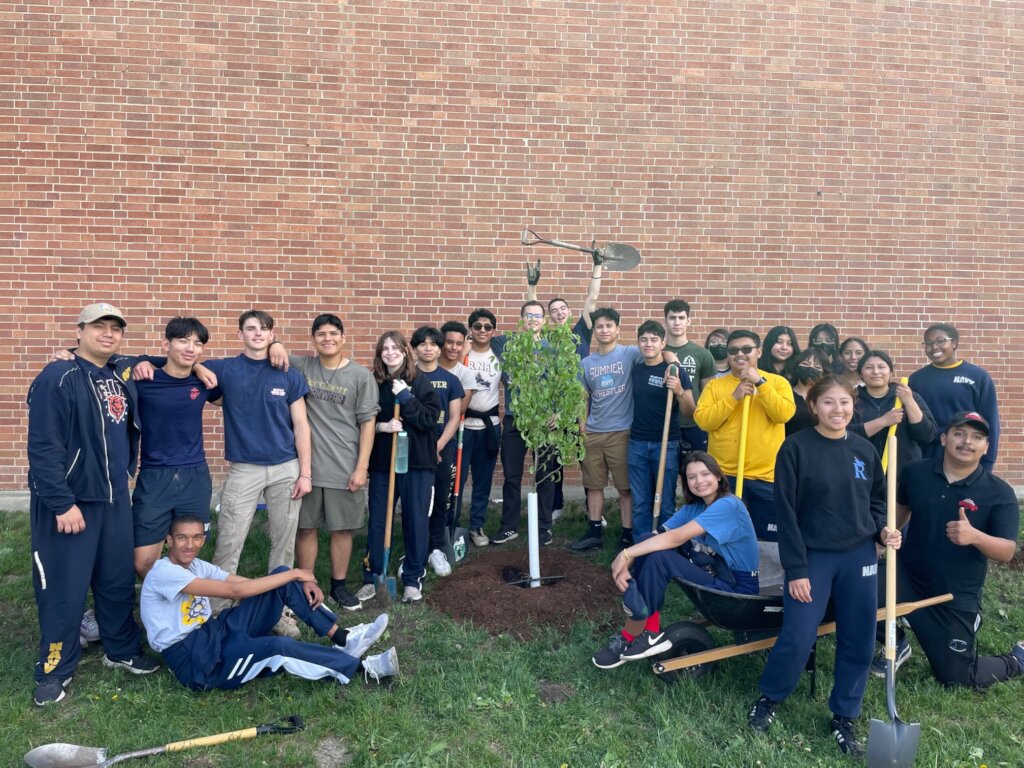 Dear friends,
We are excited to share the news of three new schoolyard orchards planted in Chicago, Denver, and Dallas!
We kicked off the season by planting 12 trees and 12 berries at Rickover Naval Academy High School in Chicago, Illonois. This public school serves a community where 75% of students are part of free/reduced lunch programs, underscoring the significance of having a source of fresh, wholesome nutrition right on campus. The school principal emphasized the far-reaching impact of the orchard, stating that it will not only "expand our environmental, agriculture, and science program" but also introduce students to essential life skills. This orchard is particularly vital in a city that ranks among the top ten lowest for tree cover in the Midwest.
Next up, we traveled to Denver, Colorado to establish a vibrant 40-tree orchard at Monarch Montessori. The school's commitment to nurturing nature-positive experiences for students seamlessly aligns with our mission. The school director also highlighted the orchard's role in enhancing student food security: "Fruit harvested in the orchard will benefit 300 children enrolled, and their families, to have access to fresh fruit at home and at school because the neighborhood does not have a grocery store in its vicinity. The education component of this orchard will make a lasting impression for [our students], 60% of whom come from low-income."
Finally, our team made their way to Dallas, Texas where we planted 30 trees at Venus Primary School. We also gave away 10 trees to dedicated volunteers who joined us in planting the orchard – among them, families with students at the school. The principal highlighted the orchard's contribution to a greener campus, stating, "We are currently adding a garden to our campus, and the addition of fruit trees would provide an educational learning experience for our students and support the needs of our community. Our goal is that the addition of fruit trees would help reduce stress and encourage our students to be outside, all the while providing a learning experience of life science."
As we look ahead, we're thrilled to share that more Fruit Tree 101 projects are on the horizon for late summer and early fall in Minnesota and Wisconsin. Stay connected through our reports and social media channels for regular updates on these projects, including our endeavors at schools abroad – such as the impactful planting of 100 trees at schools in rural Guatemala last month.
We invite you to join us in nurturing these projects. Your support, whether through donations or sharing, plays a pivotal role in expanding the reach of our mission, bringing the nutritional, educational, and environmental benefits of fruit trees to children across the United States and beyond.
Links: