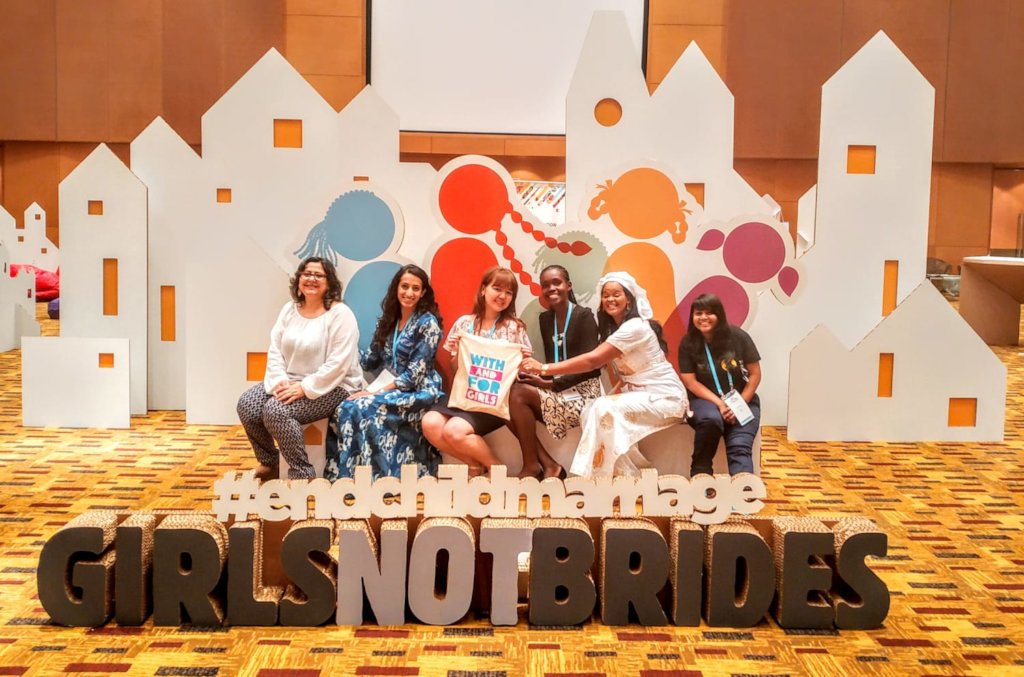 Dear all those who are standing with and for girls!
Thank you so much for your donation to the With and For Girls Collective via Stars Foundation, your ongoing and new support is invaluable to us.
Here at With and For Girls, we firmly believe that all girls should live in a world where they have the agency, platform and space to enjoy equality, justice and opportunity around the world, in their homes and in their communities. We support girls and believe it is they who hold the power to drive truly transformational change around the world.
Whilst we support girls working on a wide range of challenges and issues, last month we focused on child marriage. Twelve million girls a year are married before they reach the age of 18. This is still an ongoing and complex problem fuelled by gender inequality, poverty, harmful traditions and insecurity.
Last month the With and For Girls Collective funded seven young women and girls from organisations we support in Cameroon, India, Kenya, Kyrgyzstan, Pakistan and Zimbabwe (who have been affected by child marriage and work to end the practice) to attend a global convening in Malaysia hosted by Girls Not Brides.
It is far too often that girls who are directly affected by issues are not given a say on decisions which have the greatest impact on them. The aim of the convening was to bring together the world's leading advocates to end child marriage to:
Connect: Build an ever-closer and more effective global partnership
Learn: Share knowledge and evidence about what works to address child marriage
Inspire: Celebrate progress to ensure more action and resources
Align: Agree on next steps to achieve our common strategic objectives
This also gave us an opportunity to reconnect with the organisations we work with and we had never felt more pride in hearing about the work that they do and the growth organisations have made.
Representatives from the following With and For Girls Award-winning organisations attended the Girls Not Brides convening:
The National Federation of Women's Communities of Kyrgyzstan which works with girls in Kyrgyzstan where 12,000 women and girls are abducted for marriage annually.
Girls United for Human Rights which works in Pakistan and challenges norms where girls as young as 9 years old are given away for marriage.
Pastoralist Girls Initiative in Kenya which works with rural communities to eradicate child marriage.
Feminist Approach to Technology which works with girls in India to give them a better chance at an independent future by providing free training on science, technology, engineering and mathematics as well as workshops on women's rights.
Nyanza Initiative for Girls' Education & Empowerment which focuses on supporting victims of child marriage and girls who are also young mothers by providing girls with the opportunity to finish their education and securing a better life and future in Kenya.
Katswe Sistahood which is a powerful all girls group which provides sexual and reproductive health and rights services to young girls in Zimbabwe.
Forum des Femmes Autochtones du Cameroun which successfully works in indigenous communities to end child marriage in Cameroon.
As always, many thanks for your support. Together we can end child marriage.
The With and For Girls Collective