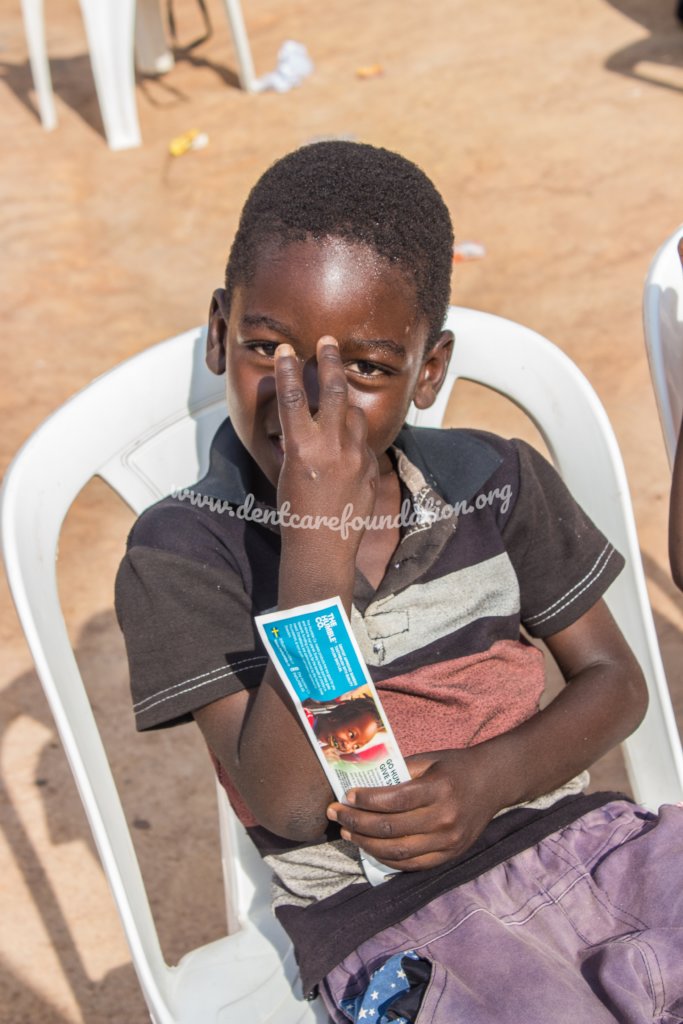 EXECUTIVE SUMMARY
The aim of project Healthy Mouth Healthy Kids is to provide oral health education and improved access to oral healthcare services for children in rural, remote and some urban slum communities.
Benefits to these communities include:
Provision of mobile dental clinics to rural communities;
Oral health delivery to the doorsteps of the people
Provision of free oral health screening, prevention, education and referral for basic health services to the underserved population
Capacity development of the local health workforce.
PROBLEM STATEMENT
The burdens of oral health diseases are high in low income communities. Sensing that health is one of the most important components of a person's life, there is a need to improve and cater for free oral health care for vulnerable children in rural areas. Survey shows that 92% of children resident in villages in rural areas of Nigeria have never visited a dentist despite the prevalence of dental caries due to poor oral hygiene, majority of them are even ignorant of oral health generally. Access to adequate oral healthcare is an issue in rural areas because most of the families cannot afford to pay for a proper dental care neither have they been enlightened about their oral health. Less than 20% of the rural populations in Ekiti have access to a dentist or a dental facility. A total of 446 registered dental clinics presently provide oral health care services across Nigeria. About 50% of these providers in the southern zones belong to the private sector, and about 50% of private providers are based in Lagos State alone. The majority of dental facilities are located in cities and towns because access to social amenities such as electricity and potable water is easier in urban areas. Only 20% of dentists in both the private and public sectors work in rural areas, where more than half of the population resides. Ekiti has 5% of those 20% working in rural areas because Ekiti state is up high in the league of the poorest state in Nigeria, making it as the 4th as at 19th February 2019.The GDP of the state is put at US$2,848 which means the professionals don't get paid well so they go to cities that can provide a better living standard. Majority of those rural dwellers cannot afford to go to the cities to access adequate oral healthcare neither can they pay the out of pocket costs for this services due to poverty. The mobile dental camp clinic is aimed at bringing quality healthcare to these completely ignored underdeveloped areas, and to make significant difference in the lives of so many children, to see them smile with happiness in their hearts. To create a brighter future for them by giving them access to oral healthcare, free from the pain of oral health diseases.
PROJECT OBJECTIVE
To provide oral healthcare services and awareness in a community where the basic access to oral health service is lacking
Increase access to oral healthcare in an underserved area: The primary objective of this project is to bring oral healthcare into a community with limited access, specifically to children who are vulnerable.
To ensure curative health care: To prescribe and dispense medicines and referral to hospital for other cases when necessary.
Distribute free oral healthcare kits(Toothbrushes, toothpaste and dental floss) to children in each community.
To provide oral health education for community rural dwellers
Integrating patients into existing social and health care systems through referral
PROJECT BENEFICIARIES AND TARGET GROUP & POPULATION:
The target groups for the project are vulnerable population and the financially disadvantaged of the selected communities. The primary benefit of this project will be children living in rural areas Ekiti State is the PILOT STATE and project is planned to be replicated in different States, of Nigeria
IMPLEMENTATION STRATEGY AND METHODOLOGY
It is proposed to run a 1 day dental camp in each community for children who due to poverty cannot approach regular doctors. Social worker associated with the project will reach out to selected communities and other stakeholders. Besides providing dental consultancy the medicines/drug will be made available free to beneficiaries.
The following methods will be adopted for the Mobile Dental Camp:
Planning Meeting and Recruitment of Mobile Health Workers
Advocacy Visit to Local Health Facilities, Community Leaders and relevant stakeholders to ensure adequate support and effective mobilization during the outreach. This activity will enhance referral; consolidate sustainability and continuity of oral healthcare services at the community level
Publicity, Mobilization and media engagement
free Oral HealthCare Services Delivery in community, this includes:
Diagnosis, Treatment and Support for Chronic Oral Disease Management
Oral Cancer screening and awareness
Referrals and follow-up
Outreach Evaluation and Reporting
PROJECT IMPLEMENTATION DETAILS COMMUNITY 1
Project name: Healthy Mouth, Healthy Kids 2.0
Location: Aba Egbira community, Ilokun Community. Ado-Ekiti
Date:29th August 2019 900am -4.00pm
Number of children reached: reached:97
OUTREACH TEAM
Dr Adekemi AdeniyanExecutive Director/Project Lead
Dr. Ajibare Ayodeji Member
Mrs Ajibare Oluwaseun Treasurer
Miss Oghodo Doris Administrative Officer
Dr. Abodunde Seun Member
Mr Uche Ibe Member
Miss Bolatito Sarumi Member
Miss Adelabu Adenike Member
Dr Ayokunle Makanjuola Member
VOLUNTEERS
Miss Ugbodaga Mayowa
Barrister. Ajayi Bukola
Miss Udoh Joy
Miss Ndukwe Joy
Miss Keji Oloidi
Miss Folake Omotunde
PROJECT SUMMARY
The project targeted the most impoverished children in rural areas of Ekiti State. These include orphans, vulnerable, children, street children. The project will provide free dental treatments and dental kits(toothbrush, toothpaste, dental floss) to children between age 2 and 17 in five rural communities by establishing a mobile dental camp clinic in the community where basic dental treatments like scaling and polishing, dental fillings and extraction would be carried out.
In the rural areas, many children are unable to access the most basic of oral health instruction/care and the need for oral health care is overwhelming. The burdens of oral health diseases are high in rural communities of Ekiti due to poverty and lack of access to dental facilities and 92% of children resident in villages in rural areas of Nigeria have never visited a dentist despite the prevalence of dental caries due to poor oral hygiene, many of these children end up missing school due to dental pain. No child deserves to miss school simply because they cannot afford oral health care or don't have access to a dentist, yet we see many bright potentials every day in the rural areas of Ekiti miss school due to dental pain, many of which never recover from the academic tailspin. This could be my child; this could be your child, these are great minds destined to shape the future.
SUMMARY OF ACTIVITIES
The event which was earlier scheduled to begin by 9:00am, eventually kick started at 12:00pm because targeted children and parent were at school and farms respectively. After the proper setting up by team members and volunteers, the event started with registration of kids present as well as a dance competition which was done to entertain the children. After the dance competition, gifts were presented to the winners of the competition.
There was a general oral health education by Dr Abodunde who is a dentist. He spoke to the children present on the importance of oral health. This lasted for twenty minutes, the team then proceeded to oral health examination and screening which was carried out by 3 licensed dentists and those who needed further treatment were scheduled for it and referrals also done. Basic treatments carried out were done after a consent form was signed by their parents.
After the examination, a tooth brushing competition was organized for the children, this was to show the extent to which they were able to assimilate what they were taught, as well as an art competition, which involved drawing a toothbrush and a toothpaste. The winners of the competition were presented with gifts which comprises of customized Dentalcare Foundation school bags, water bottles, note books and pencils, because we believe in education as much as we believe in health.
At the end of the outreach, parents of the kids present expressed their appreciation to the organization and stating that they have never been privileged to such event, and they look forward to more outreach from the organization. Video interviews and surveys were documented.
The Founder and Executive Director Dr Adekemi Adeniyan appreciated volunteers and team members and presented a certificate of participation to appreciate and recognize their efforts during the outreach.
The outreach ended by 4:48pm, after which the team set down and headed to their various homes.
Project Outcomes:
Total Children Reached: 97
Toothbrushes Distributed:97
Onsite Treatment provided: 2
Referred Cases: 27
Future Scheduled Treatments: 32
The team is scheduled to go into the community in the next three months for further monitoring and evaluation.