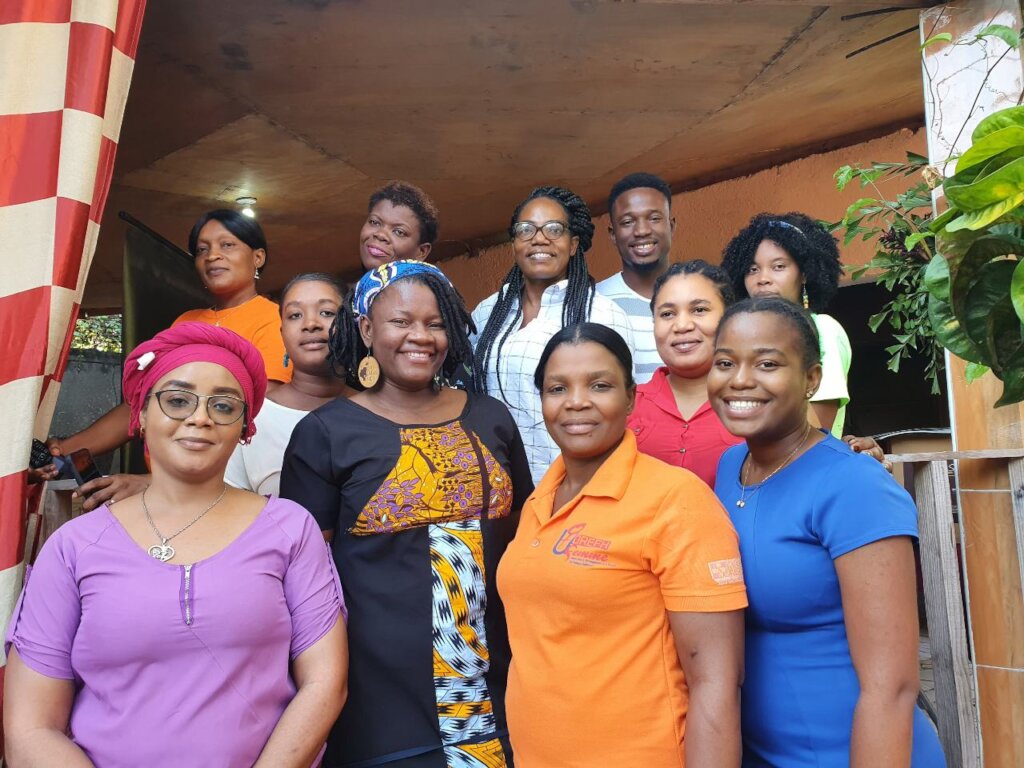 The Movement to Prevent Violence Against Women and Girls is Growing -- Thanks to You
Thank you for your generous support for the Haitian-led movement to prevent violence against women and girls and free, educate, and empower girls in Haiti.
With your support, a growing group of women and men are committing themselves to the movement to prevent gender-based violence and balance power between the sexes, working every day to expand their reach to more communities across Haiti.
I want to share with you some of the many different initiatives that your generosity is making possible. Thanks to you, Beyond Borders' Rethinking Power team will continue work on:
Creating and adapting new resources for the prevention of violence against women and girls with disabilities and the economic empowerment of adolescent girls,
Advocacy and feminist network building, including new collaborations with existing local and national feminist movements and the growing network of activists that emerged as part of our SASA! and Power to Girls implementations,
Engaging local government and justice sector personnel, with the goal of creating improved domestic violence response services,
Engaging school personnel -- through training and ongoing technical support -- to implement Power to Girls programming and Safe and Capable tools to prevent violence against women and girls living with disabilities.
I hope you take pride in what your support is helping to build. Your generous support is critical to the success of the movement to prevent violence against women and girls.
By The Numbers: The Latest Movement Building Work You Make Possible
In the last quarter alone, your support has made it possible to launch initiatives like these:
347 people in the communities of Nan Kafe and Matènwa on Lagonav Island participated in conversations and debates around gender-based violence and balancing power using SASA! communication materials
105 girls from 16 Girls' Clubs received their certificates after graduating from clubs in Lavale
32 members from different partner organizations were trained in popular (street) theater techniques
30 community members were trained in new advocacy skills and techniques
27 judges, lawyers, and members of community-based and civil society organizations in Ansagale on Lagonav participated in a workshop to discuss the problem of violence against women, judicial action and reparations
22 visits were conducted to neighborhoods in four new target communities to plan for the upcoming next implementation of SASA!, Power to Girls, Safe and Capable (to prevent violence against women and girls living with disabilities), and the new Economic Empowerment Resource Pack
22 wives and husbands on Lagonav participated in a couples' workshop to talk about power balance in their relationships
16 women in Lavale participated in leadership training on how to become a Girl's Club Mentor and how to foster the creation of community Girls' Clubs
Your investment in our shared mission to prevent violence against women and girls makes this kind of movement-building work possible.
Celebrating International Women's Day in Jacmel and on Lagonav Island
In Jacmel, the Rethinking Power team organized a press event with local journalists to highlight International Women's Day. On Lagonav Island, local grassroots leaders trained by Beyond Borders organized awareness-raising marches in the communities of Masikren and Gransous. Organizers rallied community support for an end to violence against women and girls and efforts to balance power between women and men and girls and boys.
You are Supporting the Development of Grassroots Female Leadership in Haiti
One of the ways that you are helping to build the movement to prevent violence and balance power is by supporting the development of grassroots leaders like Taroody and Mirtha, who lead a Girls Club in their community.
"We gather twice a week with two different groups of girls -- 10 to 14 year-olds and 15 to 19 year-olds," Mirtha explained.
"We talk about girls' health, managing money, leadership, friendship, communication, violence, and power," Taroody added.
Mirtha and Taroody and their fellow Girls Club leaders aim to support the development of empowered, informed young women who are ready to be leaders in their own communities.
"We want these girls to share their talents, to know that they have power, to not be afraid to speak up no matter the setting -- especially if they see violence happening in their own community, their own home, or to a friend."
Your generosity makes the work of leaders like Mirtha and Taroody possible, and fosters the development of the next generation of empowered female leaders in Haiti.
Beyond Borders' Rethinking Power Team Invited to Present at UN Trust Fund to End Violence Against Women Forum
I am happy to share some exciting news: recognizing the groundbreaking work Beyond Borders' Rethinking Power team is doing to empower girls, The United Nations Trust Fund to End Violence Against Women invited them to present at a recent forum.
My colleagues Emanuela Paul and Sara Siebert shared how the team has adapted empowerment programming for girls living with disabilities during difficult circumstances in Haiti.
You can click here to watch the full forum, which includes invitees from other organizations too. You'll need this passcode to watch the webinar: D&PWECr9
And here's a transcript of some of the answers Emanuela shared with the UN Trust Fund to End Violence Against Women prior to the forum:
In what challenging, and rapidly changing context is your organization working on ending violence against women and girls: COVID-19? Conflict? Post-conflict? Flood? Drought? Earthquake? Political instability? Shrinking spaces for civil society?
In our work to prevent violence against women and girls with disabilities in Haiti, the context has been difficult for three reasons: 1. COVID-19, 2. The presence of armed groups and gangs in some parts of the community where we work, and 3. Socioeconomic and political instability.
How is that context affecting the position of women and girls, especially violence against women and girls from your project's perspective?
The difficult context came with a lot of negative consequences for women and girls in general, and especially for women and girls with disabilities. There is increased food insecurity, increased risk of violence, and less opportunity for them to get out to their small businesses or economic activities. It became increasingly difficult for caregivers they relied on to get to them to provide support as they had previously done. Going out was often very risky, and the lack of accessibility in the community made it even more difficult.
How is your organization responding to the challenges posed by the crisis context?
During these crises, Beyond Borders had to re-adapt its modes of community intervention to respond to the challenges presented by the new reality. In this sense:
We did a number of activities such as distributions of materials and health/sanitation kits for COVID prevention. We supported local authorities in their COVID prevention activities.
We conducted several activities for girls to do in their own homes. We organized community mobilization activities, home visits, distance-based girls' group activities.
We created two videos, several memes, and radio spots with Sign Language interpretation to start distance-based dialogues.
We did these to raise people's awareness about COVID, but especially to continue our awareness raising about the risks of violence against women and girls with disabilities during the time.
What needs to be done to make sure the voices of the most marginalized women and girls are heard in the international arena?
This is important to know. In a difficult context, it is essential to ensure that women and girls with disabilities are primary actors in their own process of change and in the change they want to see.
In addition, in difficult contexts, funds are needed––funding should be more flexible and should be able to adapt along with the problems. Long-term, flexible, core funding without too many restrictions and demands would help organizations of women and girls with disabilities to continue to exist, despite the difficulties. And especially it would help them to continue to prevent violence against women and girls.
Thank You Again
Thank you again for your generosity, your solidarity, your care, and your concern. More women and girls in Haiti are empowered and living free of violence and inequality because of you! If you have any questions about what you read in this report, please contact Brian Stevens, Beyond Borders' Engagement Director, at (305) 450-2561 or b.stevens@beyondborders.net.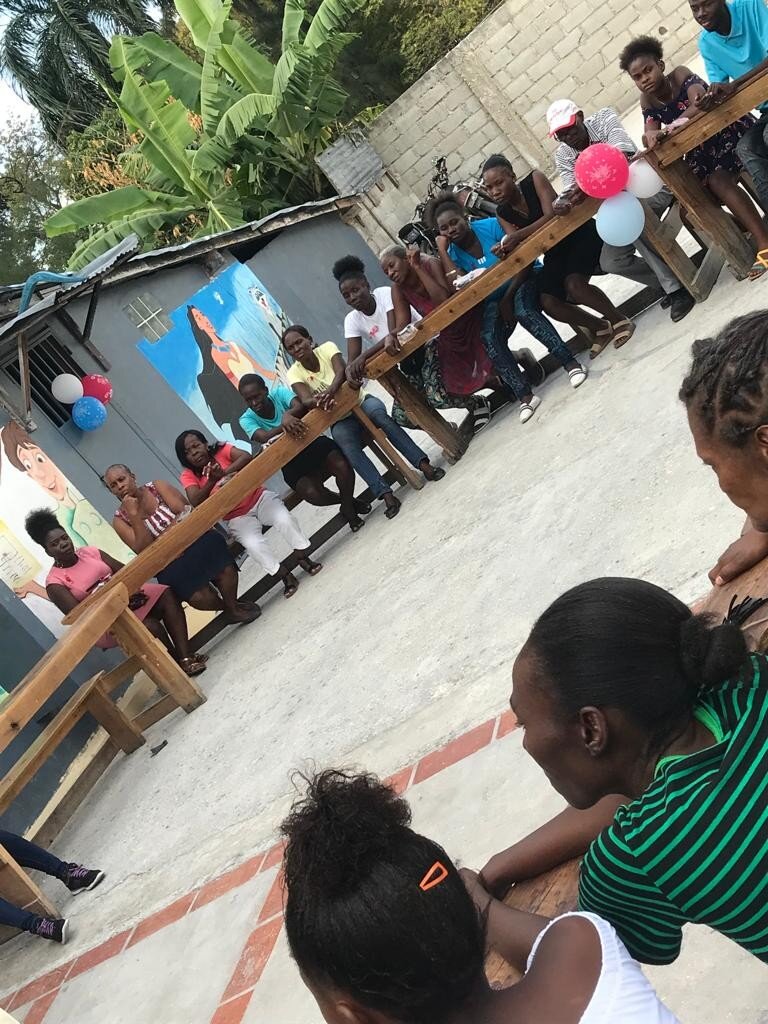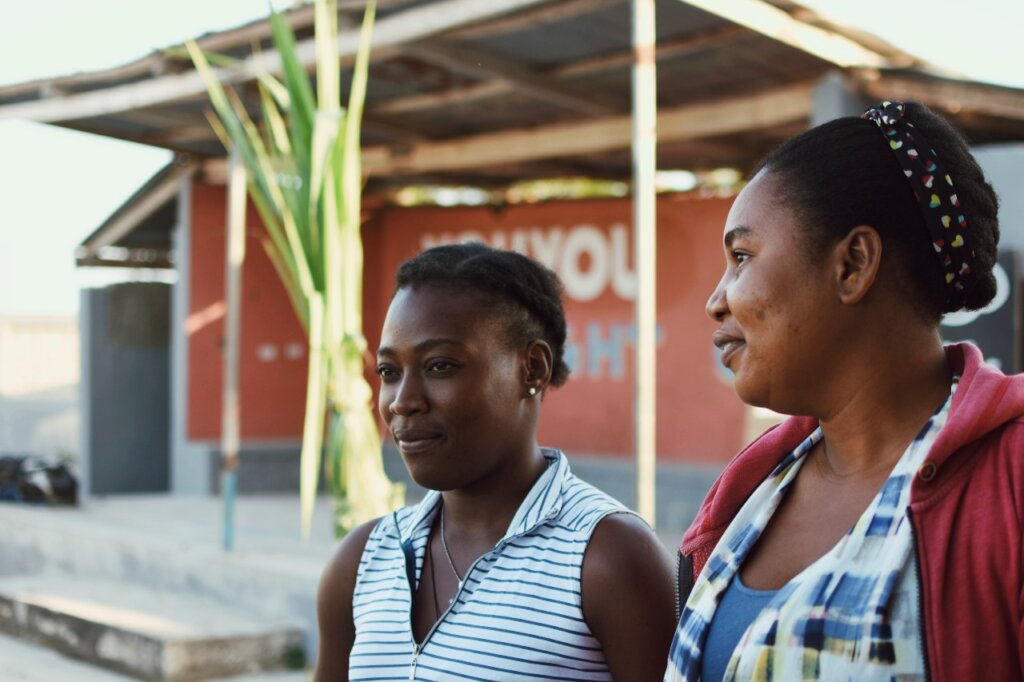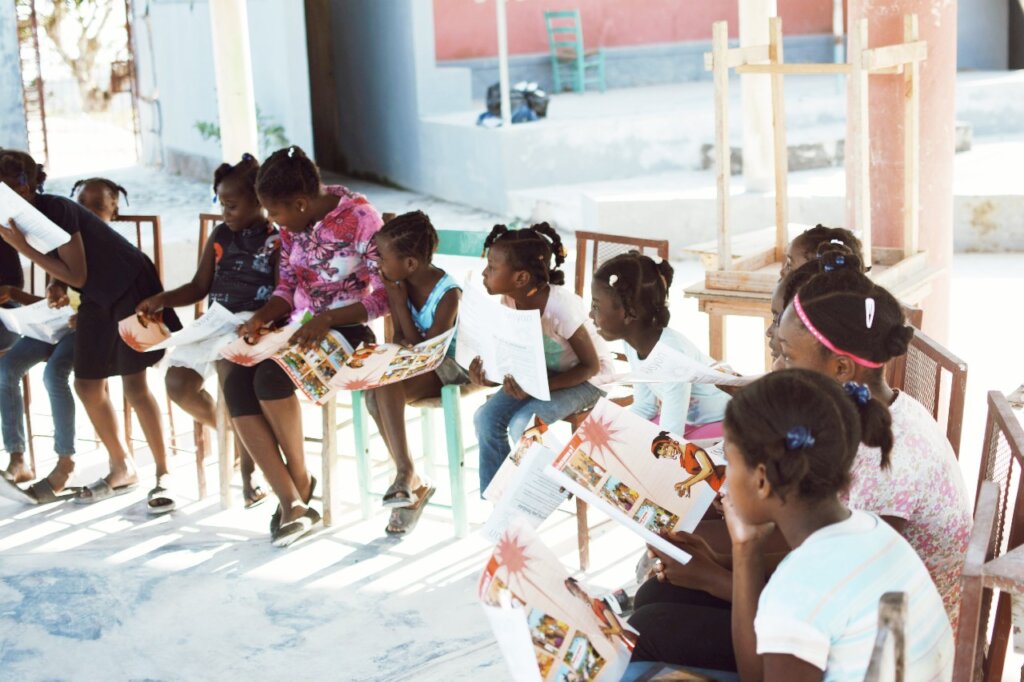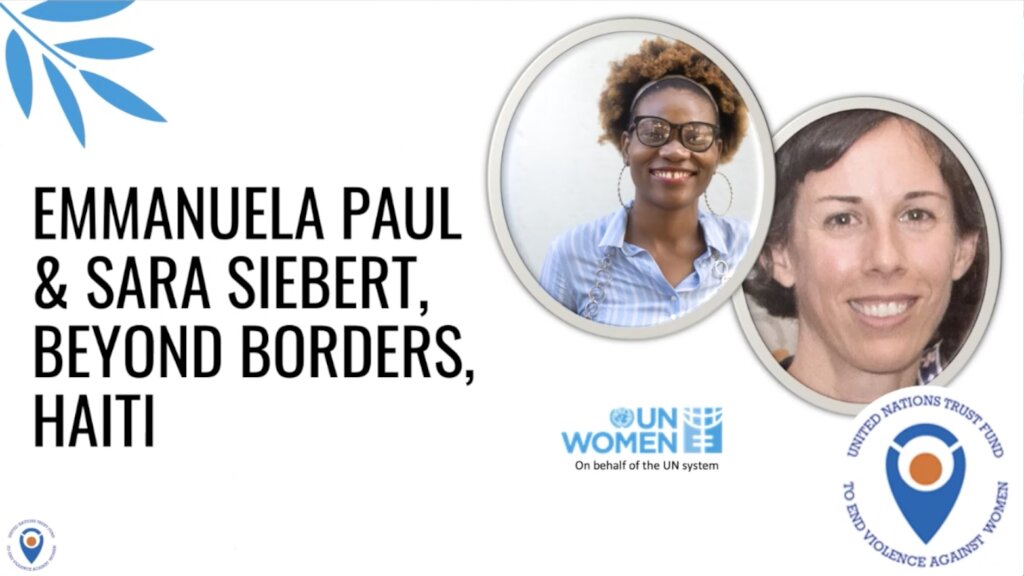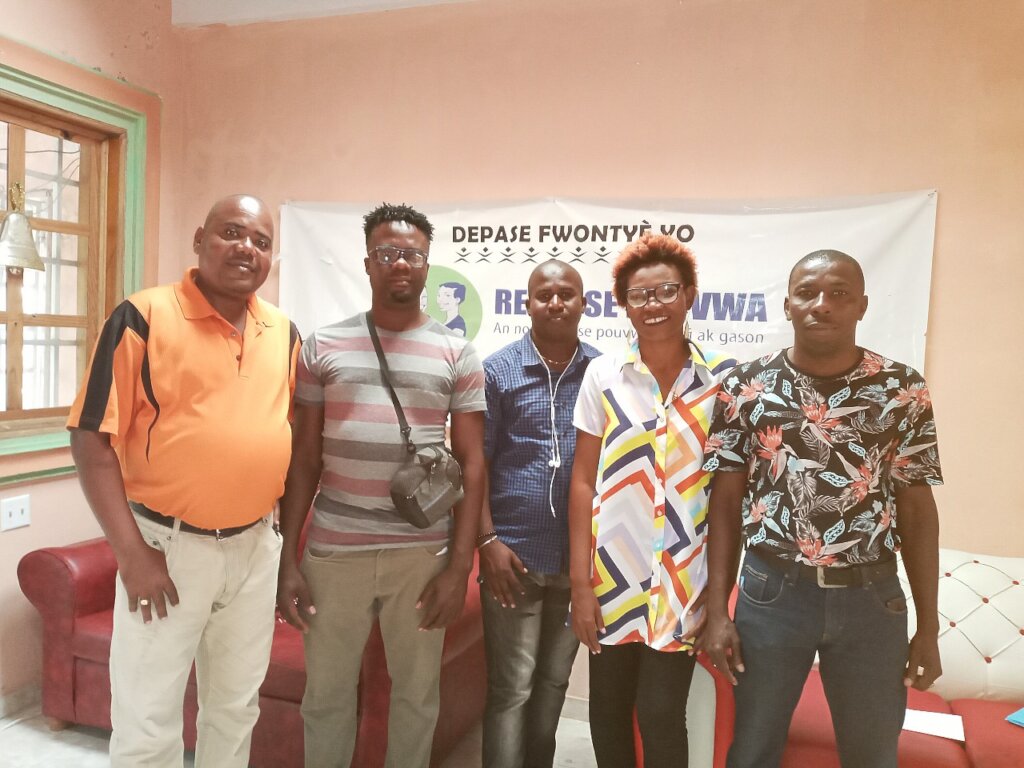 Links: