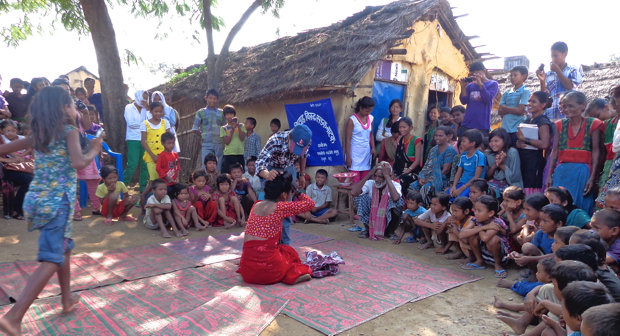 Using street theater, leaflets, posters, radio broadcasts, counseling sessions and house visits, NYF staff and counselors are working hard to encourage young women freed from the practice of indentured servitude known as Kamlari to stay in school and resist family pressure to marry early.
Last year, counselors reached more than 4,000 former Kamlari through orientation sessions, street drama, house visits and leafleting public bulletin boards. Counselors are creating support groups for boys and we're bringing families into the effort by forming "Guardian Committees" comprised of parents and community members.
The project is part of NYF's Empowering Freed Kamlari program which helps former Kamlari girls become healthy, happy and independent young women. NYF has rescued more than 12,700 girls since launching our campaign against the Kamlari system in 2000.
While marriage before the age of 18 is illegal, police and community members have tended to ignore the issue. Families often view their daughters as an economic burden and pressure them to marry, and this has been a particular problem for the girls we have rescued from Kamlari slavery.
NYF hopes to end the practice of early marriage by making girls, boys and their families aware of the negative health and economic consequences of dropping out of school and marrying young.
Thank you for your continued support!
Links: