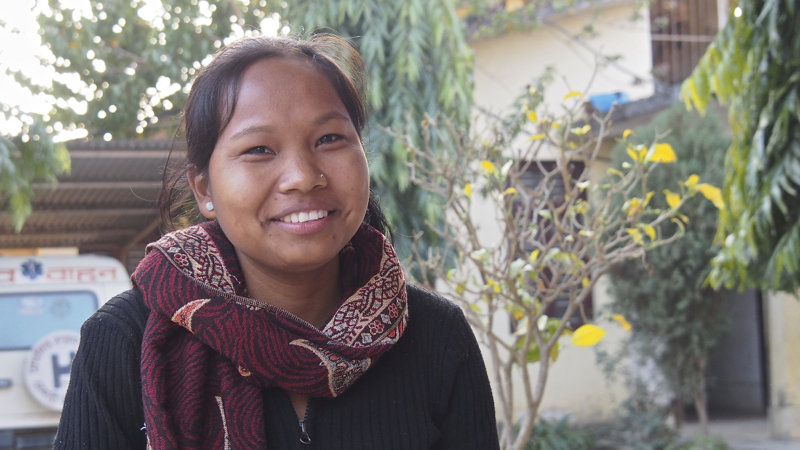 Renu was a fifth grader in her local village school when her dad had a bad accident and could no longer support the family. Desperate, he "sold" Renu into a contract of indentured servitude and sent the 12-year old to work as a Kamlari — essentially, a household slave — for a family in a city far from her home.
While her "employer" promised to send Renu to school, he gave her so much work that she was unable to attend the local elementary school. Instead, she studied on her own late at night after a grueling day of sweeping, mopping and fetching fodder for the family's animals.
"As a Kamlari, I was constantly working," Renu said. "I started at 3 a.m. and often didn't finish until midnight. It took everything to stay up to study."
As part of its campaign to end the practice of Kamlari, Nepal Youth Foundation (NYF) rescued Renu in 2000 after five years as an indentured servant. She was 17 years old.
Smart and hardworking, Renu received a scholarship and finished her studies, passing the difficult School Leaving Certificate exam, a test required of all Nepalis to complete high school. She joined NYF's Vocational Education and Counseling Center program (VECC) and completed the 18-month Auxiliary Nurse Midwife training program.
She now earns 15,000 rupees ($150) a month — good money in this impoverished country — delivering babies at a small clinic in Western Nepal.
Renu is also continuing her work towards a bachelor's degree — again, working late into the night studying.
"This is different," she said. "I don't mind studying now. I am lucky to have this opportunity. "
Since 2000, NYF has rescued nearly 13,000 girls from the Kamlari system, and was instrumental in causing the government of Nepal in 2013 to officially ban Kamlari once and for all. Today, NYF focuses on providing former Kamlaris with the education, job skills, emotional counseling, and business opportunities they need to ensure a brighter future.
"I am happy that the next generation of girls will never have to go through what I have been through," Renu said.
Links: