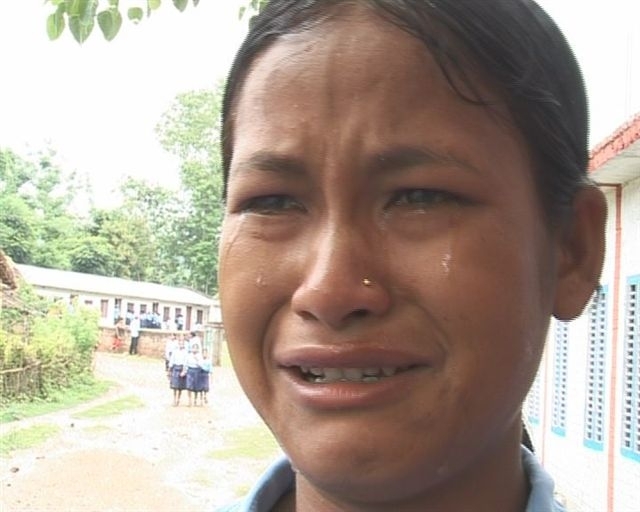 Sumitra – who sold herself into slavery for an education
Most of you know about our Indentured Daughters Program, which liberates girls (some as young as five) from bonded labor. These little girls are sold by their parents to a labor contractor (for an average of $50 a year), who places them with families in far-off cities as domestic servants. Many suffer terrible abuses – beatings, back-breaking labor, sexual abuse.
A few months ago, our staff working in the area conducted in-depth interviews with some of the girls we have liberated. I was appalled at the things we learned. Here is just one of many stories: Get out your hanky.
Bonded at age five
Sumitra (not her real name) was sold by her parents when she was just five years old to work for a family in another district, and her younger sister was bonded to the same family a couple of years later. The girls were physically and verbally abused by the entire family. They slept on the floor on a rush mat, with only a thin sheet as a blanket, even during the coldest season. They were fed scraps of food and suffered constant contempt from the family they worked for because they were considered to be of a lower caste. The children tolerated the situation for seven long years until they could bear it no longer, and decided to run away, back home to their parents.
Their parents were not very pleased at their daughters' return, for they were fearful that the employer would demand they give back the money they had already received as payment for the girls' labor for a year. Nevertheless, they were allowed to live at home for a while.
Sold again
Then Sumitra's parents sold her again, this time to a joint family, consisting of a couple, their married children, and their spouses. The wife beat Sumitra mercilessly, and when the husband tried to intervene, the wife became jealous and the beatings became even more brutal. The adult children began to tease her and call her their stepmother, and the villagers picked up on the taunt. Although it is illegal to have more than one wife in Nepal, in rural areas it is not uncommon for a man to marry two or even three women, often much younger than the first wife. So the ridicule contained an implied threat that she would indeed be married off to the father, a man in his 60s. After suffering under these conditions for a few years, she again ran back home.
This time, her parents not only refused to send her to school, but wanted to arrange a marriage for her so that they could be relieved of the burden of supporting her.
Sumitra is an exceptional girl. Her desire for an education is the central goal of her life. She bravely resisted her parents' attempt to marry her off (she was only 13 or 14 years old), and, instead, decided on a bold move which would relieve her parents of the burden of supporting her and at the same time fulfill her intense desire to go to school: she offered to work without wages for an employer who would enroll her in school. A family came forward that accepted the offer, and she went off to work for them. However, they did not keep their promise. They refused to enroll her in school, but she finished her work as quickly as she could and sat in on classes at the local school.
As it happened, the family lived in the Dang District, the area where NYOF has been working since 2000 to eradicate the bonding custom. One day, Sumitra met a group of girls who had been previously liberated from bonded labor by NYOF. She told them her story, and they knew just what to do. Our office was nearby, and they marched over and told Man Bahadur, our manager of the Indentured Daughters Program, about Sumitra.
Man Bahadur spoke with Sumitra, who said she wanted to go home. Throughout their conversation, she burst into tears whenever she talked about her past. He then went to the employer's house and gave him a choice: He could either release Sumitra from her labors on the spot, or Man Bahadur would call the police. The bonding practice is illegal in Nepal, but persists because of poverty and local custom, so that was a real threat. We have an excellent relationship with the local authorities, who have pledged to assist us in our liberation efforts. Of course, the employer chose the first alternative.
A happy ending
Man Bahadur and some volunteers returned with Sumitra to her home in the Bardiya District. Her mother was not too pleased about her return because, she said, they did not have enough to eat even without Sumitra's presence in the family. But our staff spoke with her at length and convinced her that she was damaging her daughters by bonding them away. The family received a baby goat to make up for her lost wages, and they signed with a fingerprint an agreement to keep Sumitra at home and in school.
NYOF will support her education through high school, and the NYOF staff continues to monitor her situation. Last year, NYOF extended its liberation program to the Bardiya District, and Sumitra is one of the most active and committed of the returned girls who are helping us to eradicate the bonding custom in Bardiya. She acts in street plays to bring awareness to other girls and their families about the dangers of selling children into servitude.