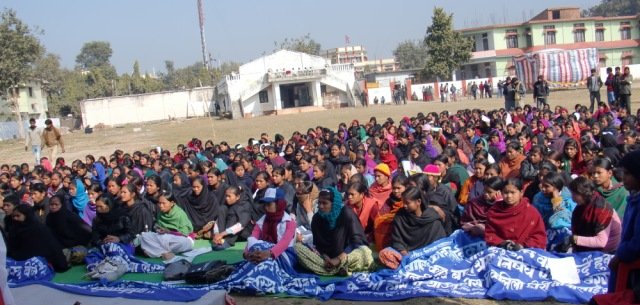 In 2011 a total of 1111 girls were rescued from virtual slavery from five districts of Nepal: 85 in Dang 318 in Bardiya, 453 in Kailalai, 77 in Bake and 178 in Kanchanpur. Many of those rescued joined the Freed Kamlaris Development Forum (FKDF).
FKDF is an organization of girls and young women who have been rescued from indentured servitude, most of them through the help of the Nepal Youth Foundation's Indentured Daughters Program (IDP). The FKDF mission is to end the practice of families selling the services of their daughters (and sons), to help ensure the education and ongoing freedom of these children, and to create business opportunities and cooperatives through which those rescued can develop self-sustaining economies for themselves and their families.
Every year, members of the FKDF rally together in December and January during the festival of the Maghi, which is the Tharu New Year and the time when contracts for child labor are often renewed or renegotiated. This year, an even larger number of freed Kamlaris showed up to protest the practice. They mobilized the local youth clubs, child clubs, and Badhgar (communal leaders) committees as well as the print and the electronic media. The major awareness activities included door-to-door visits, putting up posters and pamphlets, bicycle rallies, interaction programs, culture shows, street dramas and media mobilization. Transit points were blocked to check and rescue girls who were being taken away by contract employers.
These committed former Kamlaris hosted special awareness programs in all the districts celebrating the Maghi Festival. Through presentations, lectures and performances, the FKDF educated the children, young adults, parents and Badghar committees about the realities of this abominable practice. The young women of the FKDF also held press conferences and public hearings. Most emotional and heart-rending were the interactions with parents of Kamlaris who, once sold into servitude, disappeared.
Sixty-nine percent of the funds needed to continue this work comes from the Nepal Youth Foundation, which means, it comes from you. Thank you for continuing to support the liberation of children from bonded servitude. With your help, in their lifetimes, this form of slavery can vanish forever into the history books.
Links: