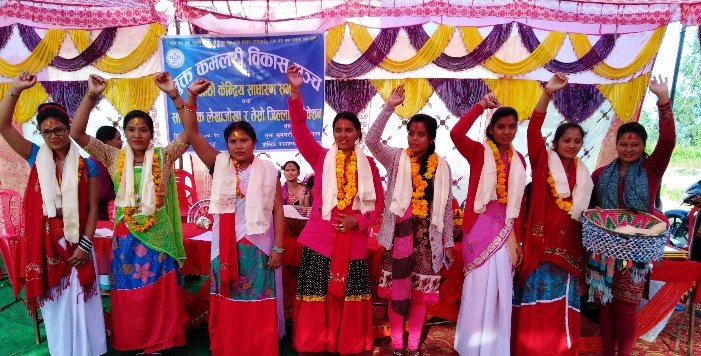 As NYF approaches 20 years of essential work with the freed Kamlari that you've helped support, our special focus in 2018, 2019, and 2020 is fully transitioning the management of the Empowering Freed Kamlari (EFK) program to the Freed Kamlari Development Forum (FKDF) leadership themselves. Investing in the FKDF through specialized trainings, micro loan and cooperative support, and ongoing NYF guidance are critical to successfully transitioning the program.
With NYF support, the Freed Kamlari Development Forum (FKDF) is growing into an influential NGO in Nepal. Run by elected Freed Kamlari leadership themselves, in 2018, the organization succeeded in lobbying the Nepali government to provide increased educational scholarships for some of the most desperately marginalized girls.
With NYF guidance, the FKDF are developing their 42 cooperatives into 'model cooperatives', ensuring that they meet all standards of operation and self- sufficiency based on Nepal's National Cooperative Guidelines. So far, 30 cooperatives have acquired this status.
NYF also facilitated a networking event this past year between FKDF leadership and Nepal's parliamentary election candidates. The goal of the event was to raise awareness about Kamlari causes among Nepal's influential leadership, an effort in which the 120 freed Kamlari attendees were very successful.
NYF has rescued almost 13,000 girls from Kamlari since launching the program in 2000. While the practice was officially banned in 2013, our staff has continued to locate and rescue girls trapped in illegal conditions. With NYF support, the FKDF worked persistently in 2018 to rescue 63 girls who are now safe, enrolled in school or vocational training, and building a brighter future.
Your support truly transforms lives. Thank you!
Links: