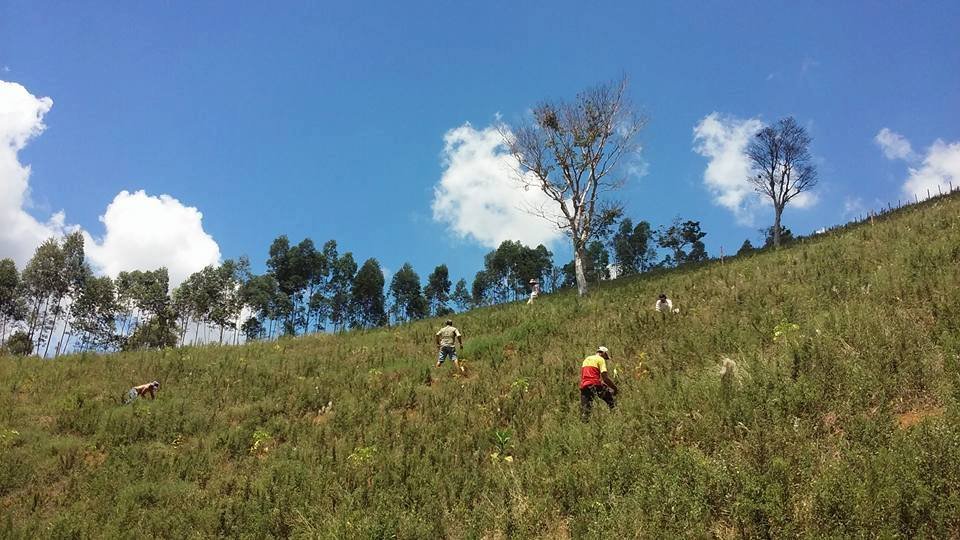 March has just begun, but here at Iracambi, we are already celebrating the successes of our reforestation program!
In the past two months, we have been able to connect with 28 farming families interested in rehabilitating their springs through the process of reforestation. Of these, we have chosen to collaborate with 12 families based on the urgency of their land/water/situation. By the end of the month, we plan to establish partnerships with a total of 17 families located throughout eight rural communities and two municipalities of Serra do Brigadeiro. This more than doubles the reforestations we had in 2015. By 2017, we want to expand to reach out to all families willing to participate in our initiative.
February's non-stop rainfall came as a surprise to all of us. We worked hard to replant seedlings which survived the transition from the forest nursery and fended off hungry ants in the field. Within the month, we hosted two reforestation efforts and for the first time in 16 years, we made sure there were no spare seedlings left in Iracambi's forest nursery.
So, supporters – what does Iracambi want?
First off, we must thank all of you whom have generously helped us reach our goals. We owe everything to the international donors who provide resources for our seedlings and gas in our tanks.
Secondly, we would like to tell you that our project has been creating a much bigger impact than we expected. Reforestation is an important step – but it is only one of many that needs to be taken in order to ensure the people of Serra do Brigadeiro have access to clean water and have nature as a partner who brings both income and life quality. This demands simple items such as environmental friendly septic tanks and rainfall storage systems as well as more complex, structural changes towards organic farming, community planning and increased environmental education. The community connections and data collection made through the reforestation project have been essential in transitioning ideas from abstract possibilities to attainable goals, both for Iracambi and other agents of our community (schools, church, local authorities).
For all these reasons, our sincere thank you from all the people whose lives Forest4Water has somehow improved,
Gui, Toni, Fagner, Binka, Arielle