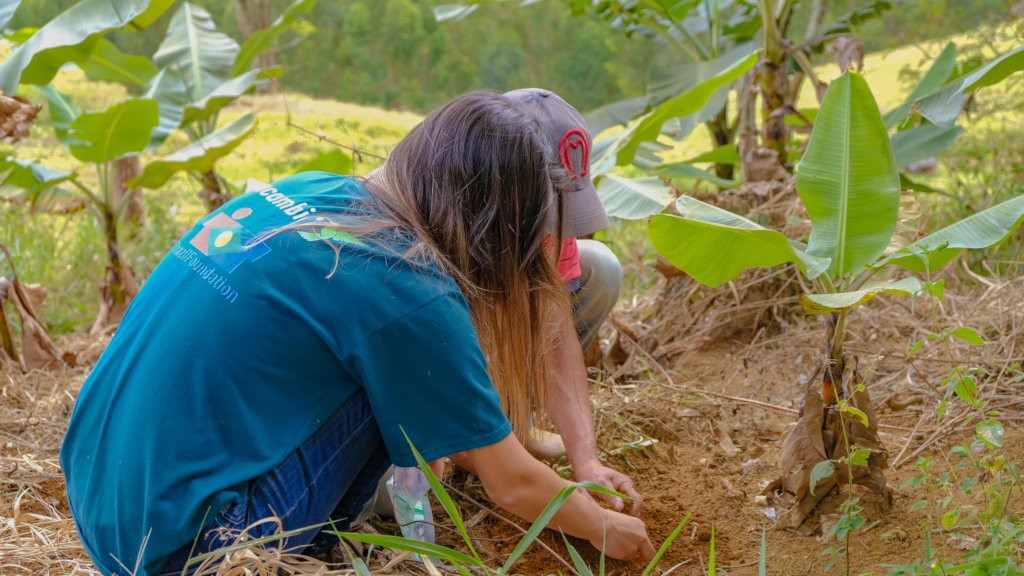 Dear Rainforest Guardian,

Greetings from the Atlantic Rainforest!
As always we are full of stories to share with you.

Our colleague Fagner who looks after the nursery, recently became a dad! Inspired by Iracambi's Agroecology project (which works with speciality coffee, a vegetable garden and SAF-Agroforestry Systems) Fagner has decided to leave the nursery and become a full-time coffee farmer. We are very happy for him and wish him all the best in his new venture!

As fate would have it, Régis an Agroecologist who volunteered in Iracambi in 2009, has never forgotten what he lived and learned. He recently returned with a mission: to produce lots of seedlings to reforest the Serra do Brigadeiro!

Régis, has now become our nursery manager and is doing an excellent job! He has reformed the nursery greenhouse, is developing a seed bank, and is continuing the work of producing and taking care of our beautiful seedlings.

But the good news does not stop there…
GREEN AWARDS LATIN AMERICA
Iracambi's Forest for Water project receives an award!

The Latin America Green Award seeks to showcase 500 of the best projects that stimulate the green economy through regional initiatives. There are 10 categories aligned with the Sustainable Development Objectives (ODS) of Latin America. Iracambi's Forest for Water project was ranked 30th in the water category!
The award is not only a great achievement, it is confirmation that we are on the right track, working with the community for the conservation and production of water!
VISITS
We are now finalizing the initial visits to conduct a general diagnostic of the properties and collect soil and water samples for analysis, the demand is enormous!
It has been so encouraging to meet people who are aware of the issue and want to be proactive in water preservation.
Antonio from Ervália wants to reforest a very large area and told us why:
"When I was younger, my father did not care much about water, now that the farm is in my hands, I want to protect our most precious resource: water. After the crisis we experienced in 2014/2015 we can see the importance of this natural resource! Without it family farming, animals, plants would simply not exist".
Another advocate of water preservation is Dona Maria from the Ancorado community, in Rosário da Limeira:
"in 2014/2015 our spring dried up! My brothers had to walk 3/4 miles with a wheelbarrow to collect drinking water and water to wash my crochet to sell at the market. Many of our neighbors made artesian wells, but we did not want that. We decided to plant some trees around the spring, and the spring returned and never dried up again! Since then we take as much care as possible to protect the spring, because we learnt the hard way the challenges a lack of water bring".
It is amazing to share and partake in these moments of difficulty, strength, perseverance, success and relief when a spring is restored. It really is a priceless achievement!
DEMSUR PARTNERSHIP
The partnership with DEMSUR is surpassing our expectations!
In addition to analyzing the waters of each farmer, they are donating 50 concrete fence posts to 14 producers who have not yet fenced their water spring. In return, we have met, analyzed and selected 5 producers in the region of Muriaé Sanitary Landfill, where DEMSUR carry out their main activity.
So far we have analyzed 4 water samples from 30 springs, and the results are proving to be very interesting and informative! I look forward to sharing the analyses and results when we are finished!
PLANTING FOR WATER COURSE

On 08/31/2018 to 01/09/2018, Iracambi as part of the Rede Nós de Água network, organized a "Planting for Water" course with our neighbors and friends from the Franciscan Village in Belisário, a district of Muriaé.

There were 20-22 participants from various locations, Rosário da Limeira, Belisário, Viçosa, São Paulo, Araponga, among others. We held a theoretical class on the 31st on the distribution and dynamics of water on the planet, water basins (concepts, interpretation and reading), the water cycle, water related legislation, key issues and challenges related to water, and concepts and techniques of planting for water. We also looked at the implementation of fixed water structures (dry boxes, spring boxes, level curves) and green manure and rural sanitation technologies (evapotranspiration tank, biodigester, septic tank, dry toilet).
After that, we identified the water basin where we were located, which is the Paraíba do Sul River Basin, Muriaé River sub-basin, in the Fumaça River micro basin.
We conducted a diagnosis of the entire village, looking at the condition of the tops of the surrounding hills, identifying the location of the springs and whether they were fenced or not, whether there was adequate rural sanitation, the condition of the pasture etc… We worked on two fronts: one of them was leveling a degraded pasture and planting vegetables and another was to start building a dry toilet!
After this intensive experience, our goal for 2019 is to develop the project further! We want to plant trees, and develop partnerships to assist us with items such as septic tanks, spring boxes, dams, along with other techniques of production, storage and water quality! There is no point in producing water of poor quality, just as there is no point thinking only about the quality and forgetting that it is the forests that "produce" water!
MINING IN ROSÄRIO DA LIMEIRA

After the hearings held by the Commission, we learned of an Operating License that covers the municipality of Rosário da Limeira, and part of this area is APA (Environmental Protection Area), where mining is prohibited. We are currently looking for ways to revoke the license.
On 08/20/2018 we also held a meeting with the community of Ancorado in Rosario da Limeira explaining the progress of mining here in the region and the news of the Operating License. W continue to listen to what the community wants and develop strategies of how we will react to this news that makes mining an ever increasing threat in our lives!
In addition, the Commission for Combating Mining in the Buffer Zone of the Serra do Brigadeiro, together with the Southeast Minas Gerais Federal Institute and the Federal University of Viçosa on 08/27/2018 we held the third workshop on the social mapping of Belisário. The objective of the workshops is to build up a picture of our resources: waterfalls, springs, houses, animals, family farming, hiking, events, churches, among many other things instead of the empty maps that the mining company work with!

WITHOUT YOU, NOTHING WOULD BE POSSIBLE!
Dear friends, THANK YOU for believing in our work and doing your part for a better world!
You are the ones who give us support and motivation to continue. Together we work just like the forest ants, because when each one performs his part, anywhere in the world, TOGETHER, we make a positive difference in the life of each Maria and Antonio in each of the four corners of our amazing planet.


With love,
Arielle, Luiz, the farming families and Mother Nature!