Project Report

| Sep 26, 2017
Nutrition through food forest progress report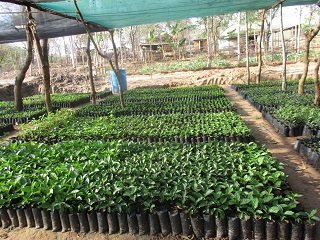 INTRODUCTION
Receive greetings from DNRC family. We hope that your health and in good spirits. We are ever grateful for your generous and continued financial support through global giving for this project. We are happy to share progress of this exciting project of providing nutrition through food forests. It's worth to report the first established food forests especially in one of our schools (Maiuni) has started producing several fruits such as bananas, guavas, lemon and mangoes. These produce are shared by the teachers and pupils and thus providing nutrition in school.
The DNRC demonstration food forest and the gardens continued to flourish and are producing vegetables for staff food and sale of the extra for income. The main produce are banana, pawpaw, passion fruits, legumes, vegetables and guavas Apart from the nutritional benefit, as food forests mature, they continue to create microclimates, building the soils as they shade off leaves as well as improving water retention thus contributing to one of our major objective of environmental regeneration. As the farmers come to work together and take their trainings together, they build a sense of commitment to improving their community throw tree planting. This builds their sense of community and as they experience the joint successes, they are more energized and continue to succeed in other ventures as nothing succeeds like success.
The other activities during this quarter were propagating and maintaining food forest seedlings, carrying out trainings and on farm follows ups of both farmers and the schools and maintaining DNRC demonstration food forest and the gardens. Below are detailed activities accomplished during the reporting quarter.
Propagation and maintenance of food forest seedlings in the nursery.
During the quarter, a total of 30,400 tree seedlings were propagated in the DNRC main tree nursery for both food forests and woodlots. The following fruit trees were propagated for the food forest: mangoes, citrus, zyzium, avocado, tree tomato, guavas, paw paw, terminalia indica and custard apple. Other tree species propagated included: Terminalia brownii, acacias, sennas gravelllia, neem, luceana, Moringa, terminalia brownii and moringa. All these trees will be planted in the incoming October-December rains. Other key activities in the nursery during the quarter included fetching water, potting and maintenance of the seedlings in the nursery.
Trainings and follow ups
During this reporting quarter, the outreach personnel was mainly engaged with training the farmers and the schools on food forest management. They mainly trained Integrated Pest Management (IPM) and general management of the food forests such as pruning and weeding. Both farmers and the schools continued to prepare the expansion of their food forests by digging more holes. Also during this period, 4 schools were visited and helped on their food forest expansions.
DNRC food forest
During this reporting quarter, we continued to maintain both DNRC food forest and the gardens. We were able to harvest the following produce from the DNRC food forest: passion 173 pieces of passion fruits 48.5 kgs of bananas, 5 pieces of guavas, 2 pieces of pawpaw and I kg of beans. We are slowly getting diverse production from the food forest and finding that every season there is something to be harvested compared to monoculture were you harvest only once per year and only one type of crop. We are proving that food forests are more productive and diverse thus producing more food nutrients compared to monoculture
DNRC gardens and green houses
During the quarter, we continued to maintain and replant DNRC kitchen Gardens and the greenhouses. The gardens and the greenhouses are supplying food for the staff and extra for sale to the community for income generation.
Challenges
This quarter coincided with our dry season so water was a big problem as the nearby river dried and we have to scoop the sand to fetch water for nursery. This is a big challenge for our project and a permanent solution is needed.
Focus for the next quarter
To continue preparing for the expansion of the food forests by Digging more holes.
To continue maintaining the seedlings in the nursery awaiting planting during October- December rains