Project Report

| Apr 3, 2017
NUTRITION THROUGH FOOD FOREST PROGRESS REPORT 07
By Nicholas M. Syano | CEO & Founder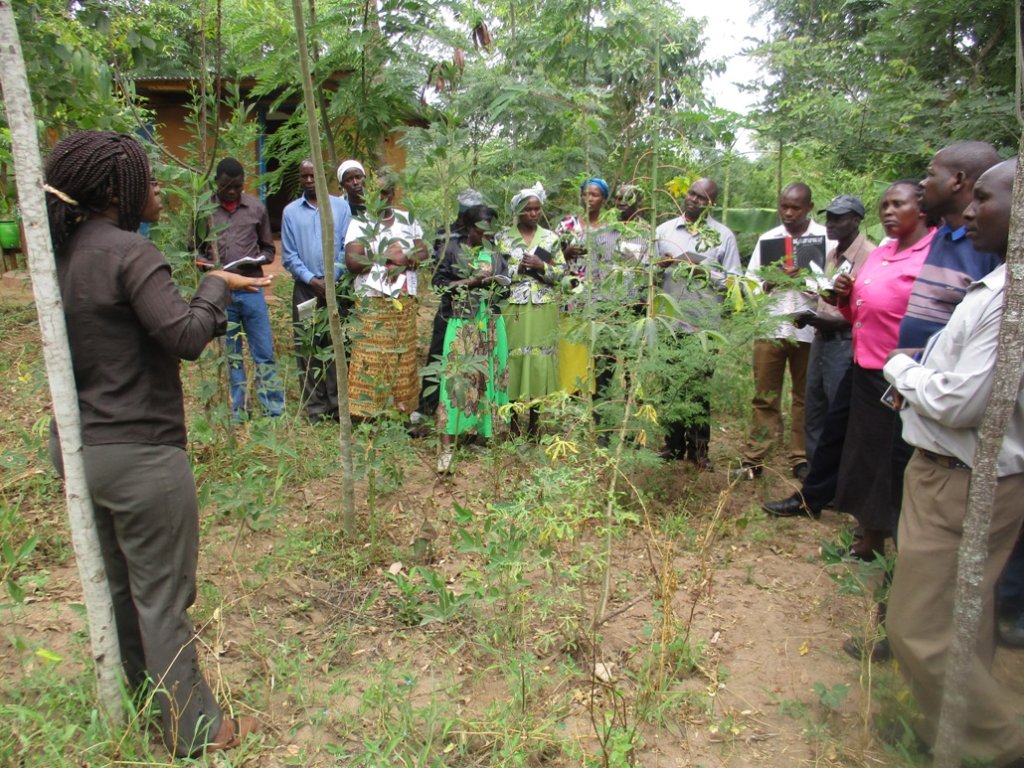 Introduction
Greetings from DNRC family. Once again we are happy to share our progressive report on food forests and gardens at DNRC site as well as the progress of our 600 individual farmers we are working with. Thank you once more for your continued financial support which has enabled us to continue promoting food forests as well as gardens with the 600 farmers we are working with. This being the beginning of the year, we planned to increase our tree nursery capacity from 60,000 seedlings to 70,000 with over 25 different tree seedlings mainly indigenous fruit trees for food forests and other trees for fodder, fuel, medicine and timber. The fruit trees in the food forest continue to improve the micro climate thus making it easier for other short term crops to survive like beans, maize cow peas e.tc. The soils are being built as leaves continue to shed from the trees and decompose thus consequently improving the water retention capacity. This quarter, main activities included outreach, tree nursery management and working in DNRC food forest Demo. and Gardens. Below are detailed activities for the quarter.
Training and outreach
The outreach staff was majorly involved in training and follow ups with individual farmers. 10 groups out of the 13 groups have been trained on food forest establishment; teaching all the seven layers of the food forest and their importance. Food forest management which is mainly the chop and drop technique was also trained. The outreach staff was also involved in individual farmer follow ups. 200 farmers have been visited and advice given on the challenges they are facing with their upcoming food forests. Two groups also visited DNRC for food forest training and they were taken through the training in the DNRC food forest Demo. ( See photo attached)
Maintenance of the DNRC food forest Demo. and Gardens
During the quarter, DNRC staff responsible for the food forest management was busy maintaining the food forest mostly through chop and drop of the fast growing nurse trees and mulching the production trees. It was also the harvesting season where we managed to harvested 20 kgs of beans, 30 kgs of bananas,10 kgs of passion ( 105 pcs) fruit and 5kgs of pawspaws. Slowly we are finding the food forest has diverse food production and thus the diverse need of nutrition is taken care of. As the March- April rains set in, we were also busy planting our food forest with beans for nitrogen fixing. The staff were also involved in the DNRC gardens to grow vegetables for staff use and sell for income. See the sack garden food of vegetables growing at DNRC Gardens.
Tree sapling propagation and maintenance.
The major activities for the nursery was potting and propagating slow growing fruits trees, like mangoes, zizygium, balanities, etc
Focus for the next quarter.
Gap the lost fruit trees in the food forest.
Continue managing the DNRC food forest.
Continue with individual farm follow ups and trainings.