Project Report

| Jan 1, 2017
NUTRITION THROUGH FOOD FOREST AND GARDENS REPORT
By Nicholas M. Syano | Director & Founder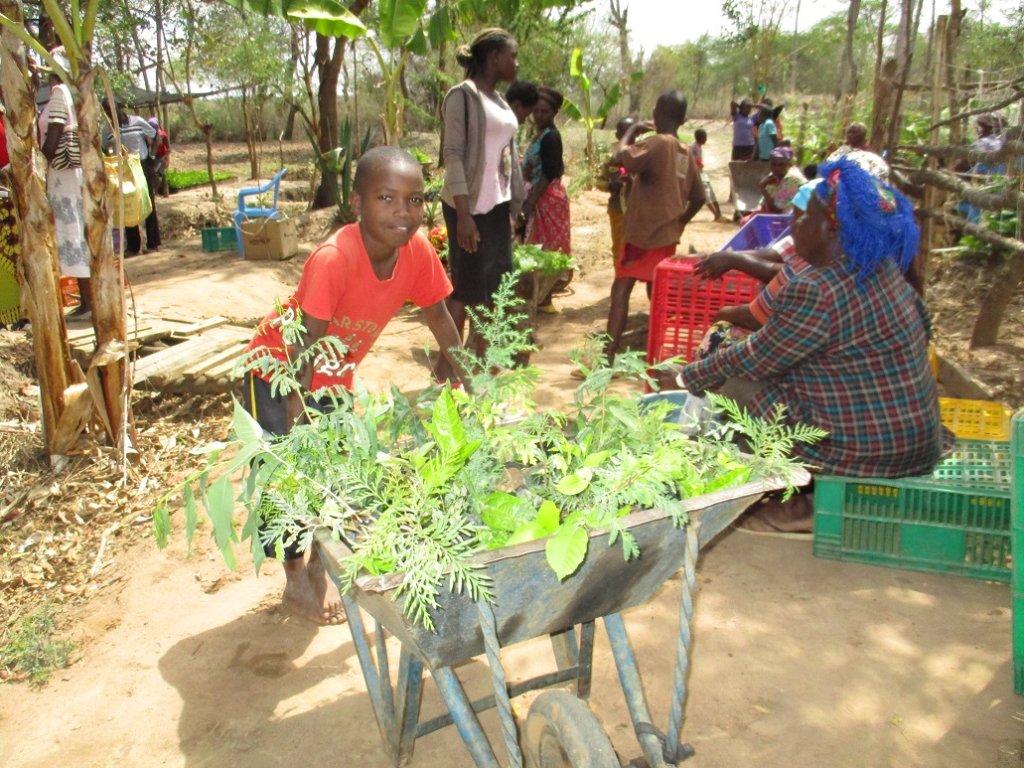 Introduction
Merry Christmas and a happy new year 2017. We are delighted to share with you this progress report on our food forest and gardens project in the New Year eve 2017.We deeply appreciate your continued financial support to implement this project and we say thank you so much. During this quarter, we busy teaching our over 550 farmers on how to establish holes to expand their food forests, maintaining and issuing different tree species to plant during the Oct-Dec rains and also maintaining DNRC food forest and gardens as a demonstration for the farmers and also provide nutritious food for the staff and for sale. Since we work with smallholder farmers in drylands areas, we are finding that food forest is more productive due to positive interaction and beneficial relationships among trees and crops. Due to shade, the cover crops like beans and pigeon peas seem to do better than in the open fields. During the quarter, the following detailed activities were accomplished.
Issuance of tree saplings for food forests.
During this Oct. - Dec. rains, we were able to issue to the farmers over 60,000 seedlings we had propagated in our main tree nursery to plant in food forests and in the woodlots. Some of the tree species we issued included: Mangoes, Avocados, mulberry, pawpaw, passion fruits, balanities, tamarindus indica, moringa, vitex payos, syzygium cumini etc. These fruit trees mature at different times and are high in nutrition so overtime the community will have enough nutrition from these trees. We also plant food crops such as sweet potatoes, beans as cover crop as we try to mimic nature of establishing 7 layers in a natural forest (climax, understorey, shrubs, climbers, tubers, cover crops, herbs).(See attached pictures)
Training and outreach.
During the quarter, we got farmers and school pupils coming to learn from our food forest. Our training and outreach officer was involved in training them in the demonstration food forest for most farmers learn by seeing. (See a photo of visiting school in the food forest)
Managing DNRC food forest demo.
During the last quarter and since it was a rainy season, we gapped the forest with 1 mango tree, 2 vitex payos, 2 lemon trees , 3 paws trees, leucene.and planted lots of cover crops mostly nitrogen fixing like beans, peas sweet potatoes among others. The food forest is flourishing and producing some foods such as passion fruits and mulberry and pawpaw (see the attached pictures).
DNRC greenhouses and farm
During the quarter, we planted our greenhouses with vegetables and tomatoes for staff and sale for income. (See attached pictures).We are also demonstrating vertical planting by use of passion plants so as to utilize small farms of the farmers.(see attached)
Focus for next quarter
Tree seedlings propagation
Training and Outreach