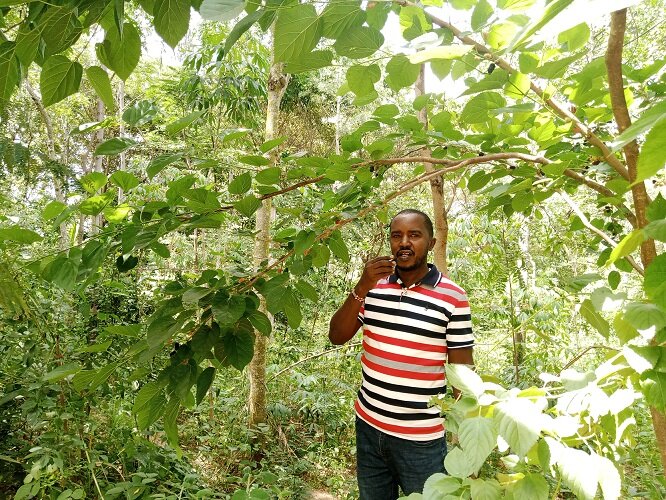 INTRODUCTION
We hope this report finds us well. Much greetings from Drylands Natural Resources Centre. Once again we are delighted to share with us our progress report on Nutrition through Food forest and Gardens in Kenya. During this reporting period, we have continued to propagate and plant diverse vegetables at DNRC including and not limited to: kales, black night shade, spinach amaranths, eggplant, and tomatoes spinach among others. These organic vegetables are fed to DNRC staff and visitors and sale extra for income to slowly build DNRC sustainability program. Besides establishing vegetable gardens in DNRC, we continue to promote the same to our 800 farmers who are also achieving food security and income from the sale of the vegetables.
On food forest front, DNRC continued to propagate different food forest trees including but not limited to: avocados, guavas, mangoes, citrus trees, passion fruits and mulberry. The rains came in October-December and were able to expand DNRC food forest and issue tree seedlings to the farmers to expand their individual food forests. During the quarter, we continued to harvest mulberry, cassava, passion fruits, bananas and pawpaws. Besides the food production, the food forests continue to provide micro climate and climate change adaptation and mitigation through carbon sequestration. Other activities that took place during the reporting quarter were: establishing vegetable nurseries, planting and maintaining gardens, maintaining food forest and harvesting mature fruits from the food forest. Below are detailed activities during the reporting quarter.
DNRC FOOD FOREST
During the reporting quarter, DNRC staff were busy maintaining the food forest especially chop and drop and doing a bit of selective pruning so as to allow enough light for the production trees to continue flourishing. We were also busy harvesting the mature fruits like: Paw Paw- 4kgs, beans -7 kg., cowpeas leaves -10kgs and mulberry -20 cups. Since the food forest has created microclimate, we introduced fruits like Apples and pixies which continue to flourish due to created microclimate.
DNRC AND FARMERS KITCHEN GARDENS
DNRC personnel in charge of the gardens were busy putting up vegetable nursery and maintaining the existing gardens by weeding, manuring and organic pest and disease control. They were also involved in vegetable sales. DNRC Outreach and training team continued to train and follow up with our farmers on kitchen gardens establishment and maintenance.
Sustainable source of water to our program remains the major challenge. Need for more rain water harvesting storage tanks
FOCUS FOR NEXT QUARTER
Maintain the DNRC gardens and food forest
Propagate more vegetables for our farmers and DNRC gardens
Training and close follow ups of our farmers in their kitchen gardens activities