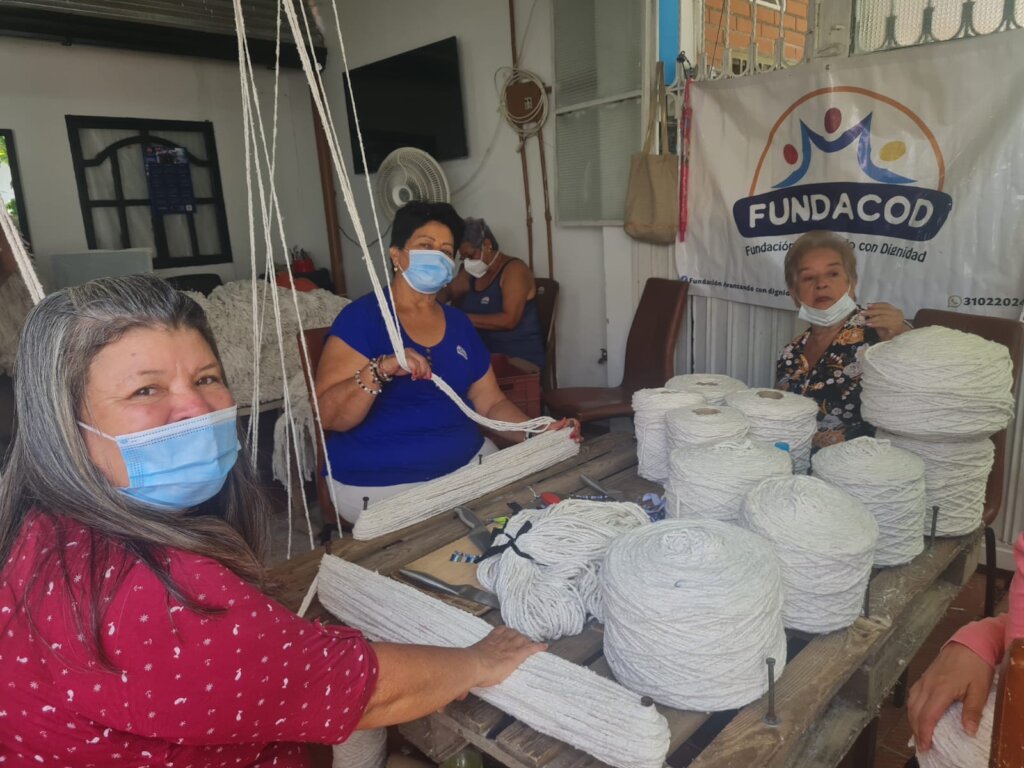 The experience of incredible at-risk older women, developing opportunities in the Colombian countryside.
The workbench is a wooden pallet supported by four baskets. It is not big, barely a meter long, ornamented with three nails that allow the white cotton yarn to be winded. Several turns are required; the thread must be tight to allow the tiding. Clemencia, 71 years old and Elisa, 75 years old, are in charge of this first step of manufacturing handmade mops. They do not stop, their hands are as nimble as a machine, and their determination is as steadfast as if they were thirty years old. When they have the exact amount of yarn, they give a blunt cut with a large knife. The lace in the center is just the right size.
Six older women from Viotá, Cundinamarca, work in this productive project supported by the Bogotá Food Bank (BAB). Some would say it's time to retire at that age, but these women think and do the opposite. They feel autonomous, empowered, free, but above all, helpful. There are needs in their homes, and they want to contribute with their experience, will, and strength to cover them.
All the mops must weigh the same: 250 grams. Patricia and Gilma, 59 and 74 years old, respectively, are the delegates to check, intervene and balance each tie of yarn they receive cut. They remove excess threads when too heavy and add missing ones when necessary. They are rigorous and precise; they do not miss the smallest detail.
Then they pass to the strong hands and tender eyes of Mariana, 58 years old. A medium-thick rigid board placed vertically is her support to perform her task. A hook in the middle of the cloth embeds the cup to the stick, fixed with a strong hammer, finishing by adjusting it with pliers.
For four years, this project has been transforming lives. With donations like yours, we have created spaces for integration and participation, giving opportunities to people living in vulnerable situations. With this program, older women have improved their quality of life, promoted economic autonomy, and provided value to the extraordinary power of women. The Agricultural Surplus Recovery Program (PREA), led by the Bogotá Food Bank. Some would say it's time to retire at that age, but these women think and do the opposite. They feel autonomous, emp , is also present in the territory, benefiting peasants and farmers in the countryside communities.
The last step is quality control. Gloria Inés, 55, weighs them again, cuts the threads that escaped during the process, and finally packages them in plastic bags, leaving them ready to be delivered. During the day, they manufacture 250 mops, working only in the afternoons because they do their housework in the mornings. Every month, we buy the total of their products so they can have their income guaranteed. Although this project has had to overcome many adversities due to the heavy rainy seasons, which have often flooded their work area, it continues afloat with an unstoppable force. It is an engine to ensure a dignified life for a community that is not resigned and wants to continue advancing along the path of equity.
#TogetherAgainstHunger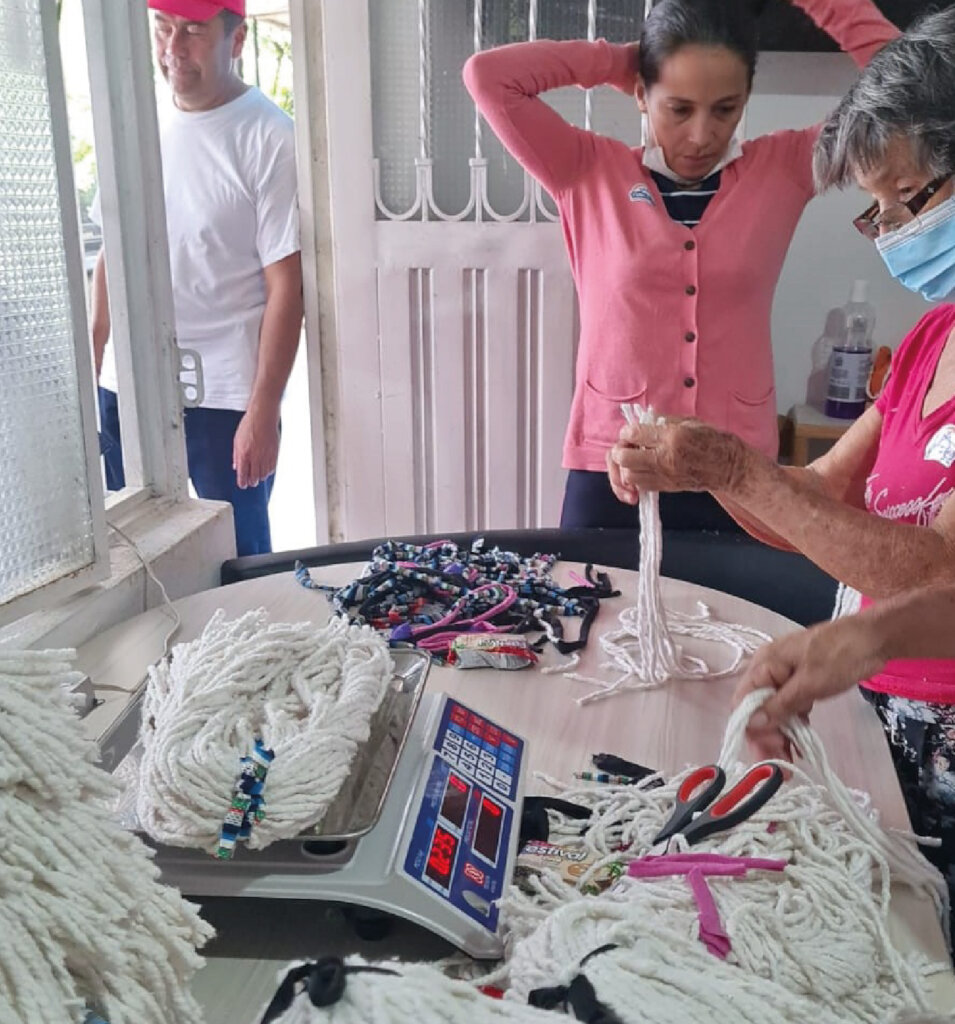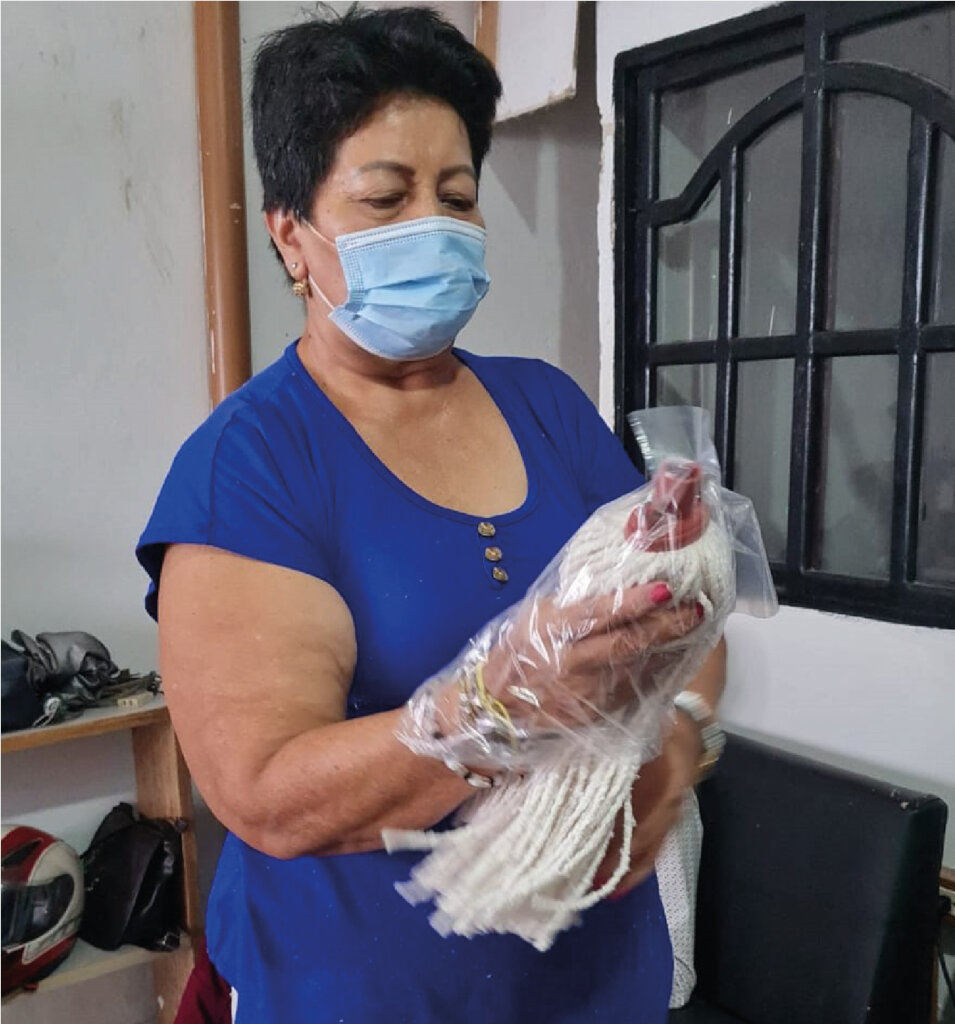 Links: