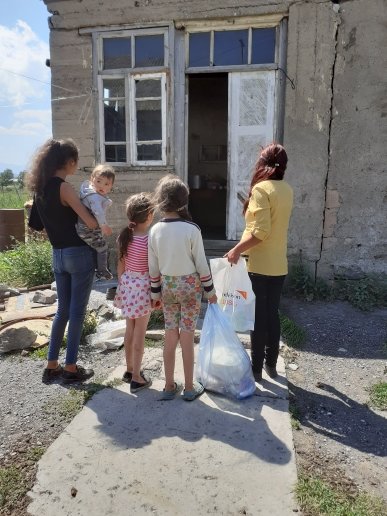 Dear Benefactors,
With this letter we would like to express our gratitude for your participation and share with you the recent results of World Vision Armenia's "Where most needed" campaign which was launched on March 17 to jointly support more than 700 extremely poor families with food and essential hygiene items for the period of emergency state in Armenia.

During these days, we met many caring people who quickly and unitedly responded to the call and supported as much as they could, by providing financial or in-kind donations, which allowed us to somewhat ease the situation in needy families.

Dear donors, thanks to your donations, we were able to provide emergency assistance packages to 50 extremely poor families and their children in the communities of Vardenis in Gegharkunik region.

These families' income comes from odd jobs or state family benefit, so the provided emergency relief packages, which would be sufficient for another 3 weeks, was rather crucial to them.
Thank you again for joining this campaign and for your readiness to bring positive changes in children's lives.
We are strong together!
If you have any question, please email us at marketing_armenia@wvi.org or call +37495005881.
P.S. Given the urgency of the issue, and to preserve the dignity of the children and their families we avoided individual reports within this campaign (when every sponsor receives a photo of a specific child or family for every donation made). Instead, we attached some photos of World Vision staff and volunteers distributing packages to families.
Sincerely
Irena Balayan
Marketing Officer