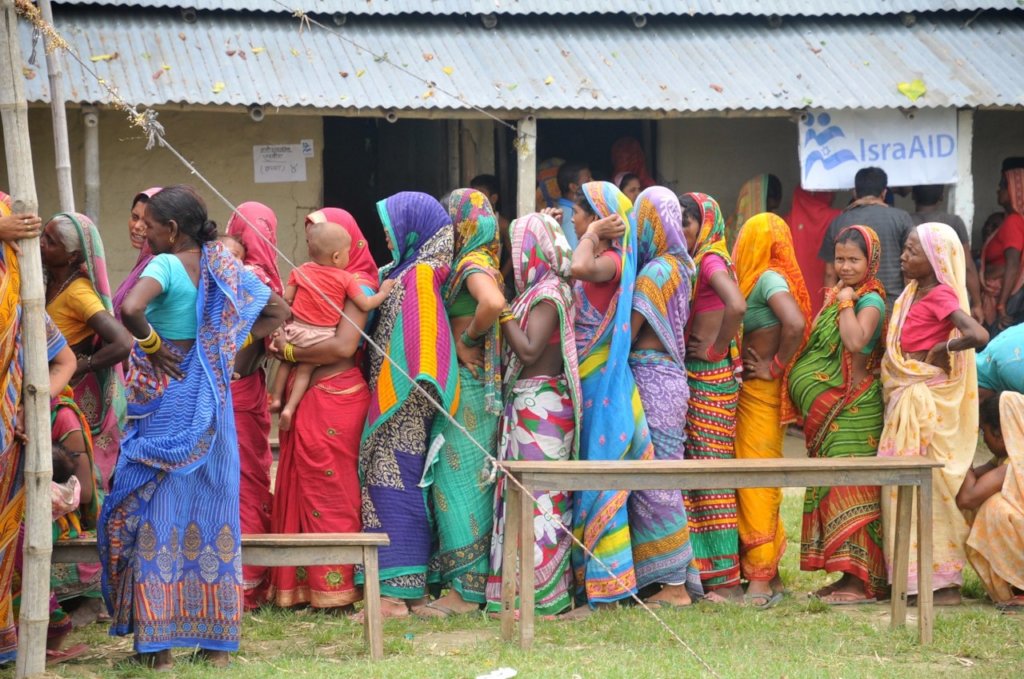 Barely two years after the 2015 earthquake that rocked Nepal, the south of this small Himalayan Nation experienced major floods and landslides, affecting six million people in 18 districts.
The fast water washed away thousands of houses and permanently damaged farm land, food stocks and water infrastructure. More than 160 people have lost their lives, and many more are still missing. The most affected are often already marginalized and impoverished communities, such as the Dalit, Madhesi and other.
Nepal, among the poorest countries in the world, has very few resources to handle a disaster of this scale. The lack of infrastructure, especially in the localities of these vulnerable communities, exacerbates the risks and makes the need for a response urgent.
IsraAID is one of the first international organizations to receive approval from the Government (Central and local level) for such a response. On Thursday 17th August, IsraAID sent a first response and assessment team of 16 people to the area. The team was led by an engineer and had a medical team of six (3 doctors, 2 nurses, pharmacist), WASH officers, and public health team of two, and five Psychological first aid expert. All are national team members and partners trained or supported by IsraAID Nepal.
The situation was dire and tense, the victims were in great confusion on how to proceed and where to seek help. Many were at great risk of water and hygiene related complications and in need of medical and psychological support. The recovery process will take time; a sustainable long-term intervention is needed to support the victims with the rehabilitation and reconstruction of their lives and communities.
IsraAID's response
Based on IsraAID's vast humanitarian experience, both globally and specifically in Nepal, IsraAID worked hand in hand with the government to respond to the identified high-priority needs – offering direct services and capacity building programs, based on the following plan:
Emergency Medical Assistance: Traditional medical facilities were overrun, while a need was identified for mobile clinics to reach difficult of access areas. IsraAID delivered medical assistance in a medical clinic set up in one of the most affected communities, distributed medication to reduce the spread of water-borne diseases, and delivered public health messages and hygiene kits.
WASH (Water, Sanitation, and Hygiene): IsraAID offered clean water and sanitation solutions to the affected populations by distributing clean water, filtration systems, and purification items, reaching thousands of people. As part of the implementation module, IsraAID includes community education methods for hygiene promotion and conducted training to the affected communities.
For some families, the water filtration systems IsraAID installed gave them access to clean water for the first time, preventing further outbreaks of waterborne diseases.
Psychosocial Support: IsraAID deployed its national field social workers to provide support, including Psychosocial First Aid (PFA), stress management techniques, and self-care. In the medical clinic, IsraAID's psycho-social support team was present to give mental health support to those deeply affected by the trauma of losing their homes in the floods.
Thank you for your support to our teams in Nepal - their work will not be possible without it! Join them in their efforts to support the victims with rehabilitation and recunstruction of their lives and communities!