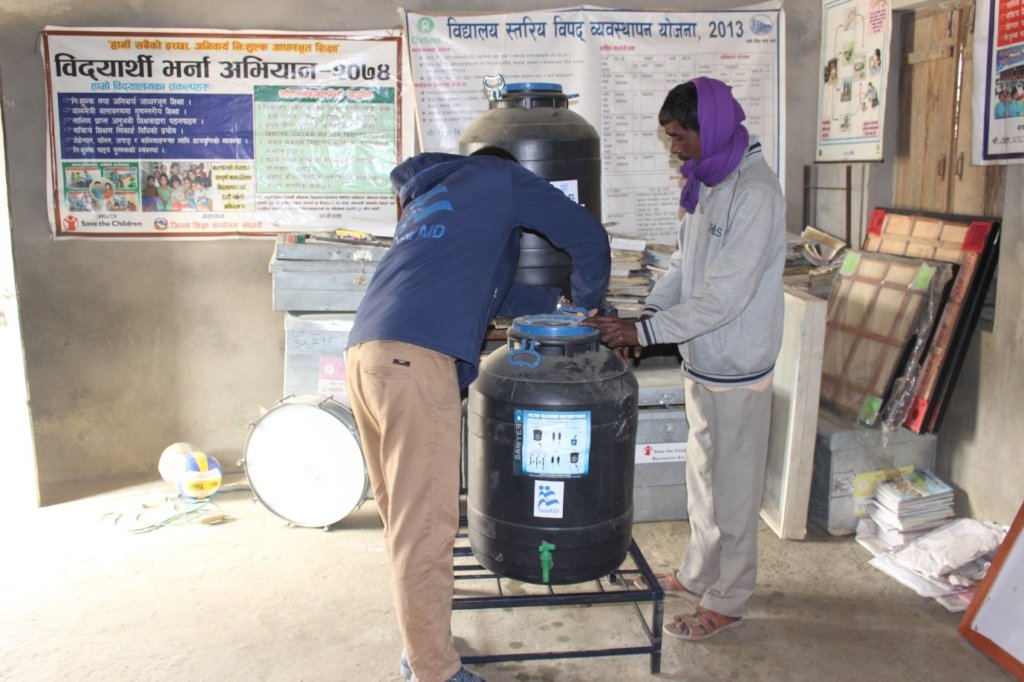 Laxmi is an 11th grade student in Saptari, Southern Nepal. Her and her friends did not have suitable toilet facilities at their school after the girls' unit became totally non-functional following the flooding; there was with no running water inside the toilet units or in the hand washing facilities. This situation sometimes forced her and others to be absent from school.
"We did not have any functional female latrines at our school. Being a girl, I felt especially uncomfortable without having proper toilets; some of my friends even missed school during their menstrual period because of this problem. It's not only doors and locks, we didn't even have water facilities inside the toilets or any hand washing facilities. [….] We now have fully functional toilets with water taps inside each unit. The hand washing station is what I always dreamed of having at my school, I am so happy to get one. This will eventually make learning more efficient for us, especially for the female students."
In August 2017, continuous heavy rainfall caused extreme flooding in southern Nepal. The flooding affected 32 districts, of which 18 were classified as heavily damaged. In these districts, there were reportedly 134 fatalities, 190,000 houses destroyed or partially destroyed, and tens of thousands of people rendered homeless. In addition, the flooding significantly damaged school buildings, toilets and water facilities throughout the region.
IsraAID, immediately responded to the flood crisis with emergency medical relief and the distribution of non-food items, such as hygiene kits.
After the first phase of the emergency response, IsraAID, and its partners including the Israeli Embassy in Nepal, embarked on a four-month effort to rehabilitate the water, sanitation and hygiene facilities damaged in Saptari, the worst-affected district in the Terai region. The target was public institutions - 17 schools and three health clinics - and aimed to improve access to safe water and eliminate the potential for outbreaks of water-borne diseases post-flood.
In each of the 20 locations our teams installed a water filtration system to provide access to safe water, and rehabilitated and/or reconstructed the toilets and hand washing facilities where needed. The team taught the schools' students about water, sanitation and hygiene practices.
In this region, access to safe drinking water, clean toilets, and a hygiene infrastructure is a challenge year-round, not just in the flood season. So, IsraAID tailored its emergency response to reflect a more long-term solution, not just targeting immediate needs. In each place a WASH Management Committee was formed or re-engaged, and each member was taught about the various aspects of the water infrastructure installed in their locations, and importantly, how to use and maintain these upgraded facilities.
Thank you for your ongoing support; more updates to follow!