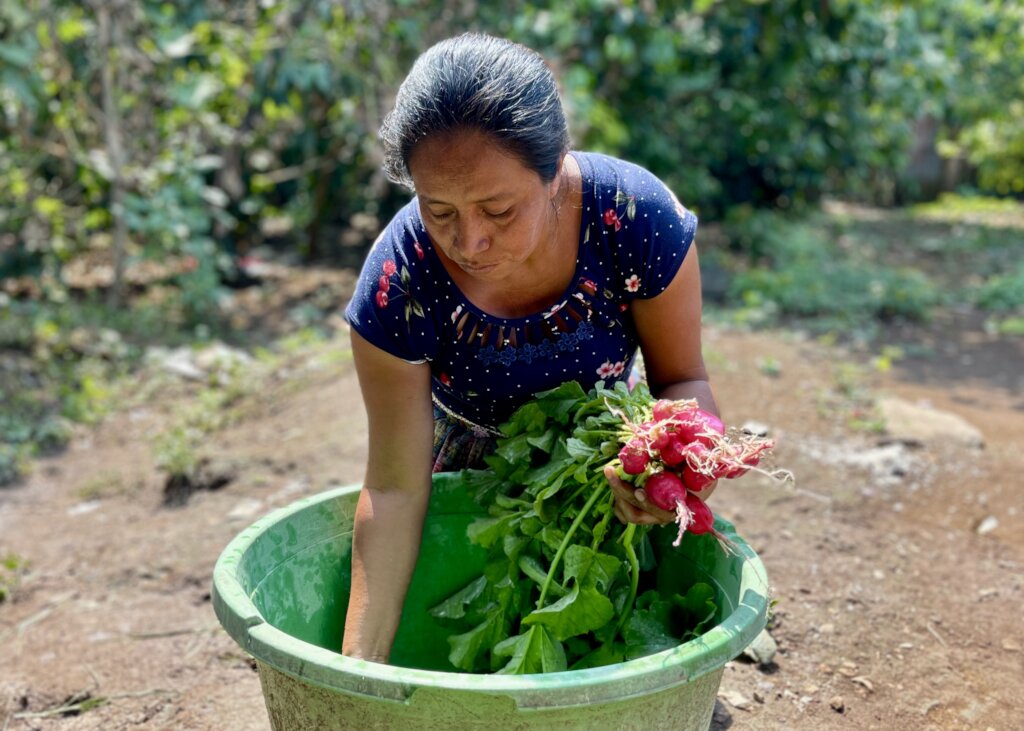 Site Visits Regaining Momentum
After many months, indeed years, of COVID restrictions and the limits placed on our team of local field staff, our site visits with rural families are finally resuming their pre-pandemic pace. At present, we have a vibrant community of 82 core families between two core communities, Chocolá and Santo Tomas la Unión. Our team of eight extensionsists, split evenly between men and women, all hail from Chocolá and the surrounding area. Each extensionsist is responsible for approximately 10 families, monitoring the progress of their gardens and small animal enclosures. We've also launched a small operation in the nearby village of Zunilito, approximately 13 kilometers north of Mazatenango. We've build two demonstration gardens to provide inspiration and learning to our 15 families in the area, a number that continues to grow as we continue to build relationships with local leaders.
It's radish season, and our families have been harvesting this incredibly fast growing crop nonstop! Did you know that a radish can begin producing in less than 30 days? Guatemalans will typically add antioxidant-rich radishes to salads or slice it finely and use as a garnish on any plato fuerte. Or, try it chopped finely with lime and the shavings of chicharrones for a little salty kick! Our Director of Operations Daillen Culver recently had a chance to sample this delicious take on the radish during a week of cooking demonstrations with the Seeds team and 10 local families, the beginnings of a very exciting new project...
Announcing—Cocina Campesina!
Keep an eye out later this year for the release of our cookbook Cocina Campesina—garden-to-table, nutrient-dense recipes developed by our community in rural Guatemala. The cookbook will be available for purchase with all proceeds going to support Seeds for a Future's ongoing work on food security and nutrition in Guatemala. Spearheaded by our longtime supporter and advocate Daillen Culver, the book will feature photos by internationally-acclaimed photographer Daniele Volpe, whose work has been featured in National Geographic and the New York Times among other publications. Cocina Campesina will provide a colorful, step-by-step guide for a variety of traditional Guatemalan recipes. Expect everything from tortillas enriched with leafy greens, to spicy salsas and cooling refrescos. Following a foreword co-written by our Founder Suzanne De Berge and Program Director Armando Astorga, the book's opening chapter will present the reality of modern Guatemalan food systems and the significance of Seeds for a Future's grassroots approach to community development. These dishes are a testament to our community's resilience, and at the same time, they transcend geography and speak to a fundamental human desire to fuel our physical bodies, nourish the collective, and live in relationship with the food that sustains us.
Welcoming New Team Members
Daillen Culver, Director of Operations
Daillen met the Seeds for a Future team in 2016, when she was living and working in Guatemala as the representative of a US-based fundraising organization. She went on to complete her Master's in International Development at the University of Edinburgh, where she wrote her dissertation on the Casa Graja model and its philosophical underpinnings. Her analysis of the Seeds motto vivir mejor, or 'to live better,' is available on our website. Her longstanding affection for Guatemala and background in nonprofit management led her to accept this new role as Director of Operations, where she'll be working directly with our founders to support the organization's administrative functions. She will spearhead strategic partnerships, impact evaluation, and communications while assisting founders in ongoing fundraising efforts.
Leilani Yats, Communications Manager
Living in Guatemala since 2017, Leilani has spent her time traveling throughout the country to learn more about what makes the country unique, with an emphasis on connecting with social and environmental initiatives that are solving community needs with local resources. She earned her Master's degree in Business Management before gaining ample experience in the tech-startup industry in Los Angeles, California. She currently chairs the board of directors for a plastics waste reduction non-profit and a microfinance organization supporting entrepreneurs throughout Latin America. Leilani joins the Seeds for a Future family as the Communications Manager, connecting on the ground with the Guatemalan team in support of amplifying their voice and driving engagement with the organization's greater global audience.