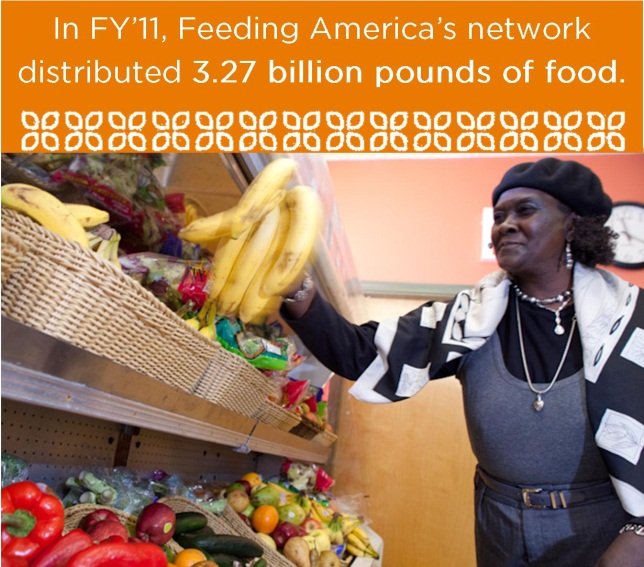 Impact and Assessment
It took a young woman in Grand Rapids, Minnesota three attempts to work up the nerve to approach the intake desk at the Second Harvest North Central Food Bank. "She was so humiliated and afraid to ask for help feeding her kids," recalls a food bank employee. "She had lost her job and had nowhere else to turn. She had always been self-sufficient and never thought she would have to ask for help to feed her family."
Unfortunately, this scenario has become "the new normal" across America. With our country suffering from a slow economic recovery and higher than average unemployment rates, millions of Americans have fallen into the grips of hunger for the first time in their lives. One in six Americans do not have enough money to secure adequate nutrition, according to the United States Department of Agriculture's annual report titled Household Food Insecurity in the United States (Sept. 2011). Today's unemployment rate is 9.6 percent and 5.5 million children live in families who lost their homes due to foreclosure.
The U.S. Census Bureau recently reported that the nation's poverty rate rose to 15.1 percent in 2010, up from 14.3 percent in 2009—the highest since 1993 (Sept. 14, 2011). Because of the ongoing demand for emergency food assistance, many of our food banks are stretched to capacity, threatening ongoing operations.
Feeding America's network of 202 food banks and 61,000 agencies, including soup kitchens, food pantries and emergency shelters, supply food to 37 million Americans each year, including 14 million children and three million seniors. Through its national programs and advocacy efforts, Feeding America has developed a coordinated response to the hunger crisis that is implemented through our nationwide network of food banks.
Feeding America has increased its focus on fundraising, food sourcing and distribution in an effort to support the increased need throughout the network. As part of the national response to hunger in America, Feeding America launched The Campaign for a Hunger-Free America in 2009. This five-year, $500 million campaign is the first of its kind in Feeding America history and supports both local and national initiatives. A successful campaign will provide more reliable food supplies, build a sustained commitment to hunger relief, and empower the national network of food banks to take significant steps toward ending hunger in America.
Thanks to the generous support of our food and financial donors, the Feeding America network is responding to the crucial need for food assistance throughout the country. In fiscal year 2011, Feeding America raised $98 million to support key initiatives. This fundraising total is a new benchmark for the national organization.
Feeding America network members distributed an estimated 3.27 billion pounds of food during fiscal year 2011, an increase of more than 6 percent over the prior year—exceeding the target of 3.14 billion pounds. It is important to note that 78 percent of the pounds distributed met the standard for nutritious food and beverages (versus a target of 74 percent), reflecting the network's commitment to providing their clients with a variety of healthful food options.
Not only is the organization finding new ways to get more food to more people in more places, we also are targeting new ways to heighten the awareness of hunger in our communities and give a voice to an often invisible problem. We are pleased to share this report, which highlights Feeding America's key accomplishments in fiscal year 2011.
Nourishing Hope: Bringing More Food to More People in More Places
In order to serve the entire United States and Puerto Rico, Feeding America must create synergies throughout its network to avoid unnecessary duplication of efforts. The organization also leverages innovative new programs that maximize the impact of donor dollars while providing clients with better access to food. The following initiatives highlight the various ways Feeding America is coordinating its response to hunger with new programs and efficient food distribution.
Mobile Pantries
Mobile pantries allow food banks to reach neighborhoods and remote areas that may lack access to full-service grocery stores, feeding agencies or food pantries. These vehicles provide people with a variety of fresh, perishable and healthy foods. Moreover, mobile pantries can make deliveries after working hours, making it more convenient for working families to obtain food. One of the goals of
The Campaign for a Hunger-Free America is to add 140 new mobile pantries across the network over five years. Feeding America is not only expanding the network's fleet of vehicles that serve as mobile pantries, but also providing training and technical assistance to food banks operating or interested in operating mobile pantries. Feeding America delivered 26 new mobile pantries to the network, which enable food banks to reach underserved urban and rural communities. Since 2009, the number of distributions made by mobile pantries throughout the network has more than doubled from just over 3,000 distributions to nearly 7,000 in 2011.
Child Hunger Programs
Today, one in five children struggle with hunger. Even short-term hunger can cause lasting damage to child development and puts children at risk for a range of cognitive, behavioral, emotional and physical problems. Feeding America believes we have the tools to help end childhood hunger in our country by increasing access to meals for children at times when they are not in school including: on the weekends, during school vacations, after school and in the summer.
In fiscal year 2011, Feeding America:
- provided 49 food banks with grants from generous donors to open or expand BackPack programs at more than 250 sites, serving more than 173,000 children. Feeding America's network operates the BackPack program at more than 5,000 sites,
- launched a BackPack Leadership Lab to help 10 selected BackPack coordinators strategically plan for future development and program expansion,
- executed a peer-to-peer mentoring program for 15 members of new BackPack Programs to learn best practices from mentors of high-performing programs,
- enabled funding through generous grants for 69 sites to expand or open a School Pantry Program. This rapidly growing program distributes food to low-income families on school grounds,
- introduced the second cohort of Child Hunger Corps members at 11 food banks who will make recommendations for expanding or establishing Child Hunger Programs in the region,
- created and produced The BackPack Zipper, a toolkit featuring nutrition information, physical activities and brain games to be distributed to children and families that participate in the BackPack program,
- created a School Pantry manual and training video to help our member food banks operate successful programs.
Sustaining Hope: Building Partnerships for the Future
Retail Store Donation Program
The Retail Store Donation Program is a national/local collaboration. At the national level, Feeding America gains agreement from retailers to donate perishable food such as meat, deli, dairy, produce, bread and baked goods to our network. Locally, members coordinate pick-up of food donations from participating retailers. In fiscal year 2011, more than 660 million pounds of food was distributed across the network, a 32 percent increase over the last year, when Feeding America sourced 486 million pounds of food through this program. This growth is due in part to increased national partnerships that included 10,500 stores in 2011, compared to 9,000 stores last year. An additional goal of this program is to secure nutritious food, which includes items such as meat, dairy, vegetables and fruit, and excludes items such as snacks and desserts. This year, 78 percent of product secured was considered nutritious by Feeding America category definitions, exceeding the goal of 74 percent.
Food Manufacturing Channel Expansion
Although the food bank movement has been robustly supported by national manufacturers, there are nearly 11,000 local food manufacturers that could contribute as much as 700 million pounds of food a year to food insecure clients. Food banks around the country have the potential to capture these millions of pounds of donated food from local manufacturers. By adding local food sourcing staff to help cultivate relationships with these companies, food banks can thus decrease the amount of food purchased and positively influence a greater variety and broader mix of donated products. Feeding America aims to capture 275 million pounds of nutritious donated food from local manufacturers by providing food sourcing staff to local communities and developing a Food Sourcing Institute.
On average, food banks that have a dedicated food sourcing staff position secure three times the amount of food as those without this position. For food banks, food sourcing in their own community is one of the most powerful and reliable ways to increase food distribution to more people as well as raise awareness on a local level about hunger. Moreover, the cost of bringing this excess food into the food bank system is sustainable over time. Because our food banks recover a minimal handling fee from charitable agencies that use our food distribution system, the cost of finding and transporting this food can be done on a breakeven basis within two years.
The creation of a Food Sourcing Institute will ensure that new food sourcing staff members have the training and the required tools and resources to be successful. The training will occur at the national office and will instill best practices in food sourcing, provide resources for enhancing partnerships with local food manufacturers and offer valuable opportunities to network with functional experts in these areas. Participants are also able to access free online courses and can receive certification after completing three tiers of courses and homework.
SNAP Outreach
Thanks to our generous donors, Feeding America provided grants and technical support to network members to empower them to help their clients connect to longer term assistance through the Supplemental Nutrition Assistance Program (SNAP), formerly known as the Food Stamp Program. Food banks in Virginia have been approved for federal SNAP reimbursement of up to 50 percent, and Missouri food banks are expected to be similarly approved in the near future. Thanks to generous donations earmarked for SNAP outreach, the national office was also able to provide substantial help to network members seeking to start, operate, and expand their SNAP Outreach programs.
Among the SNAP assistance the national office provided in fiscal year 2011 was:
- the creation of the SNAP Calculator to help food banks demonstrate the impact of their programs,
- the establishment of the SNAP Toolkit Advisory Board comprised of Feeding America member food banks to capture and formalize best practices for food banks interested in starting or refreshing their SNAP outreach programs,
- the development of the SNAP Toolkit in a book-based and online iteration to disseminate the work of the Advisory Board,
- the education of anti-hunger advocates about SNAP at the 2011 Anti-Hunger Policy Conference,