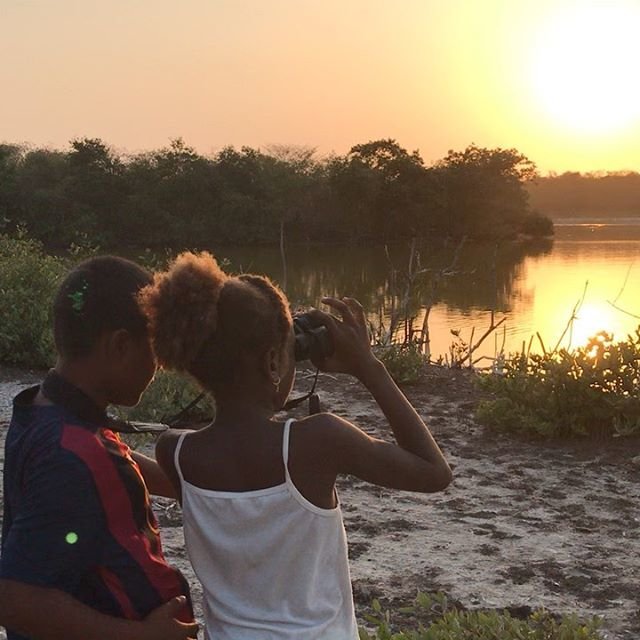 Going forward!

During the months of April, May and June, Fundación Bahía has been sending humanitarian aid to the insular communities of Tierra Bomba and further beyond. Island communities have been suffering from poverty and hunger even before the pandemic and have been hit especially hard with the halt to tourism which provided means of obtaining basic livelihood. Fundación Bahía´s efforts have concentrated on serving these insular communities reaching around 5,970 households, sending around 1,500 basic provisions as well as 4,250 kilos of fish, thanks to a generous fish donation from the Antillana Company, and lately 220 biological safety protection kits (face masks and alcohol bottles) to the communities of Punta Arena and Tierra Bomba. The provisions have been delivered to the different island communities thanks to the help of the Colombian Naval Forces, and equally distributed to the different households with help of local community leaders - the Consejos Comunitarios. The whole operation, supervised by Fundación Bahía, has been done with the support of the Cartagena Mayor´s Office. Private partners for this project, donors, Antillana, the Armada, Rotary Club Cartagena, and the Company Beatriz Camacho, have also contributed greatly. Thanks for your support!

Here are some of the activities that Fundación Bahíi held prior to the pandemic, in our constant struggle to fight plastic pollution at sea!

Bird watching workshop for the children of Punta Arena! The 6th and 7th of March, children from the school and from the Environmental Guard of Punta Arena, invited by Fundación Bahía and children and teachers from the Montessori school of Cartagena went on a bird watching workshop to La Salina, Punta Arena. La Salina is an inland mangrove marsh area in Punta Arena. It is a sanctuary for a lot of bird species that the children learned to see and identify with the help of the biology group from the Montessori School. Thanks to the workshop, the children of Punta Arena rediscovered their surroundings, learned proper use of binoculars and understood the importance of conservation and cleanliness for this rich environment. Part of the Fundación´s Punta Arena Sostenible Project for the recovery of this important ecosystem is to change the current use of the Salina as a satellite dump ground to a park and ecotour destination that could benefit locals trained to be eco guides and bird watching experts! Participants had a great time learning about their environment and fauna and the importance of its preservation, as a whole ecosystem.

Big plans for Punta Arena! Fundación Bahía is working hand by hand with Punta Arena's community and its leaders to reduce plastic pollution, preserve its environment and strengthen its economic framework. Punta Arena is the most touristic part of the island of Tierra Bomba with its beautiful white sand beaches. Fundación Bahía is designing a project that would allow to continue helping the community during this pandemic, but also engage beneficiary families in environmental work. The idea is to benefit families in need with food provisions in exchange of their commitment to preserving La Salina and helping clean up the future eco trails. Stay tuned for upcoming actions!

We're going citywide with #MarLimpio2020! Mar Limpio 2020: Guardianes del Oceano (Ocean Guardians) is an environmental education campaign, whose goal is to encourage all inhabitants to heighten their conscience, conserve the environment and feel a part of their ecosystem. Fundación Bahía and Universidad Tadeo Caribe have partnered in order to develop an educational booklet for public school children, that can also be scaled up to University students. It consists of explanatory sheets about oceans, the ecosystems surrounding Cartagena and the problems affecting the environment on local and global scales. Each fact is clear enough for anyone to understand, and the explanations are followed by quick and fun activities for children and students. Cartagena is a city surrounded by water, and each of its ecosystems is connected to the Ocean. Protection of mangroves, tropical rainforests, beaches, and coral reefs are all essential for the well-being of every Cartagenero. Still under development, Mar Limpio 2020 aims to offer an educational program, with a web platform, an Ocean Preservation Pact, the educational booklet and easy to share social media pieces for all to fight against single use plastics. Part of the project are also utilitarian sculptures to be used as educational tools to get people to recycle. The Foundation is preparing its educational program for all to get to know the bay and all other vital ecosystems around Cartagena, through private, public and educational partnerships. Thanks to all of the institutions and persons who have signed the Ocean Awareness Pact and are now aware of the actions required to help our Ocean! Please visit our website www.fundacionbahia.org and sign on!

Fundación Bahía also participated in LimpiArte the 6 of march! The event, organized by Fundación Tucultura, gathered local associations, private actors and Colombian police to clean up one of Cartagena's most frequented places, the Portal de los dulces. The clean-up day was preceded by awareness raising actions, in which students and members of Fundación Bahía discussed with local business owners about their ecological actions and the existing rules they have to comply with. Saving our oceans and the beautiful bay of Cartagena from plastic pollution is an immensely complex task, that can only be dealt with collectively. This is why we need you to visit our website and sign on to the Ocean pact!

Thanks again for your continued support to our cause! Together, we can change the world!
Warmest regards,

Diana de la Vega