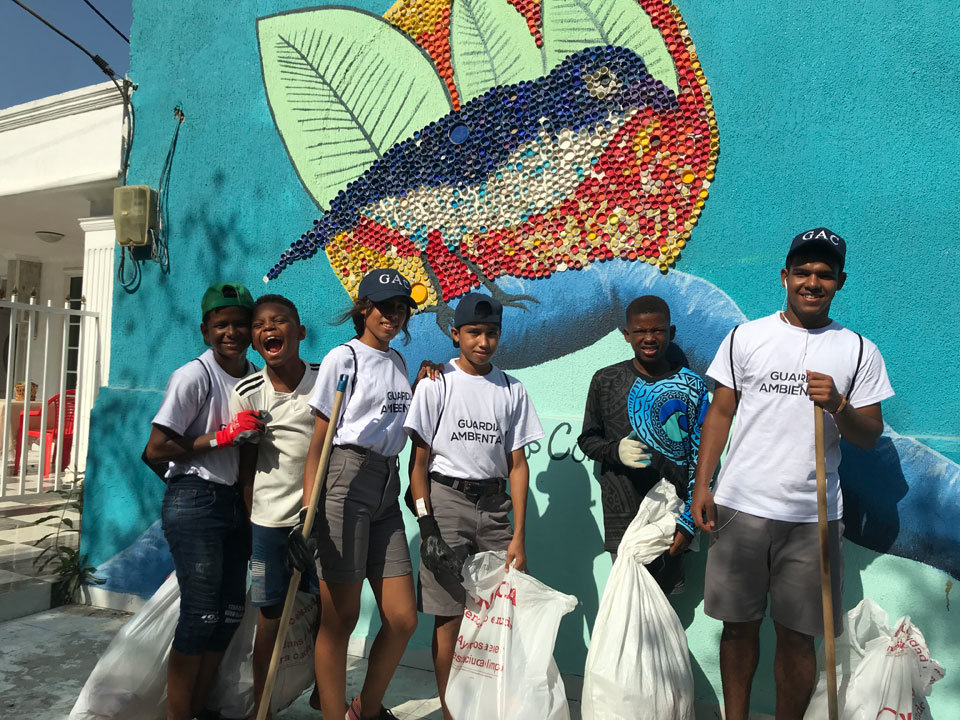 This is the year of the Ocean. Fundación Bahía would like to showcase Mar Limpio 2020, our city wide campaign to raise awareness and fight plastic pollution in our bay and ocean! As founders and partners of the Alianza Mar Limpio (Clean Ocean Alliance), which includes individuals, educational institutions and organizations from the public and private sector willing to engage in action, we met with Heidi Solba, president of the World Cleanup Day. Heidi´s visit from Estonia served to motivate us all into planning this year´s clean-up next September and was well received by local authorities. Fundación Bahía also participated with Fundación Tu Cultura in the first Limpiarte of the year, cleaning up the Parque del Centenario and raising environmental awareness amongst book sellers and visitors alike. Everything thrown out without care ends up in the Ocean! We have paired with UTadeo Caribe and soon you´ll hear more about our interactive platform and all of our partners at Mar Limpio 2020! Please visit our website and sign the pledge for cleaner oceans to become a #GuardianesdelOceano! Please help us build one of our educational sculptures to invite and stimulate people to protect our beaches and sea!
Congratulations Punta Arena! On Feb 20th more than 130 volunteers from the community, Cartagena and abroad participated in a super beach clean-up and contributed to the fight against plastic pollution by picking up around 700 kilos of trash, of which 130 kgs of plastic residues from the beaches and inner bodies of water. Volunteers picked up about 6 kgs of plastic straws and one kg of cigarette butts. These clean ups are very important since plastic does not biodegrade, it remains plastic forever and over time and due to the sun´s rays and the natural erosion, plastic breaks up into smaller pieces. Thus, with this cleanup we prevented 130 kgs of plastic from harming our biodiversity and ecosystems, but also from eventually becoming millions of microplastic particles in the future. Microplastic is impossible to clean up and enters our food chain, wreaking havoc in our reproductive and hormonal systems. Microplastics absorb contaminants in the water – such as mercury or petrol, and become even more dangerous for biodiversity and humans. In Punta Arena, Fundación Bahia previously identified satellite trash dumps and held meetings with local authorities and partners to socialize the information and encourage community participation in a sustained clean-up effort. Many thanks to all the volunteers, institutions such as Guardia Ambiental, Veolia and Armada de Colombia involved in this cleanup! Many thanks to Amigos del Mar who co-hosted the clean-up and congratulations on their anniversary! Thanks to enterprises such as Onda de Mar, and especially Fenix Beach Hotel, Bomba Beach and Namaste Hotel for their support.
Foundation Bahía´s director visited COJOWA and spoke with 8th graders interested in developing projects aligned with the UN Sustainable Development Goals. First of all, what is your passion? Knowing yourself will help define how you can contribute towards helping humanity attain these goals. How do you want to serve? Such topics were also touched during a conversatorio at Selina´s Jumpworking and while interviewing Bettany Hughes on the evolution of Venus Aphrodite, during the last Hay Festival in Cartagena.
Please don´t hesitate to contact us if you wish to experience one of our clean-up events or learn more about the Bay´s historical and ecological importance. Thanks again for your continued support and interest in helping save our oceans and our beautiful bay from plastic pollution!
Warmest regards,
Diana de la Vega
Director Fundación Bahía y Ecosistemas de Colombia.