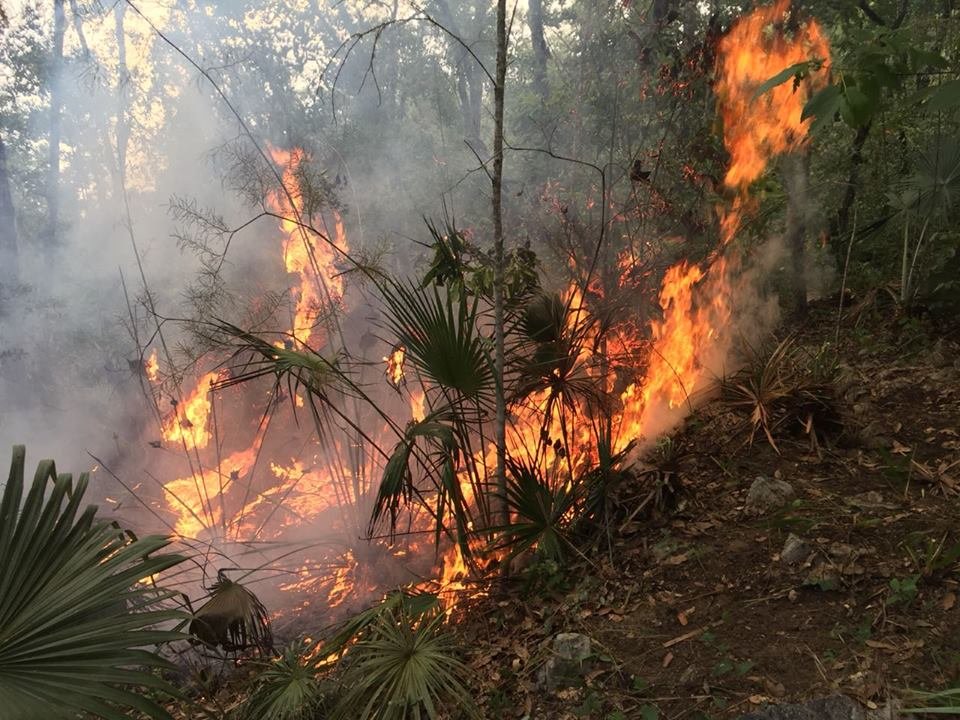 (Desplázase hacia abajo para ver el texto en español)
Dear Friends,
Welcome to our project to improve forest fire prevention and control in the Sierra Gorda Biosphere Reserve!
This project was prompted by a recent, devastating fire in the Sierra Gorda. Raging for three weeks, it affected over 3,250 hectares, home to endangered species such as jaguars, orchids, salamanders, margays, and ocelots. By destroying vegetation, the fire caused over 106,000 tons of CO2e to be released into the atmosphere.
Roberto Pedraza Ruiz writes, "The White-Fronted Parrot is one of the many endangered species affected by this big forest fire, especially considering that they were in the middle of their nesting season and had to leave their nests and chicks behind. They shared those forests with many other endangered species, from jaguar to margays, and the impact on biodiversity is difficult to measure."
The fire was probably provoked. It quickly got out of control and began to expand rapidly due to strong winds, high temperature, and dry forest conditions following a severe drought.
Many of the fire's fronts were in remote and difficult to access areas. Federal funding cuts to the National Forestry Commission significantly limited federal firefighting resources. So although official firefighters, organized fire brigades, and volunteers all came together to combat the fire, it was only two weeks in that enough manpower was mobilized, including 7 helicopters, to finally control the blaze.
We are responding to this emergency to make sure that it does not repeat itself. We want to hire, equip, and organize local fire brigades to continually patrol the reserve, maintaining fire breaks and immediately responding to outbreaks. We cannot afford another such tragedy to hit the Sierra Gorda. Are you with us?
Estimados amigos,
¡Bienvenidos a nuestro proyecto para fortalecer a la prevención y combate a los incendios forestales en la Reserva de la Biosfera Sierra Gorda!
Este proyecto fue motivado por un reciente y devastador incendio en la Sierra Gorda. Durante tres semanas, afectó a más de 3.250 hectáreas, hogar de especies en peligro de extinción como jaguares, orquídeas, salamandras, márgenes y ocelotes. Al destruir la vegetación, el fuego provocó la liberación de más de 106,000 toneladas de CO2e a la atmósfera.
Roberto Pedraza Ruiz escribe: "El Loro Corona Blanca (Pionus senilis) es una de las muchas especies que fueron afectadas por el incendio, máxime ahora que se encuentran nidos activos y tuvieron que dejar ahí a sus pollos. Compartían esos bosques con ocelotes, margays, ajoles, salamandras, e incluso jaguares. El costo ambiental del incendio será difícil de evaluar y ponderar. El carbono emitido, ejemplares calcinados, las áreas donde la regeneración tomará años y las cadenas tróficas rotas es algo que no tiene fácil reparación. El tiempo dirá."
El incendio probablemente fue provocado. Se salió de control y comenzó a expandirse rápidamente debido a los fuertes vientos, las altas temperaturas y las condiciones del bosque seco después de una grave sequía.
Muchos de los frentes del incendio se encontraban en áreas remotas y de difícil acceso. Los recortes de fondos federales a la Comisión Nacional Forestal limitaron significativamente los recursos federales para combatir incendios. Por lo tanto, aunque bomberos oficiales, brigadas de bomberos organizados y voluntarios se juntaron para combatir el incendio, pasaron dos semanas para que se movilizara suficiente mano de obra, incluyendo a 7 helicópteros, para poder controlarlo.
Estamos respondiendo a esta emergencia para asegurarnos de que no se repita. Queremos contratar, equipar y organizar brigadas locales para patrullar continuamente la reserva, mantener las brechas de cortafuegos y responder de inmediato a los siniestros. No podemos permitir otra tragedia semejante en la Sierra Gorda. ¿Estás con nosotros?