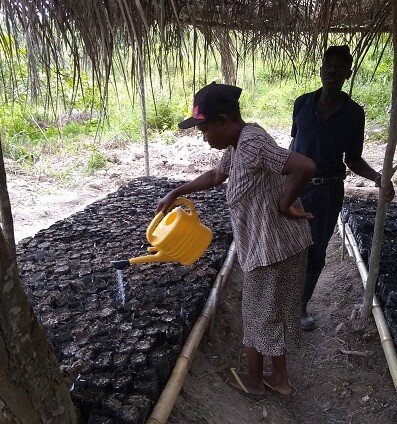 Dear Friend,
We are never tired of thanking you for your support. We so appreciate your supporting our cause and investing in our vision of a thriving Haiti!
The Earthquake of 2021 has devasted our communities and broken our hearts. We poured ourselves into it as communities of Haiti's Grand Sud that had not fully recovered from Hurricane Matthew were hit again. We've started a campaign on GlobalGiving that we hope that you can support. To date, we've supported about 28,000 community residents impacted by this disaster. We poured our "everything" into these efforts and have been so thankful for all of the partners and individual donors who have come through to help us.
What has been happening with the projects that we had funded and supported? We are thankful that even though many of our community partners were affected, many have been able to continue their work. The Earthquake has hurt thousands of our people, killed too many and made too many homeless in a context where state structures don't provide a safety net. Animals have fallen into cracks in a way where it was dangerous to retrieve them. Damaged houses are structurally compromised and will have to be rebuilt. But hope remains and life goes on. Community residents continue to nurture their crops and support each other as we work on helping them help themselves.
On September 11, we met with community representatives and discussed their priorities which are as follow:
-Support the most affected families with school fees and school supplies
-Help microenterprises and small businesses get back to business
-When possible, help rebuild small schools and health clinics
-Help to repair their water distribution systems which have been impacted by the earthquake- water is life!
-Support communities as they are trying to get back on their feet with their income generating activities from agriculture to animal farming and other
We are closing this campaign but hope that you will be able and willing to support our Earthquake Recovery and Reconstruction efforts.
The truth is, our people don't seek charity and prefer to be able to fend for themselves. In the face of adversity, we are committed to be there for them and help them find their way to a better life and future for our communities.
THANK YOU FOR THE HELP THAT YOU HAVE PROVIDED!
Warmest regards,
The Haiti Community Foundation Network and the Haitian communities that we serve!
P.S. Happy Holidays to you and your family!