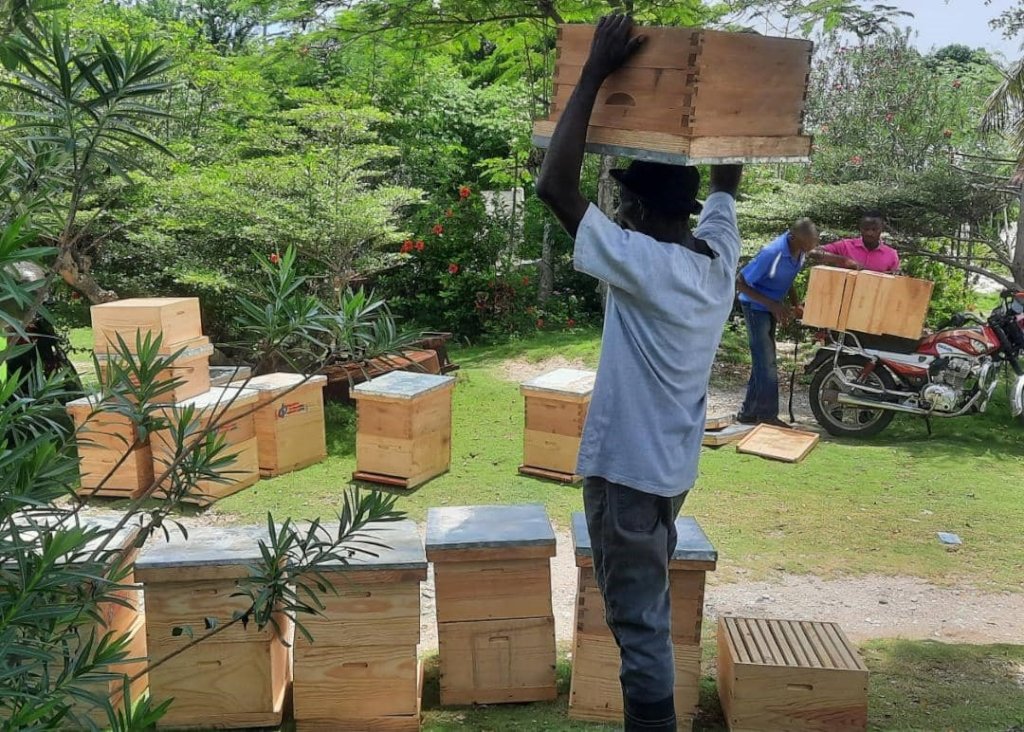 Dear Friend,
I want to thank you for always investing in us and for helping #HaitiansHelpingHaitians! Your support helps us make a difference for Haitian communities as we work WITH them and FOR them.
I want to tell you about the "good news' first and the seeds of change and hope that you have helped us spread. We are sharing a lot of photos, because photos sometimes speak louder than words.
We've worked over the past few months with 13 community organizations on various initiatives see list below and a map in the photos showing where they are. Our goal (as always) is to implement community chosen projects that help them achieve self-sufficiency. Call us a catalyst. Call us a true partner as we work with groups, learn from them, with them and support their goals in various ways from money, linkages, training and validation.We're building community and building nation.
Groups have leveraged the increased demand in ginger and honey (items in demand because of COVID-19 as they are immunity boosters) to plant ginger and set up beehives. Goats are always on demand. We make sure that groups get them vaccinated and tagged as they are not tied down in our communities but rather wander around. Agriculture is always a major piece because, after all, although grossly under financed, it is Haiti's most prominent sector. We are finally working both on the support of the development of Mutuelles Solidarites (a collective community financing platform that gives access to financing to those who usually don't have it), and on the development of a network of these Mutuelles also called MUSOs.
Now friend, there are also plenty of bad news. I am sure that you know about the murder of the President that threw Haiti in a tailspin. On top of it, we also experienced the 2021 Earthquake which greatly impacted the Grand'Anse. There are thousands dead, thousands of homes destroyed and altogether, overwhelming needs. We've mobilized and have been meeting these needs. This and also the recovery and reconstruction are and will be our focus. We've set up a campaign on GlobalGiving to address the earthquake that we sincerely hope that you will consider supporting. We are closing this one. Yes, we continue to fight for community and there will be another campaign soon enough to focus on the reconstruction of our communities.
WE ARE HERE TO STAY. JOIN US & SUPPORT OUR FIGHT!
THANK YOU!!!
Yours, in solidarity,
Marie-Rose
P.S. Before the Earthquake and after President Moise's murder, we started a series of webinars featuring Haitian Leaders talking about their vision, perspectives and initatives for transforming Haiti. It's been well received, and we're continuing it even as we are stretched by our disaster response efforts. Now, more than ever, it's critical that the world hears from Haitian leaders and that we have our say and lead the way.
---------------------------------------------------
Liste des OCB partenaires de la FCH-Espwa
Nom
Sigle
Commune
Type Initiative
Mothers Club-Espwa Fanmi Dayiti
MC-EFADA
Jérémie
Mutuelle Solidarité
l'Organisation Corvée Planteurs Grand'Anse
OCPGA
Jérémie
Mutuelle Solidarité
Asosyasyon Fanm pou Avansman Dèchan
ASOFAD
Jérémie
Mutuelle Solidarité
Rassemblement des Patriotes Abricots-Bonbon
RAPAB
Bonbon
Agriculture
Aksyon Fanm Bonbon
AFAB
Bonbon
Elevage caprins
l'Organisation pour le Développement et d'Intégration
Pour une Nouvelle Vie de la Grand'Anse
ODINOVGA
Roseaux
Agriculture / Environnement
Konbit Peyizan Gran-Vensan
KPGV
Roseaux
Elevage caprins
l'Òganizasyon Fanm Devwe Gòlbotin
OFDG
Roseaux
Agriculture/Stockage
Organisation des Citoyens pour le Développement de Beaumont
OCIDEB
Beaumont
Route agricole (secondaire)
Femmes Coopératives Commerciales Agricoles Coordonnées de Bellance
FCOCACB
Beaumont
Elevage caprins
Gwoupman Fanm Pa Chita
GFPC
Beaumont
Agriculture
Asosyasyon Travayè Peyizan Fondikak
ATPF
Corail
Processus en cours
Groupement des Femmes Progressistes Pour l'Avancement de Corail
GROUFPAC
Corail
Processus en cours
Mouvement des Jeunes Pour Le Développement de Champy
MOJEDC
Corail
Processus en cours
Rassemblement des Valeurs Pour l'Avancement Communautaire
RAVAC
Chambellan
Processus en cours
Coopérative de Production, Commercialisation de Denrées
COPCOD
Chambellan
Processus en cours
Rassemblement des Citoyens Organisés de la Grand 'Anse
RACOGA
Chambellan
Processus en cours
Rezo Òganizasyon Pwodiktè Pwodiktris Agrikòl Grandans
ROPAGA
Jérémie
Organisation-Consultant