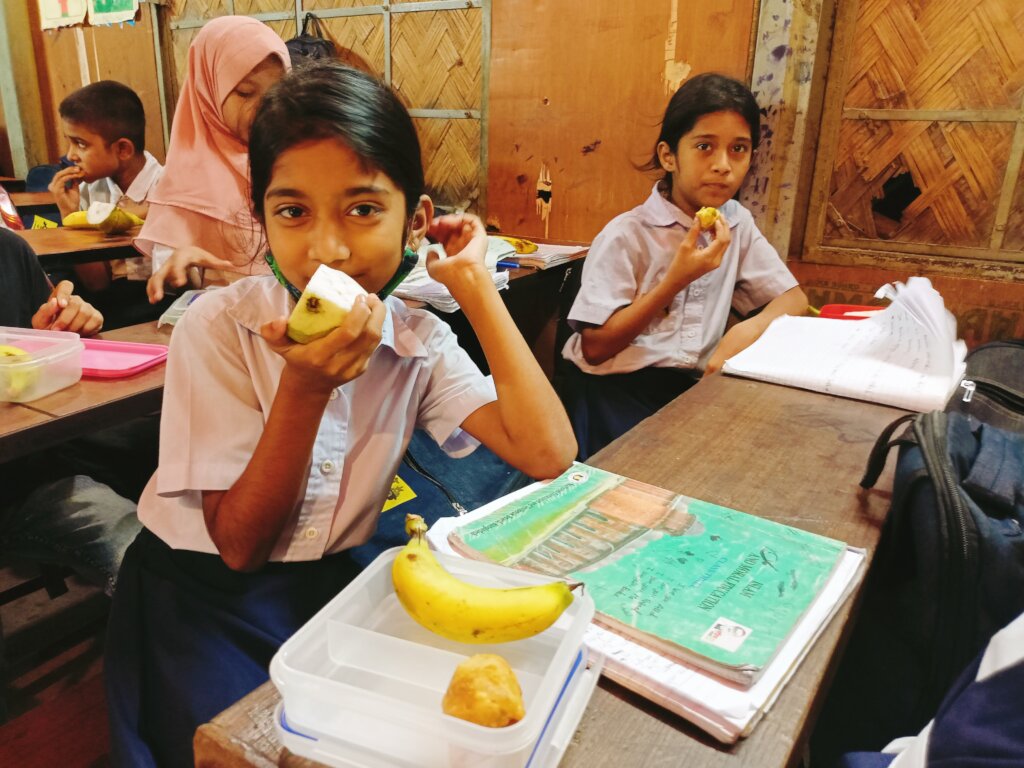 Maintaining a proper diet is fundamental for living and staying healthy. Healthy ageing involves the interaction between genes, the environment, and lifestyle factors, particularly diet and physical activity. Good nutrition is also indispensable for optimal school performance.

In Bangladesh, most of the rural people are suffering from malnutrition. They are under the poverty line. Almost 41% of underprivileged Bangladeshi children are underweight. They do not get to have good food. Their poverty has taken them to a state where they dream of having proper nutrition.

Along with stationary and crucial supplies, JAAGO distributes students with meals at school for their nutritional needs. Their regular nutritious food distribution includes items such as Buns, Boiled Eggs, Bananas, Energy Biscuits, Nuts, Dates, Guavas, Apples, Oranges, Ice Cream, etc. They are trying hard to keep children away from diseases from such a young age.
Recently, 541 students from JAAGO Banani Branch have been provided with Peanuts, Singara, Guava, Apple, Malta, Hog plum, Date, Milk, Egg, and Banana. 320 students from JAAGO Habiganj Branch got Bananas, Eggs, Milk, Singara, Cholla, Apple, Guava, Orange, and Cucumber. Also, each student from each branch got honey for a nutritional boost.
JAAGO School will validate that children can perform their best. Contributing to our organisation will help us to provide them with the opportunity of a nutrition boost in this growing stage of their life. Thus, it will also work on children's physical and emotional development. Moreover, they will be able to get the best extract from their given education.
But we need your assistance to support the nutritional needs of our 4500 students. We ask you to contribute what you can to help feed these young children. Due to your contribution, you'll give them the chance to grow up healthy and be able to concentrate on their studies.
We express our deepest gratitude to the donors who have always supported us by contributing to the welfare of underprivileged children in our Feed the children project. Thank you for unleashing the possibilities among these children and creating a world with easy access to safe health and education in the future as well.