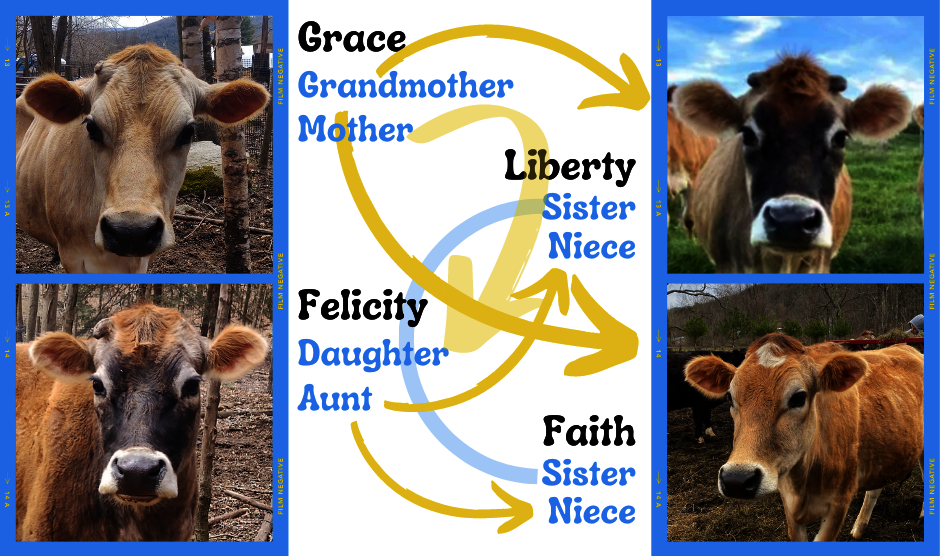 Last month, we welcomed a family of four cows — Grace, Faith, Felicity, and Liberty — to the back pasture herd. Survivors of long-term abuse and neglect at a dairy that was repeatedly cited by authorities but always made just enough improvements to avoid seizure, Grace and her family are still mourning a family member who did not survive but seem to be settling in gladly.
Grace is clearly the matriarch, not only in lineage and seniority but also personality. Liberty has the spunkiest personality. Felicity seems to be the loner of the bunch. Meanwhile, Faith is constantly in the company of Splash, who seems to have fallen in love at first sight. It's pretty adorable.
Thank you again, so much, for helping to ensure we can step in to help when survivors of abuse and neglect need help.
Now we need a different kind of help: The Pride Month Vegan Challenge starts June 1st, and we need your help to spread the word.
30-day vegan challenges are a great way to ease people into veganism. Many people know the many benefits veganism but hesitate to make what feels like such a huge life change. Agreeing to try it for just a month feels more doable. And then... most people who try it stay with it!
The Pride Month Vegan Challenge incorporates ALL of the reasons to be vegan -- ethics, environment, health, and being true to yourself. The playful theme of "Eat the Rainbow" highlights the joyful and pleasurable aspects of veganism.
So, here's our challenge to you: Think of one friend or family member who might be willing to just try it for a month. Directly ask -- or dare! -- that person to "Eat the Rainbow" of vegan food for the month of June, promising to give them any help they might need along the way. Bonus points for offering to do something they want you to try that month! Tell us how it goes, and you could win a prize!
If you're not yet vegan yourself, or just need a little help staying with your decision to be vegan, sign yourself up for a month of inspiration and support!
Visit the Pride Month Vegan Challenge website to learn more. Share the site on social media to help spread the word!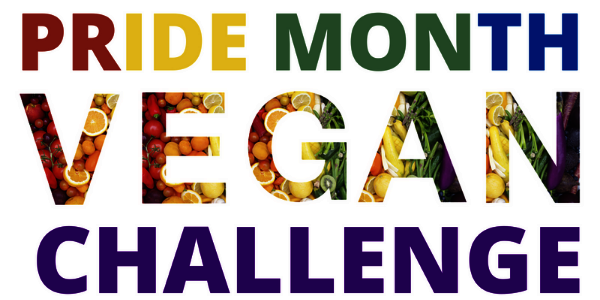 Links: