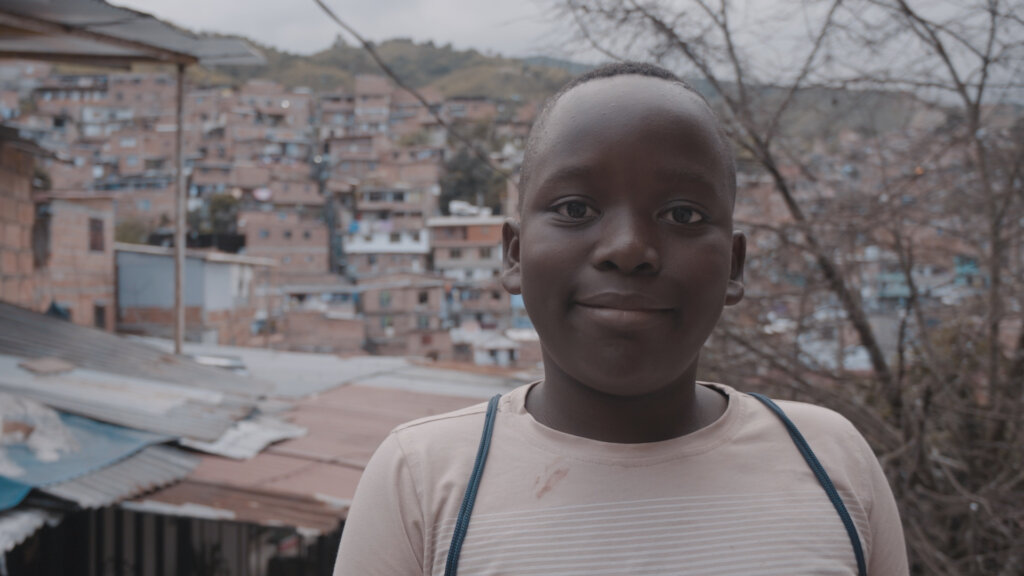 My name is Samuel. I´m 11 years old, and I´m in fith grade and I live in El Salado neighborhood from the commune 13 in Medellin.
For the past six years, I have been attending the Fundación Tiempo de Paz, the one I define with a single word: Love, there, they don´t hit me and I feel safe for reading and writing.
When I was very young, my parents divorced, so for a long time of my life I was living with my mother and siblings, since my father had a very hard drug addiction problem.
But, not long ago, my mother got pregnant, and as she also had a hard economical situation, she decided to send me, together with my three siblings and my nephew, to live with my paternal grandmother, so she could be more relaxed and care the new baby.
But I think my grandma is not very happy living with all of us, because sometimes leaves us locked where we cook.
My father lives nearby, and works repairing houses and these days I see him more frequently and he is helping us with the food. I think that living close to him had helped him.
But I´d like to live with my mother again.
My mom enrolled my two sisters in the Foundation and it was very good, this why I´m also there, although sometimes it is difficult to go there, I live 30 minutes away from the Foundation, and many times I have to walk, when my dad or grandma don´t give me the money to pay for a bus. But I don´t care, because I really love to be in the Foundation.
At the Foundation I have learnt good principles and values, I have friends, we make activities, we play and they give me presents and also they give us food. I feel very safe, I´m not so shy now, and I like to help others.
I´d like that more children could come to the Foundation.
The Foundation has helped me, and they have shown interest for me and my family, this is why I say that the Foundation is love.