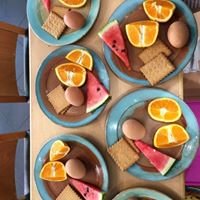 With your continued support with donations via the GlobalGiving foundation, we have been able to continue to fund our wonderful partners, We Are One, on the island of Samos, in Greece.
This week, 208 people arrived on Samos island, an increase from last week's 105 arrivals and from last year's 111 arrivals during the same period. Women account for 22% of the population, and children for 27%, of whom more than 7 out of 10 are younger than 12 years old.
The Greek government has failed to "meet the basic needs of pregnant women and new mothers", as Human Rights Watch reported in 2019. Failure to provide appropriate amounts of nutritious food and lack of nutrition during pregnancy could cause health and development problems for babies and women.
In response to this situation Help Refugees teamed up with the We Are One centre (run by Glocal Roots) to provide sufficient service, and together with we have been able to able provide pregnant women with supplementary food. In their safe spaces We Are One offers foods such as eggs, fresh salad, nuts, oranges, drinks for pregnant women and bananas for babies. As well as this there is a specific pregnant women's programme, which happens every Monday to provide additional nutritious meals and fresh salad, tailored specifically to meet the needs of pregnant women who visit.
Receiving food in the camp requires a long wait in line – often for hours - to pick up a small portion, low in nutrition which does not cover the basic dietary needs of pregnant women. This makes it even more essential for us to keep supporting our partners, and together with We Are One we are grateful to be able to be a part of bringing essential, nutritious meals to those who are struggling in Samos, particularly those pregnant women who have so many other struggles of their own.
Thank you, so much, to all the supporters who enable us and our partners to do this work. By choosing love and working together, we really can make a difference.