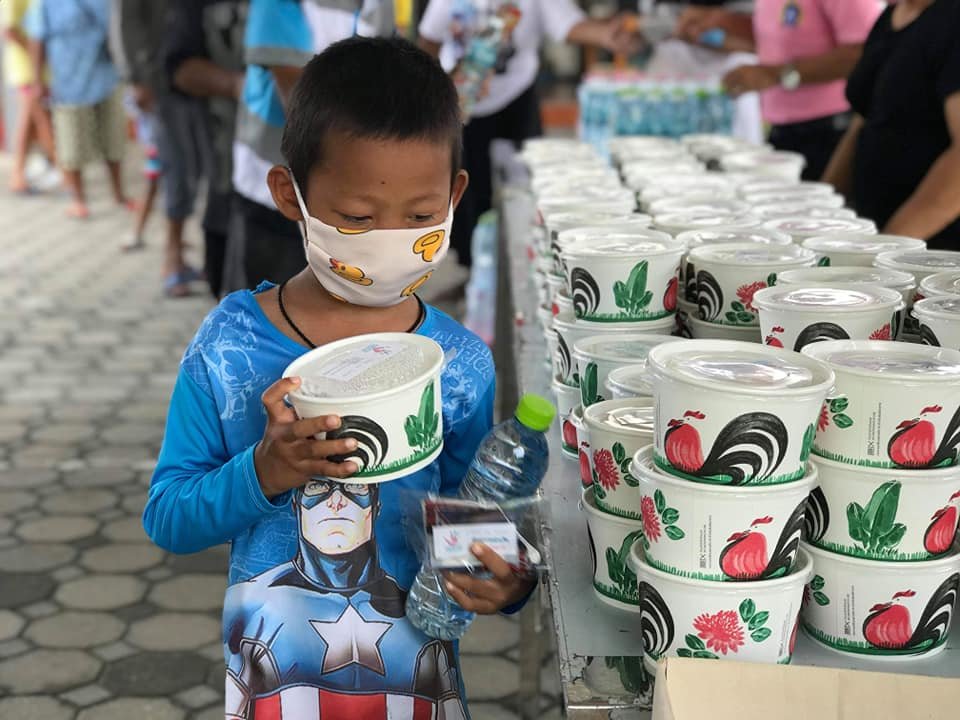 The corona COVID 19 virus has caused destruction all over the world causing both death and hardship. Pattaya is a medium sized coastal town in Thailand and 80% of the residents rely on the tourist industry for jobs and survival. With countries in lock down there have been no tourists for many months causing hotels, restaurants, shows and bars to close leaving those who worked there without an income and housing.
It is typical in Thailand for workers to receive a small free room to live in as part of their income.When they loose their job they also loose a place to live. Many live day to day and so a loss of employment also leaves families without any money for food and basics.
In many countries over the world it was difficult to buy staple foods and products as people ran out to purchase these in large quantities. In Pattaya the shop shelves were never empty, because people did not have the money to purchase food.
Hand to Hand Foundation and other organisations began the impossible task of trying feed the thousands of people in need. Lines for food literally extended for kilometers and daily many missed out as there was simply not enough.
Hand to Hand Foundation has been working with the government to coordinate food distribution to the most needy in an orderly manner, which included social distancing and protecting people from the heat, sun and traffic as they waitied. Our food distribution begins at 11:30am and some people are so desperate they begin to line up from 4:30am. The other day a mother recieved food for the fist time in 3 days for her children. As she excitedly left with the prized meals one dropped to the ground. Without a thought or hesitation the food was scooped out of the dirt and eaten. (We gave them more food!)
We cook meals, make packs with rice, noodles, tins of fish, salt, fish sauce and oil and give them freely to those in need. The scale of what we do costs about $700 a day to feed approximately 500 people. Thank you to all those who have given. The need is great everywhere. We appreciate every donation big or small... it could be the difference between a child eating or going hungry for yet another night.