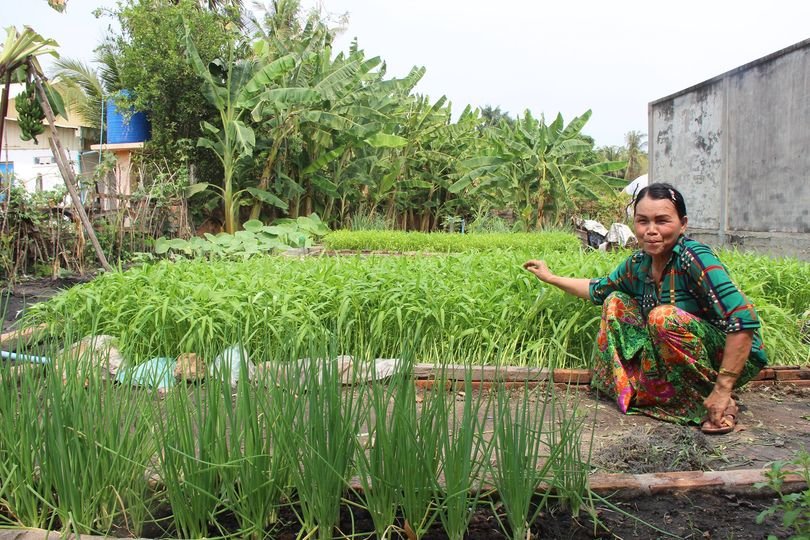 To date, Human and Hope Association has supported 468 families so far with our home garden project, which increased food production and income for vulnerable families impacted by Covid-19.
Let's meet Phalla, one of our home garden participants.
Phalla (given name), a 55-year-old woman, living in a big family of six members, including her husband and her five children. All her children got married and live separately. Currently, she lives with her 60-year-old husband in a small house, making Khmer cake to sell in the village. She can earn little money from her business and the outbreak of Covid-19 made her more difficult to earn income because people don't spend much as before.
Through working with the village chief, we found Phalla at home and selected her to participate in our program after having the interview about her need and willingness. She has joined our training at our center with other participants and received farming resources such as seed, fertilizer and some farming materials after training. In addition to learning basic of chemical free farming, she also learned addition courses on environment focusing on the 3Rs and Covid-19 prevention.After learning and receiving the seed and resources, she immediately started her garden. For just around three weeks, she has harvested her morning glory and then other vegetables such as gourd, sponge gourd, winged bean, green onions, and egg plants.
As she usually rides her bike to sell her Khmer cake everyday, she also brings her vegetables to sell around the villages. She can earn on average $4USD from her sale per day and some days $5 to $7.50, which doubles her income. Besides selling, she can use her vegetables for her daily family's meal, which provided a good nutrition.
"Through participating the program, I increased new knowledge on how to grow the vegetables, especially making compost fertilizer and land preparing. I didn't have any troubles with garden. I feel so happy and grateful that the NGO supported me because I could earn more income for the family."
We plan to support 350 more vulnerable families with home garden, providing them training, mentoring, seed, fertilzer, and materials to start their gardens at home, so they can produce more food and income for the families.
PLEASE DONATE TO OUR FUNDRAISER, SO WE CAN CONTINUE OUR INCREDIBLE WORK!
Thank you so much.
Best wishes,
Team HHA