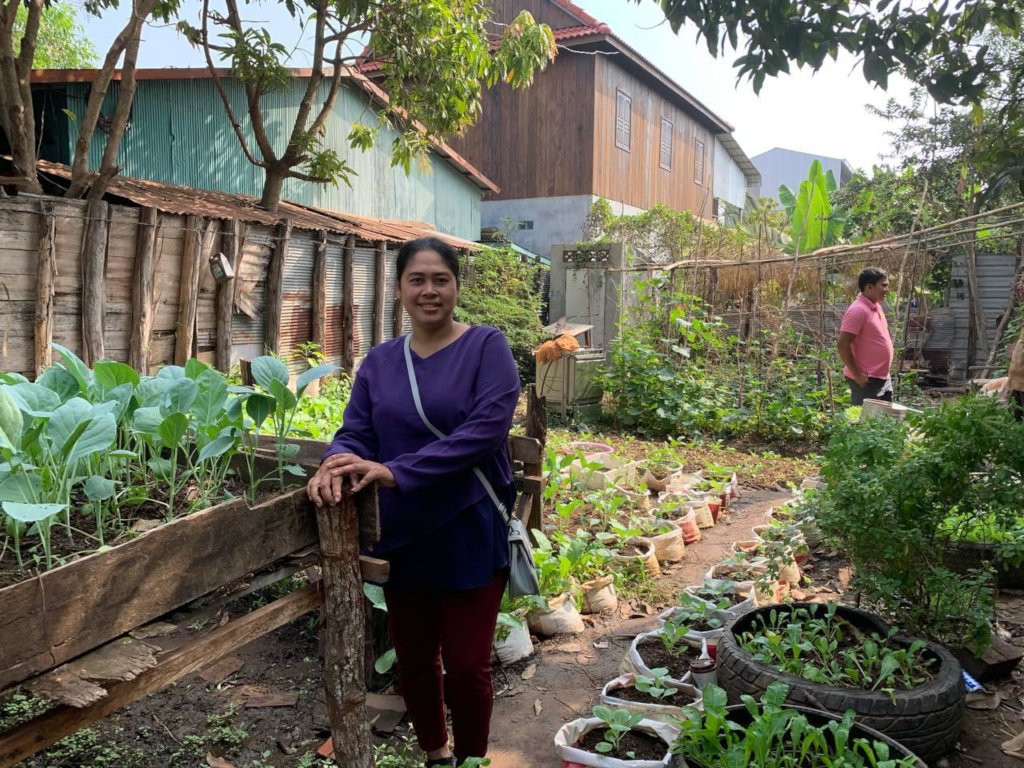 In 2020, we supported 168 vulnerable families with home garden through providing them hands-on training, support and providing them seeds, fertilizer, and farming resources to start their own gardens. As a result, 100% of them have improved knowledge on basic gardening skills, and increased food production and income for the families during the challenging times of the pandemic. This is a nice project to support people who willing to help themselves. This year, 2021, we aim to support 400 families with home gardens, so please help us to help our local community to ensure their food security during this pandemic.
We would like to share with you a nice story of one of the families who participated in our program.

Bopha* has four members in her family, her husband, and her two small children. Living in a rural area, Bopha works as a housewife and takes care of her children. Her husband is a carpenter. Due to COVID-19, her husband can just earn little money, so her family is in trouble.
Working with the village chief, we found Bopha to participate in our home garden program. Bopha just grew some kind of herbs on the bottles before, but never grow many types of vegetables. When we told her about our program, she was very happy and eager to join the program with the expectation that she can have food to eat and also can help her husband to earn money to support the family.
Bopha joined our home garden training courses at our center and received seed, fertilizers, and other farming materials to start her gardens. After receiving the resources, Bopha didn't wait, she started her garden work at her home immediately with the support from our staff. The first job was to make the compost fertilizer using the knowledge she learned from the training. Then followed by land preparing, vegetable beds preparing, and seed planting. She grew many types of vegetables and herbs, everywhere on her small land, on the ground, on the vegetable beds, in the bags, and on the bottles. With her great skill and the support from our staff, her gardens had been growing healthy.
A few months later, she could harvest them for her daily cook with good nutritious meals and also earned some money from the sales. Bopha is very happy that she could join our home garden program and said, she will continue to grow vegetables at home because it is good for the family.
Here is a short video of her garden.
*Name was changed for privacy purposes.
Please join us to empower our local community through home gardening!