Project Report

| Nov 17, 2020
The importance of Moving Forward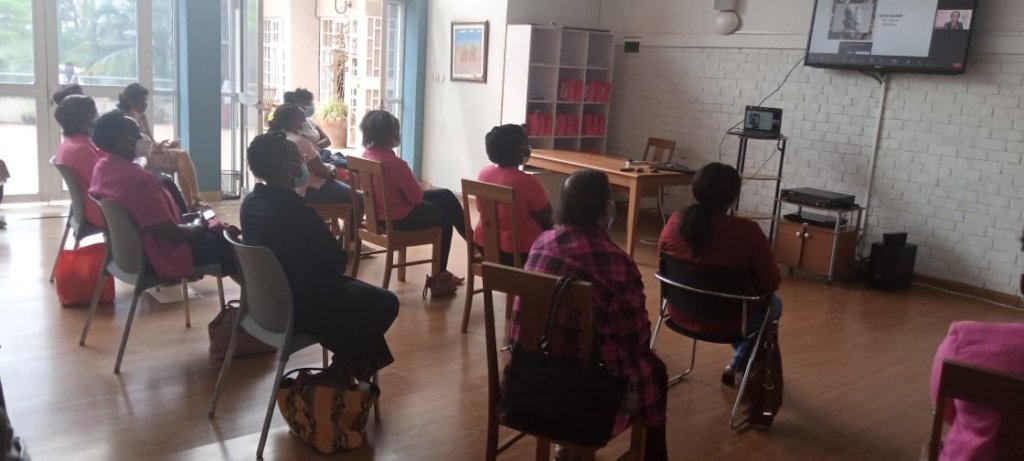 On Friday 16th October, Faraja held its first physical Breast Cancer Support group meeting since the advent of the novel Corona Virus. Our Wellness Centre is usually packed with women who want to learn from our speaker of the day as well as commune with their friends and fellow cancer warriors. However this time it was different. Instead of the usual 50 plus ladies, we had 20, in strict adherence to WHO guidelines. Chairs were also separated to adhere to the 1.5-meter rule for social distancing and everyone wore masks. As we shared and laughed, one thought came through clearly, the importance of moving forward.
2020 has been a game-changer for everyone and charities have not been spared. The current pandemic has shaken the very nature of our existence; to socialize and relate. Despite this strangeness brought on by isolation, lockdowns and restricted movements, there has been a new reality emerging, one that our patients and caregivers know too well, the will to move forward. When someone is diagnosed with cancer, the journey is a mental struggle of taking one day at a time, one chemo treatment at a time, one side effect at time and sometimes, one recurrence at a time. This momentous cycle is similar to what we at Faraja are doing and have been doing since March 2020. We begun by moving most of our therapies online such as nutrition and counselling. This is so that patients can still benefit from a community of support that they have grown to love and depend on. From April 2020 we started our online webinars and saw about 600 patients from different countries access keynote speakers from across the continent. These topics of interest edified patients even as they stayed at home. You can watch one of our most popular webinar by Prof Ellen Kampman here.
From May our online support increased to include lymphatic drainage, physiotherapy and various types of energy-based therapies like yoga, breathing, meditation and reiki. We gradually opened our Wellness Centres in Nairobi and Eldoret in July to allow for patient navigation, access to our resource library and our famous cup of hot lemongrass tea. Our will to move forward one day at a time has enabled us to reach more patients virtually and give much-needed hope to those who need it the most especially now when hope is audacious.
We want to stand in the gap for patients and caregivers no matter the season. We want to make sure that when someone knocks at our door, the answer is always yes and not "let's wait and see." We also want to do our part in reducing the cancer burden in Kenya especially now when National Hospitals are epicentres for Covid-19 treatment, leaving patients at the mercy of private hospitals and the consequent high cost of treatment. From April 2020 to date, we have supported 68 patients through treatment at a cost of Kshs 7, 431, 253. Out of the 68 patients, 15 are children below the age of 12.
Now is the time to join hands and ensure that patients not only feel safe but seen. Now is the time to move forward and not let a pandemic stop a movement of hope, a journey of recovery, a sense of living and being. Covid-19 may have slowed the world's economy but not cancer. We want to thank you for walking with us through all seasons and ask you to not only walk but stand with us now, more than ever by considering donating towards Faraja during this year's GlobalGiving Tuesday campaign slated for 1st December 2020. By helping us move forward, we are propelling the men, women and children who feel like life has stood still.
2020 may have started on a grim note but with your help, we intend to end the year strong.
Stay safe, take care and thank you for believing in us.
Links: