Project Report

| Jan 18, 2022
Supporting Family-based Care in Ghana.4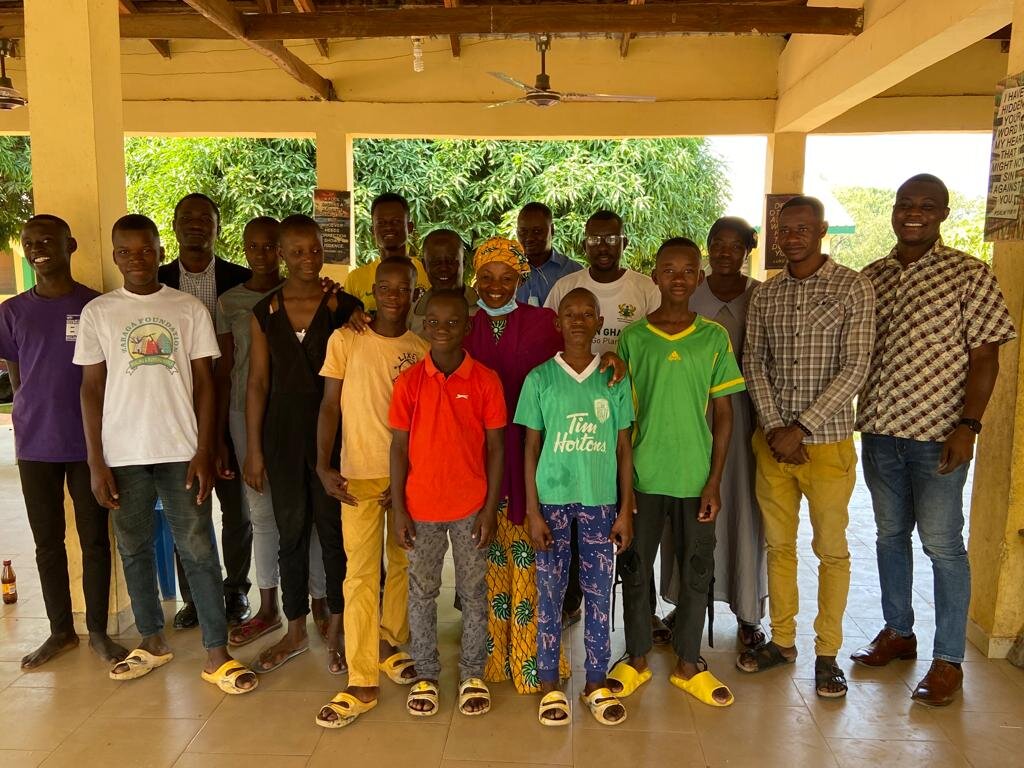 Dear community,
first, we want to use this opportunity to wish you and your loved ones a happy new year- may it be full of love, compassion and laughter for all of us and the most vulnerable people in our societies. Have you set new years resolutions for yourself?
We at BRAVEAURORA definitely set big goals for the year ahead to reach our vision to become a frontliner in Child Protection in the northern regions of Ghana and to provide more and more children with a protected life in their family settings.
Reflecting on the last year of 2021 with special focus on the last quarter we are filled with immense gratitude of what could be achieved and how we could expand our projects to reach out to more people through the continuous dedication and hard work of our staff and our most generous supporters and partners.
Looking back on the last quarter of 2021 a huge milestone could be achieved in closing another children's home and reintegrating the last 8 children living there with their families. Sawla Children's Home was officially closed on the 18th of December 2021 and BRAVEAURORA together with DSW and the home officials took part in the reunification of the children with their families. The children and their families were prepared well through extensive counselling processes to provide them with the necessary encouragement and support for this big change in all their lives. BRAVEAURORA will continue with the post placement monitoring with DSW to ensure that the children settle well within their families.
Concerning Dalia and the two other children, who we have told you about in our last report and who have lived already now over half a year with their families - we and the DSW officer responsible are in constant exchange with them and there is a very good working relationship established between our social worker responsible and the families. We were happy to realize that they easily reach out to us if there are challenges they face or information they would need. For the last quarter we especially supported the families to make a formal introduction to the schools of their children, so from now on they are the ones recognized as the legal guardians by the school officials instead of the caretaker in the children's home.
Sometimes it can be quite challenging for the families to take up these responsibilities because they haven't been used to do so for a long time and there are many insecurities underlying it. However, after these very important steps were made all the families felt very proud and happy.
Also, the collaboration with Mama Ladi's Children's Home and Operation Mango Tree continued. In order to give them new perspectives and ideas on how they could transform their work more and more towards family-based care, we partnered in doing community engagements on the importance of family-based care together. Through this the staff of Operation Mango Tree was able to learn from the experience and the skills of the BRAVEAURORA social workers.
Concerning our work in preventing family separation and strengthening family-based care our YAP team was able to reach out to 5 more communities in the Mamprugo Moagduri District reaching a total of 464 people through the community sensitizations.
A very special event was also that we were able to organize our first two radio programs together with DSW at the radio station in Yagaba in the Mamprugo Moagduri District. This project gives us the opportunity to spread our message to an even larger number of people, who often live in quite remote areas, which would be very hard to access through community sensitizations. Every radio program includes a call-in session, where people can make contributions or ask questions to the content that was shared. The program is usually done in the local language so really everyone can understand it and contribute to the discussions.
With these very important steps and activities in this project as well as many more in our other projects we drew the curtains on 2021 and are full of anticipation, motivation and inspiration for a new year to come with new opportunities for us as BRAVEAURORA and especially for all our beneficiaries.
Our heartfelt gratitude once again to everyone who has supported us throughout the last year and is willing to be part of our journey also in 2022.
Take care and stay healthy.