Distribution of Survival Food Kits:
Another lockdown and another lockdown, it's again a nightmare for the people of below poverty segments, who are severely hit on the economic situation which is precarious for them.
We see gut-wrenching pictures of farmers and villagers in the social Media.
During these kinds of situations, struggle to live freely or fairly, they only look forward for any Samaritan who can help them to fill their stomach.
On 10th June, The Project Vision at the Eye hospital project site in collaboration with the Rotary Bangalore Lakeside Charitable Trust, distributed 300 survival food kits to families with disabilities around the surrounding villages.
GIFT A MASK:
SSLC students had their final examination towards June 25th onwards, during this pandemic time and the covid spread was on higher numbers, as an act of safety, The Project Vision handed over 10,000 masks for all the 10th STD students of three Taluks of Gauribidanur in Chikkaballapur District, Madhugiri and Korategere in Tumkur District through the respective BEOs. These are neighbourood area of our project site.
'MOTHER'S MEAL'
Launching the Mother's Meal program digitally from Delhi, Justice Kurian Joseph said "Mother is full of love and that love is expressed through sharing and giving. The minimum expression of love one can show to another human being during this economic crisis due to Covid is to share a meal."
Mother's Meal was the name coined by Fr George Kannanthanam who conceived the idea of the project for a Family to Family Food Support Program, "A Mother would not allow her children to go hungry. She will do everything possible to provide food. As the World goes hungry, let us assume the role of a Mother and feed our hungry children,' said Fr George recalling how his Mother helped everyone who came to her.
The concept is to ensure that families have enough food to survive by inspiring resourceful families to share. An affordable family is invited to support another family in distress through a contribution of 500 rupees, which will be used to provide a Survival Kit of provisions.
Mother's Meal program aims to help about 10000 families in the first phase, 50000 people. Interested persons from anywhere can provide support for a family using the website www.mothersmeal.life where anyone can place the details of the families in need as well. Mother's Meal program will find the match and ensure that the family gets the support. The project has planned to work with local groups like parishes and Vincent De Paul society to identify the families in need and also to physically provide them the needed help. The program can be operationalised anywhere in the world.
We all need to contribute something", said Alphonse Kannanthanam, Member of Parliament at the inauguration of the program. According to Oxfam and World Food Program, "By the end of 2020, about 12,000 people per day could die from hunger linked to COVID-19, potentially more than will die from the disease itself."
Fr George handed over the first Survival Kits under the Mother's Meal program to five families with special needs in a simple function at Project Vision Rural Campus near Gauribidanur in the outskirts of Bangalore, watched by people from various places online. Eight year old Jeevan is orthopedically disabled. Rajanikanth lost one of his legs and is twenty years old. Jayalakshmi who is 11years old still has not been able to hear and speak. Yamuna too is physically challenged. Gangamma is unable to see. Mother's Meal plans to support such special groups in the society like people with disabilities, widows and migrants, who may be also out of the Public Distribution System. No one should go without food in the world.
Lets Serve the Needy during this Pandemic and be a real HUMAN!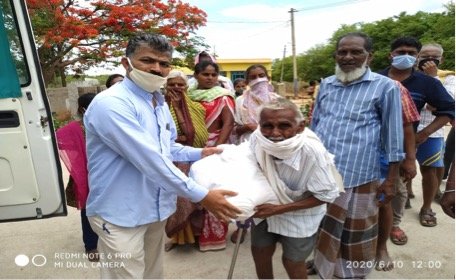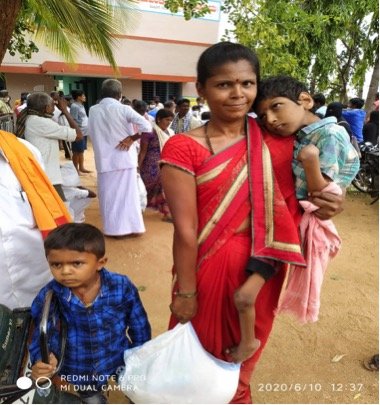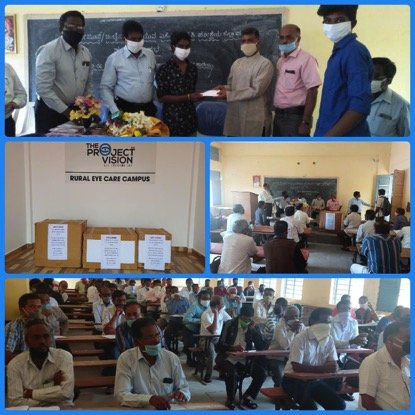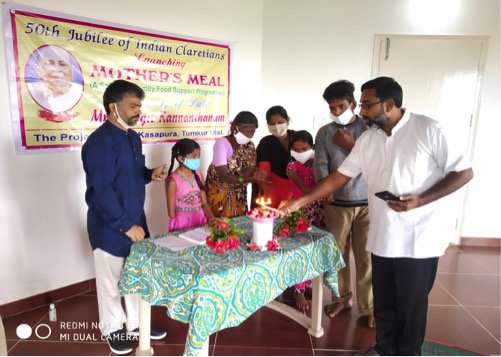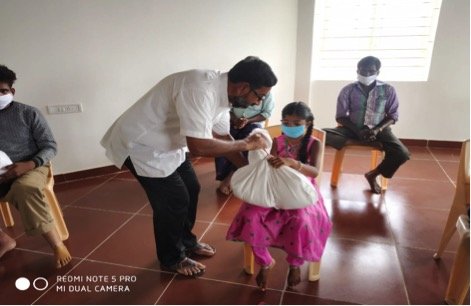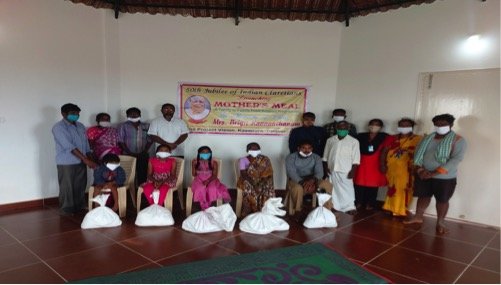 Links:
Attachments: