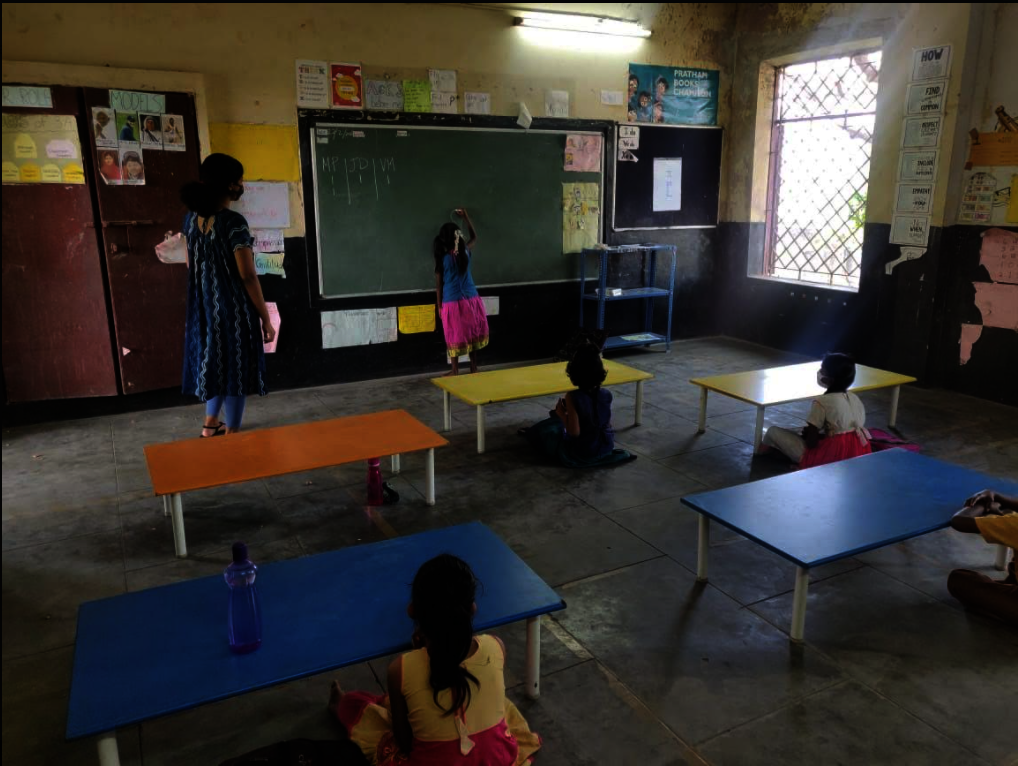 My First Year of the Fellowship in Teach For India would take forever to talk about since it's been a vital part of my journey as a first-time teacher! It has been a rollercoaster ride as I've been juggling a million little jobs to be the right teacher and leader, considering the pandemic has given me the ultimatum in pushing me to be more creative, kind, and transparent.
The last year has influenced me in such a way that the vision for my class states, "Students will be able to help each other grow with guidance, respect, and compassion while making the learning experience enjoyable. Students will be able to understand their responsibilities towards the community and society and commit to exploring every possible opportunity to learn, improve and share." My classroom goals include a growth in the Reading Comprehension Level to a 1.5 and growth in Mathematics by 15 percentage. I have learned how an online classroom functions in the past year, and I think this has helped me create a very efficient and creative long-term plan for the Year 2 of the Fellowship. This would not have been plausible without my Program Manager and coFellows support throughout my work towards my classroom's growth. Also availing essential opportunities from the Staff for Planning, Execution, Teaching as Leadership techniques and Student Vision Scale modelling for better classroom culture and student growth.
The most important aspect I focused on this year would be Socioemotional Learning for the children. It's important for my children to be happy, kind, and giving during the pandemic. Their wellbeing mattered the most to me, given that it was getting difficult for them as 8-year-olds to stay put and consistent with what and how they are feeling towards this monotonous routine of theirs. And thus, I used the Random Acts of Kindness curriculum to improve and understand the children and their state of being. We participated in the Feelings Circle thrice a week to understand how we were feeling while walking into the synchronous space every day. This helped me gauge where the children were and adapt to the backup plan for that day's class. Together, my children and I practised showing compassion, collaboration, respect, love, and gratitude inside and outside the classroom. This helped the children to build trust, honesty, and transparency amongst each other.
I started working from the ground in December 2020, distributed devices to the children who did not have access to one until December, did community visits once a week, went to children's communities to understand why a child wasn't attending a synchronous space regularly. This also helped me invest in other stakeholders such as the parents, the schoolteachers, and the Headmistress. Our school team members, including Alumni, began fundraising, and we also provided ration and other essentials to the families of our students. In February and March, I also took in-person classes for students who were not reachable previously and prioritized Foundational Literacy and Mathematics. This helped the children recollect 45% of Grade 2 portions. However, it's saddening that the learning gaps were increasing faster after the pandemic worsened, so I decided to be mindful about the same. I have procured a few devices for these children so that they come to online classes regularly this year.
My understanding of an excellent education would be every child in the educational community learning and excelling in their passion, comprehending English and communicating the language for the right purposes, improving their knowledge with a true motive, and encourage a comfortable environment around them for harmony. This leads to how we source gradual growth for the country. My vision for the country stands simple and poignant on all platforms. We will stand together to fight all odds the new way. Our weapons will be knowledge, kindness and most importantly, the persistence towards change and the power to love everyone endlessly. This also involves the 2 most important stakeholders- Young minds and their caregivers. So, as a school team, we are focusing on parental investment along with every child's education in our classroom, considering the caregivers are primarily the teachers for the children during the pandemic. Hoping this will help parents understand, nurture and support their daughters and sons holistically.