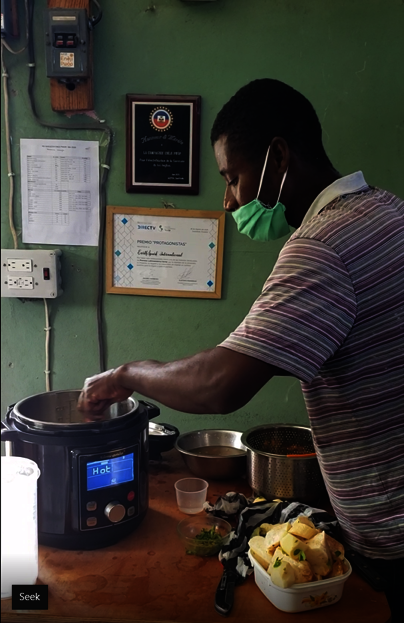 Dear Friends,
We're halfway through 2020 and the energy, economic, and environmental impact of our grids now benefit 4000+ people directly and 8800+ indirectly. Here are some of EarthSpark's key storylines.
Tiburon Continues to Grow
Even despite slowdowns because of the COVID-19 pandemic, our second microgrid has grown significantly and is now serving over 380 connections, including 46 streetlights in the town of Tiburon. Tiburon customers have even shown higher per capita consumption and higher per capita transactions compared to our first microgrid in Les Anglais. Over the next few years, the Tiburon microgrid is expected to serve over 500 households and businesses.
Feminist Electrification Wins!
EarthSpark's Feminist Electrification methodology added another award to its decorated history winning the Alliance for Rural Electrification's 2020 Award for "Best Female Empowerment Initiative". This framework underpins all of our work and ensures that everyone can benefit from our microgrids according to their unique needs.
Unlocking Clean Cooking
Almost every household in Haiti cooks with wood or charcoal. Breathing smoke from these fires is bad for people's health, especially for the women and young children who are traditionally most exposed. Electric cooking can not only reduce health risks from traditional fuels, it can also save time for women and children which can be used for other jobs, education, or simply leisure. There are also real climate benefits from avoiding traditional fuels.
To demonstrate the potential of electric cooking in rural Haiti, EarthSpark is piloting electric pressure cookers and induction stoves with 30 customers. Coupled with in-person demonstrations from our grid ambassador, the households will record their reactions and opinions on electric cooking, and EarthSpark will analyze electricity consumption patterns to inform future electric cooking initiatives.
Protecting Our Team and Our Communities
Energy is essential, and as Haiti navigates COVID-19, the EarthSpark and Enèji Pwòp teams are keeping the power on while adapting processes to keep our teams and customers safe. From fabricating face shields with materials on hand in Les Anglais to working with the local women's cooperative to sew facemasks, EarthSpark has been adapting. This includes new handwashing stations, operating procedures for entering customer homes, and phone communications in place of in-person meetings. Progress has slowed on new connections and new grids, but we are working diligently to continue to serve our customers, while protecting our team and communities.
Gratefully yours,
Andy