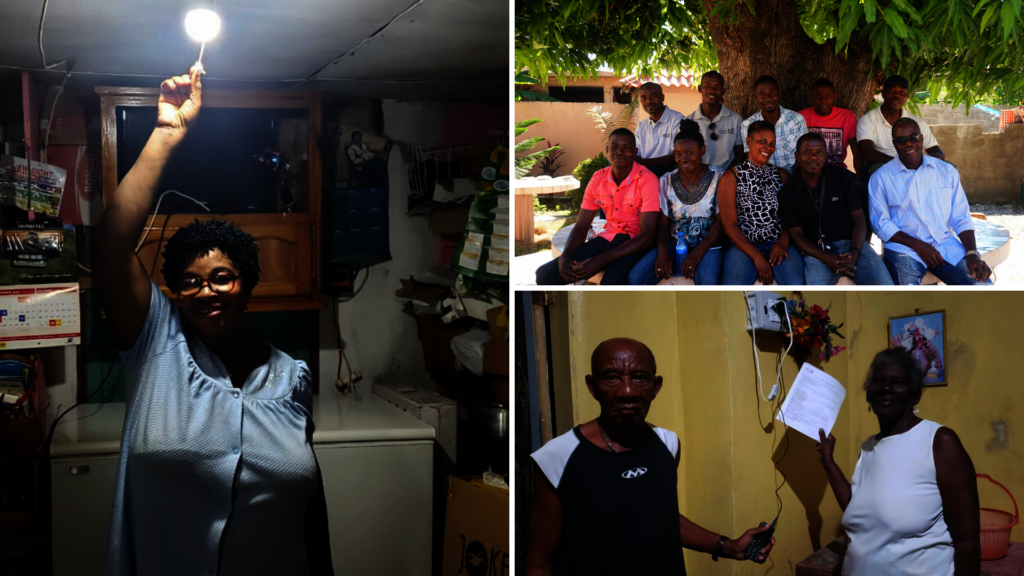 Dear Friends,

I'm thrilled to share that the residents of Tiburon, Haiti now have access to clean, 24-hr, prepay electricity!The EarthSpark and Enèji Pwòp teams launched service December 21, 2019. The launch is a long time in the making, and we're extremely grateful to everyone who has been with us through this journey. Grid #2 is just the beginning, and with Tiburon turned on, we're looking forward to a lot of momentum leading to more grids in 2020! Read the excerpt below for more on a historic day for EarthSpark and the community of Tiburon.
"The system is the first community-power grid to be approved under Haiti's new national regulatory body. Building on EarthSpark's model of community-scale smart solar infrastructure, the grid will serve 500 homes and businesses with 24/7 electricity in Tiburon, a small fishing town in the southern peninsula. The launch marks a major step in mainstreaming microgrid power in Haiti.
"Microgrids hold enormous potential to quickly bring electricity to communities across rural Haiti. For 10 years now, EarthSpark and our Haitian affiliate Enèji Pwòp have been building a foundational track record of clean energy delivery in rural Haiti," says Allison Archambault, President at EarthSpark International. "The launch of the Tiburon grid is a success story for multi-sector partnerships building a market that can scale-up to sustainably electrify the 70% of the Haitian population still living without electricity."
To achieve the launch, EarthSpark worked closely not only with the community of Tiburon, but also with local and national elected officials, with the national regulatory authority, the national electricity company Électricité d'Haïti, the Haitian engineering firm DigitalKap, and with international stakeholders including the US Agency for International Development and the World Bank to inform practical and policy next steps.
"The government is committed to improving electricity access in rural regions by deploying smart microgrids in more than 51 sites. Today, with the collaboration of EarthSpark and Enèji Pwòp, we did it in Tiburon in the South Department. This is the first provisional license for a community microgrid ever signed by the regulatory authority for the energy sector," said Dr. Evenson Calixte, Director of the National Regulatory Authority (ANARSE).
EarthSpark's microgrids directly achieve the United Nation's seventh Sustainable Development Goal (SDG), affordable and clean energy, while unlocking opportunities to progress all 17 goals including:
SDG 1 No Poverty: Residential customers save up to 80% and commercial customers save up to 50% on pre-grid energy expenses (ie. candles, kerosene, and diesel).
SDG 3 Good Health and Well-being: Electricity displaces fuels like candles, kerosene, and some charcoal which release harmful air pollutants which contribute to causing respiratory health diseases especially for women.
SDG 11/13 Sustainable Cities and Communities/Climate Action: Clean and decentralized microgrids build economic and climate resilience in Haiti's most climate vulnerable communities.
SDG 16 Peace and Justice Strong Institutions: The first microgrid authorized by the Government of Haiti's new regulator created to reform energy in Haiti, including the promotion of private microgrid development."
Residents of Tiburon have joined a small handful of communities in the Caribbean nation with reliable 24-hour electricity. Thank you for sticking with EarthSpark as we work slowly and steadily to build the path for clean energy for all.

With gratitude and warm wishes,
Allison