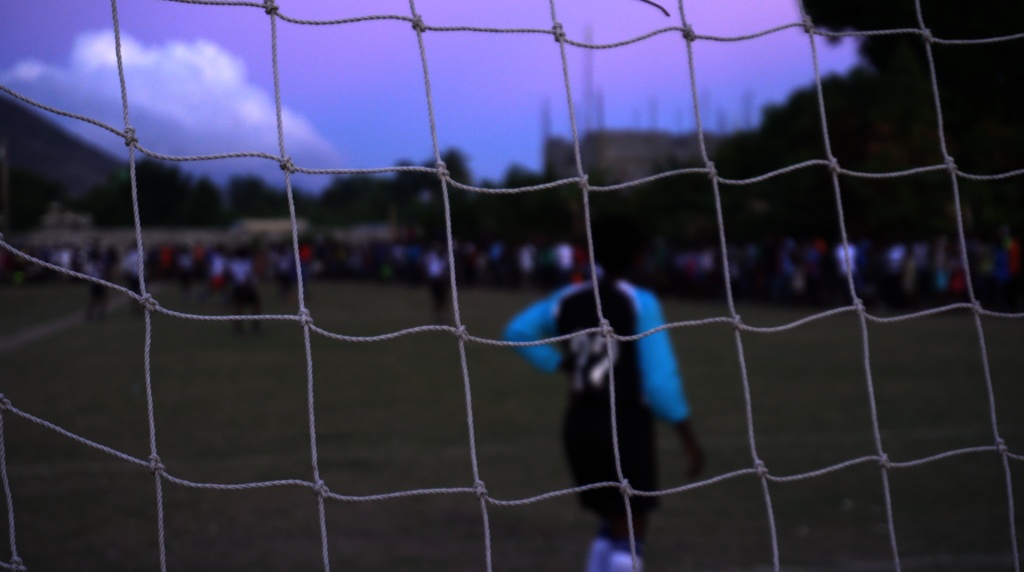 "Fèt" means "Party"!

Summertime means fèt season for towns across Haiti. Commemorating historic events or patron saints, a town fèt draws families and friends near and far back into the community to celebrate with food and music. Over the weekend of August 10th, Tiburon celebrated its fèt with its first taste of what microgrid-powered nightlife looks like. While the national regulator deliberates on terms for EarthSpark to provide power to the town, provisional permission was granted for us to power streetlights for the Fet. As our team turned the key at the generation site for the first time beyond system checks, the streets erupted with cheers and celebratory car horns. Although receiving the full authority to turn on Tiburon is an arduous process, Tiburon and EarthSpark are more determined than ever to work towards a precedent-setting solution.
A week later, the Les Anglais population seemingly doubled as people flocked to the town for their Fèt. Music, ice-cold drinks, soccer festivals, and a town beach party all showcased Les Anglais as the best-powered town in the country. A young woman visiting from Port-au-Prince gushed over her ability to buy electricity credits from a vendor at her convenience and then to find the light was on by the time she walked back to her house. By comparison to the intermittent, unreliable, and expensive grid service in Haiti's capital, she was excited by the reality that quality and affordable electricity is possible in Haiti.

As EarthSpark scales our model for electrification, the solutions for Haiti's best energy systems are coming from Haiti's rural reaches.

Electric Cooking Pilot + Documentary Launch

Our microgrids are already replacing candles, kerosene, and diesel, however, the current cost of electricity and the efficiency of electric appliances means most households in the towns we serve still cook over charcoal and wood fires. Solving energy poverty fundamentally includes bringing better, cleaner solutions to cooking. To that end, we're in the early stages of launching an electric cooking pilot in Les Anglais for off- and on-grid households. We look forward to releasing more details about this soon.

Cooking, however, is a deeply emotional and cultural act. A technical solution does not mean communities will adopt it. In tandem with the pilot we're excited to announce we're in producing a short documentary that will trace personal narratives across the town of Les Anglais, connecting the nation's past, present, and future of energy, culture, and development as they trial electric cooking for the very first time. It will reveal the shifts in health, household economics, and habits, providing powerful insights for innovators working to eradicate energy poverty.

Next month we're launching a new GlobalGiving microproject campaign for our 'Cooking is Culture' documentary. We have a target of $6,500 and supporters of the campaign will be rewarded with exciting perks! You can view the page here, but we'll officially launch in middle September.
Thank you again for your generosity. We're excited to share this new exploration in energy access with you.