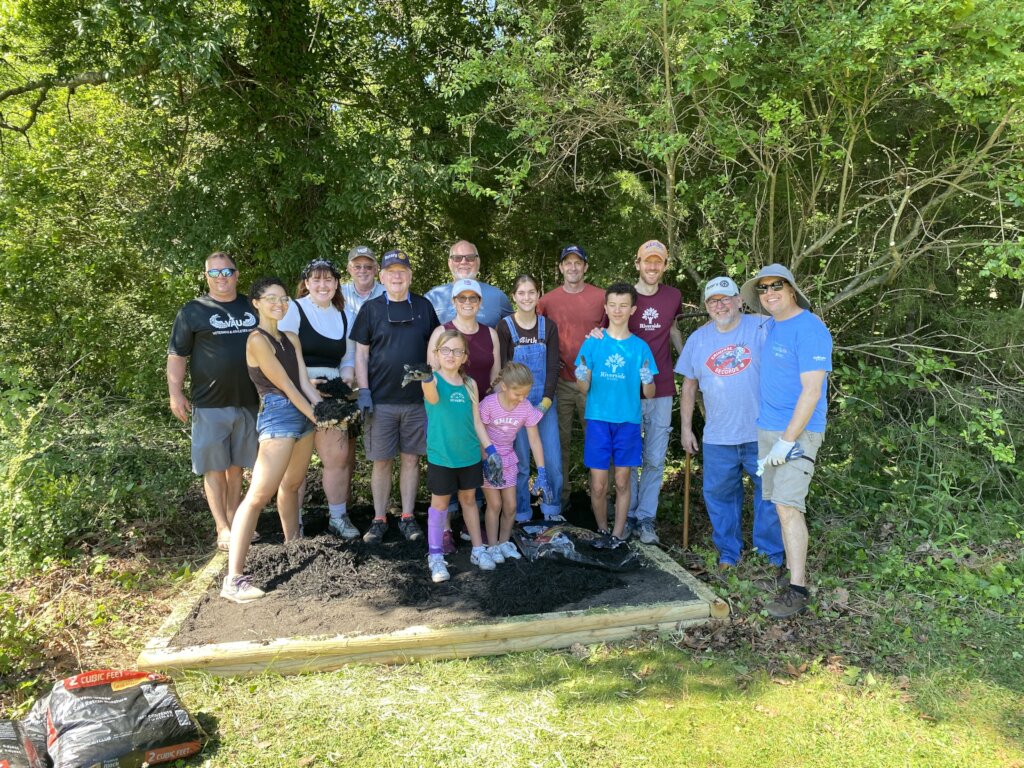 The Deep Ecology Education Program (DEEP) organizes to enrich private STEM education programs interfacing with public school programs in the Richmond, Virginia, metropolitan region (RVA). We engage in action research to promote critical environmental theory and foster community partnerships across class, jurisdictional and ethnic boundaries. The program's primary objective is to analyze the current state-mandated curriculums and map the educational innovation ecosystem to find opportunities to insert transformative educational programming. The primary goal of this program is to offer a systematic, multidimensional and detailed examination of the Buen Vivir movement's intersection with Deep Ecology and to suggest new forms of praxis to achieve meta-ideological transformation grounded in this synthesis.
"In English, buen vivir loosely translates "good living" or "well living", although neither term sits well with Eduardo Gudynas, a leading scholar on the subject. Both sit too close to western notions of wellbeing or welfare, he says: "These are not equivalents at all. With buen vivir, the subject of wellbeing is not [about the] individual, but the individual in the social context of their community and in a unique environmental situation" (Balch, 2013).
The University of Richmond and Virginia Commonwealth Univesity students have participated in structured participatory research to analyze the education innovation ecosystem taking root in RVA. There is an increasing reliance on market principles and values in the education space, particularly in urban contexts, accompanied by a growing diversification of educational service providers. This study aims to understand the current framework of public-private partnerships and identify opportunities to graft creative DEEP programming activities onto existing STEM programming. We refer to the collaborative effort as developing STEMS learning. That is, Science, Technology, Engineering, and Math activities FOR SUSTAINABILITY.
DEEP developed a collaboration with local Rotary Clubs to install pollinator gardens with local schools and develop invasive species extraction teams to work around critical locations for the local watershed. A primary goal of this collaboration is to create relationships between communities that rarely interact. We think of this work as community pollination and includes engagements of critical reflection concerning the lasting impacts of redlining on the quality of life and opportunities for youth in the community.
Richmond has been a borderland region since before the European invasion. The location on the fall lines of James River established it as a buffer zone between the Powhatan Confederacy and the Monacan Nation. Richmond was the largest slave trading hub in the Upper South and the entrepot for the majority of Africans from diverse origins into North America in the 18th century. As a 19th-century railroad juncture and an essential region for iron production, Richmond's strategic location contributed to the city's booming economy that attracted white, black, and immigrant workers.
Richmond is more segregated today than in the 19th century when it was a small, geographically compact, walking city. That didn't change until the last quarter of the century, when Richmond acquired the first commercially successful streetcar system in the Nation. Richmond's suburban development preceded much of the country by half a century. Richmond's suburban development preceded much of the country by half a century (Campbell, 2016). Jim Crow laws reconstituted slavery, and Richmond was the second city in the United States to adopt a race-based zoning code). While the White flight to the suburbs predated Brown v. Board of Education, the ruling fueled the White middle class's exodus to neighboring Chesterfield and Henrico counties. Between 1970 and 1980, the White population in Chesterfield increased by 85 percent. In the period between 1980 to 1990, this percentage increased by 41 percent. During these periods, the numbers in Richmond decreased by 27 percent during the 1970s and 16 percent during the 1980s.
Reverend Ben Campbell (2016) describes Richmond's public transportation and education systems as the most dramatic symbols of the Confederacy still standing in the region. The State government prohibited annexation, hardened jurisdictional boundaries around center cities, aligned massive capital expenditures, and built into state and county budgets dedicated taxes for extensive road growth and nothing for public transportation.
Richmond has pursued a "creative class" urban renewal strategy, making the city one of the most gentrified in Virginia. Between 1990-2010, the Black population fell by 45 percent while the White population increased by 30 percent. The city's overall population increased by 10 percent over the same time. The working poor's problem is that they have nowhere to go when displaced from the "revitalized" neighborhoods. According to the 2010 US Census, the median household income for families in the city was $38,000, neighboring Henrico county was $60,000, and Chesterfield was $71,000.
The focus of DEEP programming is to explore how to organize the inner suburban region as it is experiencing rapid demographic and cultural change. As the inner city is undergoing gentrification and the outer suburbs continue to expand, new pressures are presenting in formally homogenous and wealthy suburban areas. In addition, potential ecological impacts increase as formerly green zones become more densely populated and dedicated to commercial purposes. A significant concern demonstrated in our research is the lack of educational enrichment activities for lower-income residents who cannot afford the private opportunities that are the norm in suburban communities.
This programming is critical at "a time when instrumental, managerialist and neoliberal rationalities continue to dominate global and local education narratives " (Mahon et al., 2020). This programming aspires to contribute to a global dialogue for transformative place-based education in borderland communities. A description that may increasingly describe numerous urban locations absorbing climate migrants.
We invite you to participate in one of our many community-building events to build power for climate action. Join us for our student-organized events in the Alley located behind AlterNatives at 3320 West Cary Street. Richmond, VA. 23220. The Alley is an intentional space for subaltern cultural creation run by the students of HSP's DEEP program.
References
Abdul-Jabbar, M., & Kurshan, B. (2022). Educational Ecosystems: A Trend in Urban Educational Innovation | Penn GSE Perspectives on Urban Education. The University of Pennsylvania Graduate School of Education's Online Urban Education Journal. https://urbanedjournal.gse.upenn.edu/archive/volume-12-issue-1-spring-2015/educational-ecosystems-trend-urban-educational-innovation
Boaventura, de S. S. (2014). Epistemologies of the South (1st ed.). Paradigm.
Campbell, B. (2016). Segregation by Transportation. RVA Rapid Transit. https://www.rvarapidtransit.org/blog/segregation-by-transportation
Chiles, M. (2016). Richmond's urban crisis: Racial transition during the Civil Rights Era, 1960-1977. Masters Theses, 2010-2019. https://commons.lib.jmu.edu/master201019/122
Cunningham, C. (2017). Conflicted Commons: A Local Makerspace in the Neoliberal City [Thesis, Virginia Commonwealth University]. https://shcolarcompass.vcu.edu/etd/4802
Fredrick Harris. (2014). The Rise of Respectability Politics. Dissent Magazine. https://www.dissentmagazine.org/article/the-rise-of-respectability-politics
Hall, S. (1985). Signification, Representation, Ideology: Althusser and the Post-Structuralist Debates. Critical Studies in Mass Communication, 2(2), 91–114.
Hankerson, M. (2019, March 20). Report claim Virginia Beach and Richmond are the most gentrified cities in the state. Virginia Mercury.
Hantman, J. L. (1990). Between Powhatan and Quirank: Reconstructing Monacan Culture and History in the Context of Jamestown. American Anthropologist, 92(3), 676–690. JSTOR.
Lassiter, M. (2013). The Silent Majority: Suburban Politics in the Sunbelt South. Princeton University Press.
Mahon, K., Hannu, L. T., Huttunen, R., Boyle, T., & Sjølie, E. (2020). What is Educational Praxis? In Pedagogy, Education, and Praxis in Critical Times. Springer. https://doi.org/10.1007/978-981-15-6926-5_2
Min, D. S. (2015, May 2). Public Square: Why is Richmond still segregated? Richmond Times-Dispatch. https://richmond.com/opinion/editorial/public-square-why-is-richmond-still segregated/article_36adef52-4db0-55c7-aefb-9fbcb5b598d8.html
Mullins Crislip, M. (n.d.). Richmond Racial Equity Essays. Housing Is the Root of Wealth Inequality. Retrieved September 6, 2022, from https://richmondracialequityessays.com/heather-crislip
Peck, J. (2005). Struggling with the Creative Class. International Journal of Urban and Regional Research, 29(4), 740–770. https://doi.org/10.1111/j.1468-2427.2005.00620.x
Reed, A. (2018, September 4). The Trouble With Uplift | Adolph Reed. The Baffler. https://thebaffler.com/salvos/the-trouble-with-uplift-reed
Soares, L. A. (2012). A Bold Promise: Black Readjusters and the Founding of Virginia State University [Dissertations, Theses, and Masters Projects]. William & Mary.
Walsh, L. S. (2001). The Chesapeake Slave Trade: Regional Patterns, African Origins, and Some Implications. The William and Mary Quarterly, 58(1), 139–170. JSTOR. https://doi.org/10.2307/2674422